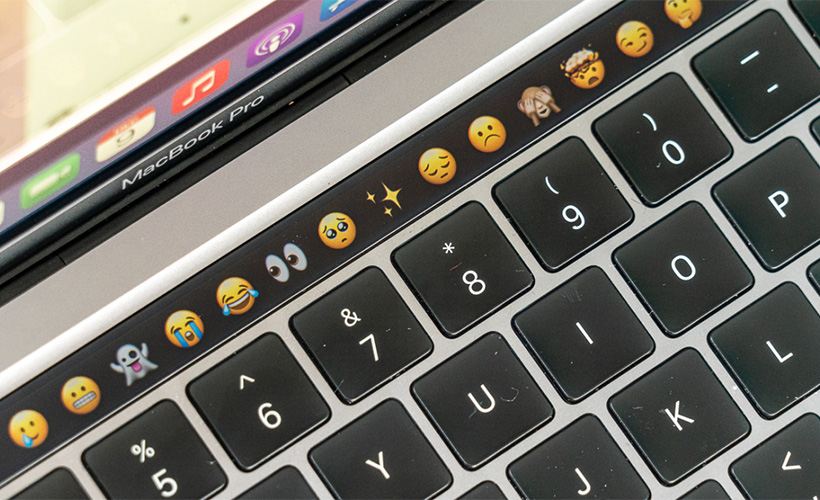 Is It Great or Is It Not: the Pluses and Minuses of MacBook Touch Bar
At last, as some would say, they are getting around to it. According to the latest rumors, sooner or later we are about to see MacBooks equipped with touchscreen monitors. It probably was to be expected: even with their pride in being different, Apple has shown time and time again that it's not willing to concede to any competitor even an inch of "tech territory", so to speak. And in the end of the day, "anything you can do I can do better" remains their motto. We saw it with the screen sizes of their phones, with the increasing compatibility of their gadgets and other things, so the laptop displays responding to touch were just a matter of time. But whether it's a good or a bad thing, remains in question. Because there are arguments both for and against such development. And we'll cover these pros and cons right here.
On the one hand, any addition of a useful function (and more flexibility that such a kind of screen will provide is by no means useless) can't be seen as anything but a plus. After all, the rest of Apple online devices, from tablets to smartwatches, are operated by touch already, which makes them greatly convenient to the user and is unanimously viewed as an asset. So why cannot MacBook Pro simulate, say, the iPad Pro's success? Especially since their sets of functions and options already resemble each other to quite an extent. And with getting even more even more alike, Apple's tablets, phones and notebooks will only benefit from each other's OS' developments. And, using the existing iPad technology as a template, the R&D of Apple can speed up implementation of this particular new addition to the already impressive design of their laptops.
But then again, will this apparent upgrade prove worth its cost to the user? We all know that combining various types of input in one device is never easy. Will the inevitable glitches – first of all, the conflicts between the signals – be successfully resolved once and for all? Won't this additional load on the MacBook's resources slow its currently-lightning response time (of which both Apple and its fans are so proud)? These hurdles can easily defy the purpose of making the Mac easier to use. In fact, failing to solve any of the said issues will downright handicap its today's efficiency.
And, speaking about resources, let us not forget how taxing this way of device operation is even on the most powerful processors. Why, Apple's representatives themselves admit that the touchscreen requirements is basically the only thing that stands in the way of iPads catching up with MacBooks in terms of CPU might. So, with all due respect to the latest premium iPad versions, do we really want their laptop counterparts to be brought down to their level of capacity? Or would it, perhaps, be wiser to wait until Apple's tablet engineering team finds the way to overcome this productivity obstacle?
Also, how about the fact that tablets are often used in the flat-down position? And no wonder: operating a display by touch that way is much simpler. With a notebook, we won't have this luxury, according to the very same gossip that informed us of the Mac touchscreen plans in the first place. Which brings us back to the convenience concern. Handling the touch display vertically is all well and good for a bunch of basic actions we perform on the mobiles, but the computer work is quite another matter. And that's we haven't even touched (pardon the pun) on whether it will be much of a joy to juggle between on-screen and physical interface.
On the other side, however, we have already seen Apple (and quite a few others, for that matter) beating some seemingly insurmountable obstacles before. And what looked like an impossible (and unneeded) chore did turn into our daily routine more than once (one-finger text typing, anyone?) So, even though this rumoured news may not be a cause for the unreserved excitement just yet, we choose to remain cautiously – and conditionally – optimistic on that matter. If anything, it will at least be interesting.
Links
15 Touch Bar Tips and Tricks for MacBook Pro [Video]
Video uploaded by 9to5Mac on November 18, 2016

<!-comments-button-->