Microsoft Surface Dial – Full Information
Surface Dial is the new mouse-like manipulator, developed and manufactured by Microsoft. It's a puck-shaped spin-and-click gadget in magnesium casing with rubber sole to give the dial the better grip onto the glass display. Surface Dial runs on two non-rechargeable AAA batteries from the box. It connects to the system via Bluetooth 4.0 LE and is compatible with Surface Studio only. Surface Dial is manipulated by spinning and clicking. It has a haptic vibration motor for better feedback. When on the table Surface Dial works like a mouse, but being put on the display it works like a dial, triggering the context programmable menu. Surface Dial can control volume, zoom in and out, scroll the colors gamut and navigate the screen. Surface Dial supports the following applications: Plumbago, Word, Excel, One Note, Office 365, Windows Maps, Groove Music, Autodesk AutoCAD, Sketchable.
Microsoft Surface Dial
Introduced on: October 26, 2016.
Surface Dial accessory is, perhaps, the most surprising part of the Surface Studio. It looks like a big puck that is designed to be placed on the Studio's screen in order to produce radial menus. It acts as another form of input. It's worth explaining what the device is and what it isn't. Microsoft is marketing Surface Dial as an accessory you use in one hand while you use the other to sketch with the Surface Pen. That makes it the perfect compliment to the Surface Pen for Surface Pro 4 and Surface Book.
Specifications
Product Name: Microsoft Surface Dial.
Accessory Name: Microsoft Surface Dial.
Dial Diameter: 59 millimeters.
Dial Height: 30 millimeters.
Base Diameter: 54 millimeters.
Base Height: 4 05 millimeters.
Dial Weight: 145 grams with 2 AAA Alkaline batteries.
Interface: Bluetooth Low Energy compatible 4.0.
Operating Systems: Windows 10 Anniversary Update.
Compatibility Logos: Windows 10.
Wireless Platform: Bluetooth Low Energy.
Wireless Frequency: 2.4 GHz.
Wireless Range: 2 meters.
Capacitive Touchscreen: detectable with Microsoft Surface Studio.
Bluetooth Low Energy: BLE technology to communicate with the host utilizing the Nordic NRF52832 chip for both "on-screen" and "off-screen".
Haptics Feedback Haptics to provide a perception of precision while facilitating muscle memory.
LED Indication: White LED for pairing.
Optical Encoder: Dial rotation encoder to measure dial rotation with configurable resolution.
Knob Press / Rotation: Precision menu select and control with premium feel.
Seamless Battery Door: Seamless access of battery door.
Over-the-Air Firmware Update: OTA FW update over Bluetooth.
Bluetooth Pre-pairing: Enhanced Out of Box Experience with Dial pre-paired.
Foot Material: Provides "on-screen" stability at 20 degrees – under its own weight.
Surface App (on host device): Volume control, scroll, zoom, brightness.
Press and hold: For menu.
Rotate: Freely/continuously (both directions); 0.30 N-cm resistance torque.
Click: Activates a momentary switch with 300g force; Rotate detection functional in up and down button positions.
Dynamic Feedback: Provides tactile feedback in software adjustable increments
On-screen Detection: Touch digitizer reports the on-screen location through a capacitive pattern with Microsoft Surface Studio.
Exterior Casing: Aluminum.
Color: Magnesium.
Battery: 2 AAA Alkaline batteries (included).
Battery Life: 12 months (4-hour daily use).
Part #: 2WR-00001.
Price: $99.99.
Surface Dial in Brief
Easy access to controls, shortcuts, drawing tools, and other functionalities;
Using it you can adjust volume on your tracks in Spotify, Groove, and Pandora;
The gadget is compatible with all Microsoft Windows 10 devices;
Using Surface Dial you can edit, rotate, and manipulate your creations in a single turn.
Model, Discontinuation, Price
Model number: 1756.
Discontinued: N\A.
Price: $99.99. Microsoft is selling the Surface Dial separately to the Surface Studio. It means that users can use the device with any Windows 10 PC.
Miscellanea
Surface Dial works with Microsoft Studio only. It cannot be paired with Surface tablets let alone iOS or Android tablets. And that's a shame. On the brighter side, the soon-to-arrive Surface Pro 5 is rumored to get the Dial support.
Just click and hold Surface Dial to display a radial menu of tools. It is possible to undo each individual line of a drawing step-by-step, change pencil color, change brush size, scrub through video content, rotate 3D vectors or manipulate parameters, in a single turn.
Surface Dial seems like the climax of PixelSenseTM technology Microsoft developed earlier and sold to Samsung for their interactive tables. Windows Surface 2 could recognize Red Bull cans and Las Vegas casino chips put on it and open the relevant information about the object from the Web. But in the core Surface Dial is just a laser-optic manipulator, similar to an ordinary mouse. The optical mouse sensor is pointed not down but at inside wall of the casing. The lightguide bends the light to and from the optical sensor 90 degrees, so that the dial 'could' see the surface beneath.
Place the Dial directly on the screen. A color picker or a ruler will appear on the digital drafting table. Haptic feedback provides vibrations through the aluminum body into the user's fingertips, to help feel totally in touch with the creation.
You can adjust the volume on your Spotify track, scroll through articles on news websites without touching your keyboard or mouse. You can also fly through your local city in Windows Maps, zooming in and out whilst panning across the touchscreen with the tips of your fingers.
According to the iFIxit teardown report, Surface Dial is very hard to disassemble and fix. To our knowledge, there're also no spare parts for the gadget.
Disposable batteries in the $100 gadget take another score off Microsoft. A user has to add the cost of the rechargeable batteries set to the bill.
Compatible Apps: Bluebeam (Revu), Drawboard (Drawboard PDF), Mental Canvas (Mental Canvas Player), Silicon Benders (Sketchable), Smith Micro (Moho 12), Spotify (Spotify), Staffpad (StaffPad), Windows (All), Word, PPT, Excel (Office Win32), OneNote (UWP version), Windows Maps, Plumbago, Sketchpad, Groove Music, PewPew Shooter, Microsoft Photos, Paint, Photoshop, Chrome, etc. However Dial is far more useful when an app is optimized for it, and drawing apps have one of the best implementations available right now.
You can tap and hold the top of the Dial to access radial menus for color controls, brush diameter, zoom, and undo. It works great when paired with the Pen while you're drawing. It also feels natural to interact like this.
Unfortunately, it's impossible to use the Surface Dial on the screen of either of these devices to generate radial menus around the Dial at the moment. Microsoft is planning to add this functionality with a firmware update in 2017, but we at iGotOgger are not convinced you'd want to use it regularly.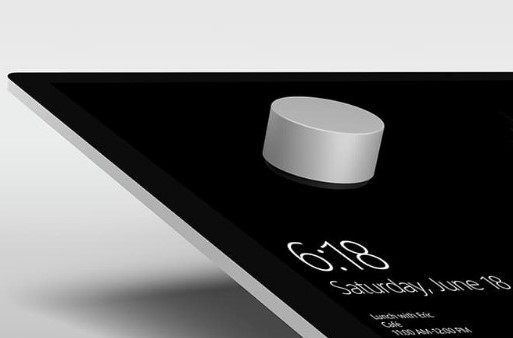 Microsoft Surface Dial. Credit photo : Microsoft Surface Dial
Links
We are just eager to buy your old Surface from you if you feel like exploring next generation Surfaces and pool money for them: Sell Surface online for top cash!
Microsoft's Surface Dial hands on [Video]
Video uploaded by TechCrunch on October 26, 2016.