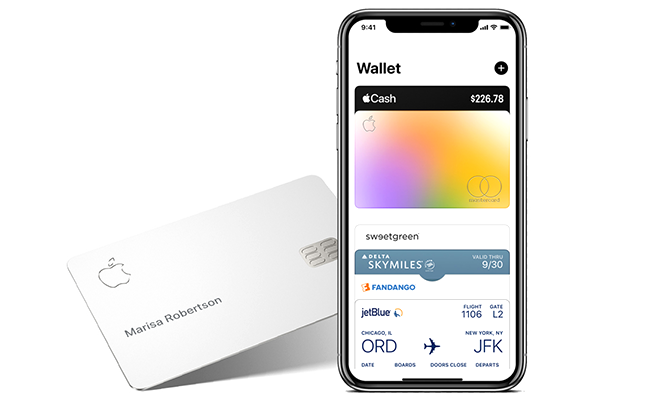 Before Apple Card… Apple was the first company to offer the mobile payment system named Apple Pay back in 2014. Samsung and Google introduced their own payment systems a year later in 2015 and the world changed forever. You know, I had to look up the dates on Wikipedia to be on the safe side, because in 2019 virtual wallets are a common place, almost like they were always around. Four years ago, the idea to tie one's card to a digital wallet looked stunning, but what would you say about a virtual credit card issued by a phone maker? No one has ever mixed these two things before. You either make phones or you make money, but not both. Not unless you're going to change the world forever!
A common credit card is a material thing: it has a number, a CVV secure code, a signature, an owner's name printed with all capital letters, and you have to visit a bank and sign tons of papers to get it. When tied to a virtual wallet, the card receives a digital copy you can pay with. A phone, a tablet or a desktop do only one thing – provide communication between the bank and the store. What will happen if we cancel all this? Apple Card will appear!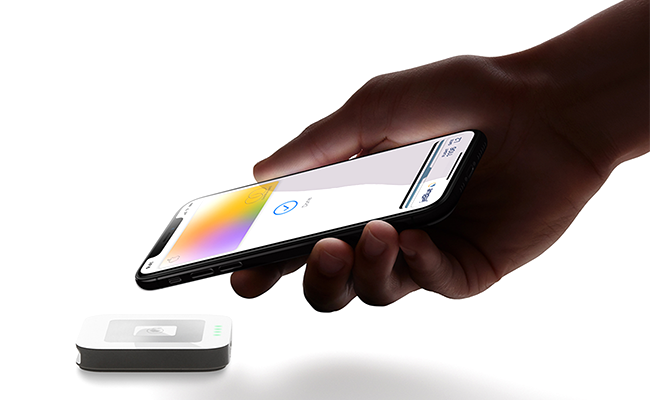 Apple Card was deliberately introduced along with other Apple services, because it's not a card, but a service, stripped of any physical presence. You can sign up for Apple Card directly from your iPhone in the new Wallet app and use Apple Pay to perform transactions the very same day after applying. If you have to change your address or any other information, just use Apple Business Chat. Wallet is available across all Apple devices that belong to you.
While Apple Pay supports MasterCard, Visa, Union Pay, Apple Card only supports MasterCard issued by Goldman Sachs. The new service is scheduled to roll this summer in the US, but it will be available to "qualified customers" first, whatever that may mean.
I must say, I envy them more than a bit. Apple Card is a shopaholic dream coming true. First of all, no expiring date and no fees or penalty interest rates. No over-limit fee, no international fee, no sign-up fee. Secondly, Apple Card has an astounding limitless cash-back named Daily Cash. Any time you buy something in a store, you get 2% of the total. If you buy something directly from Apple, you get 3% of the total. The money is added to the Apple Cash card the same day, and you can use them for other payments or pay down the balance of an Apple Card.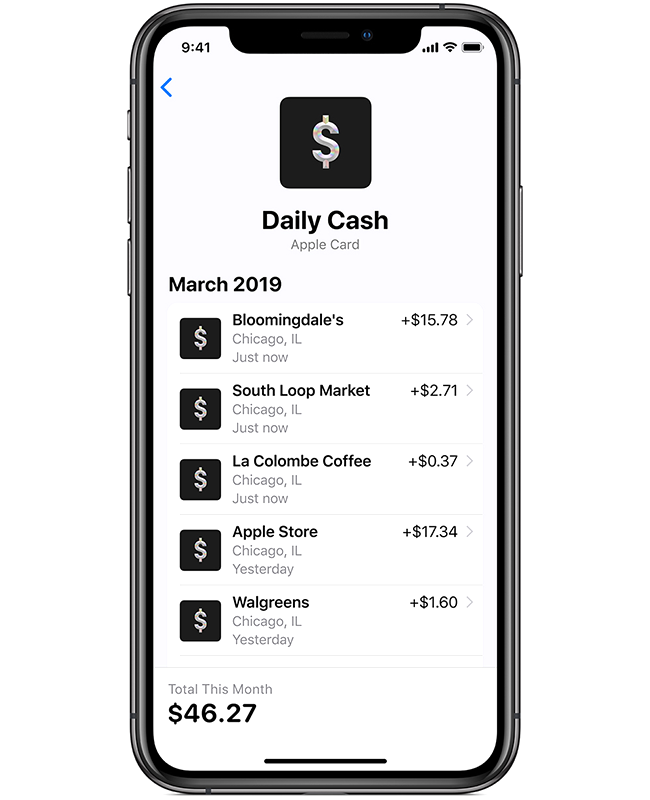 If you want to improve your shopping habits and curb your spending, the new app will help you as well. Your purchases are all presented in near clear graphs, showing how much you spend per day and what you buy. No more queer strange looking codes from a balance print-out! You see the list of stores by their names and, in case that your memory is going, the app can show them to you on the Apple Maps.
Still, the most vital is the security issue. Goldman Sachs promises it will keep your personal data away from third-party companies that would like to glean something from your shopping routine. Your data will never be traded or sold out for any purpose. Not even Apple will know what you buy and where. The data will be processed in your device only and every payment or transaction will be tokenized with a unique freshly generated token. The payment can be authorized with TouchID or FaceID just like in Apple Pay. On the downside of it, you and only you are responsible for your iPhone security and you have to take it very seriously.
What if some store doesn't accept Apple Card or you come to a country where Apple payment instruments aren't supported or allowed? Apple issued a physical Apple Card for this case. It's a rectangular piece of titanium with an Apple logo on it and your name – that's all. Again, no number, no CVV, no signature. Moreover, it's a contact card!
Mastercard spokeswoman just confirmed to me that the Apple Card physical credit card won't be contactless. Oh well.— Ben Fox Rubin (@benfoxrubin) March 25, 2019
However, the crisp fresh looking credit card from Apple is just a backup. If you pay with it, your cash-back will only be just 1%. Obviously, the company is determined to encourager mobile payments. After all, it's 2019!
There is no penalty interest rate, but if you fail to pay on time, Apple will move you to the low end of their interest rate tier. (Apple Cards interest rates vary from 13% to 24%). You'll have to earn some scores to get a better credit offer like in a computer game.
Links
Apple Card: Best & Worst Features! [Video]
Video uploaded by AppleInsider on April 1, 2019.

<!-comments-button-->