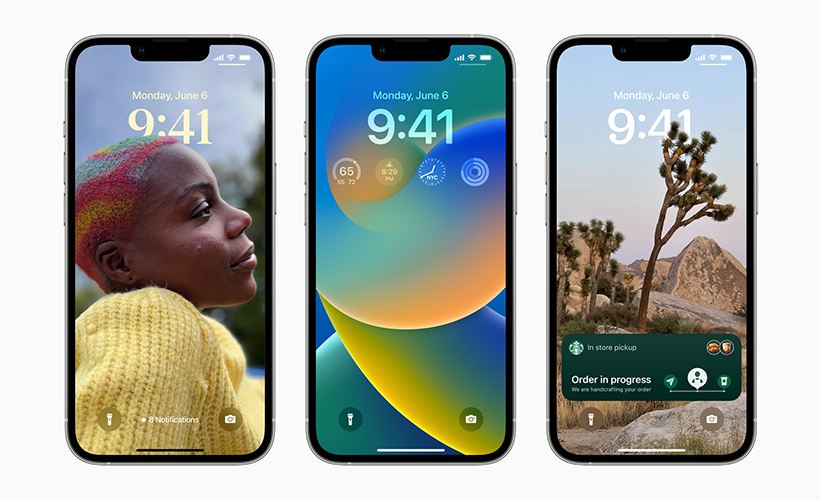 Apple's iOS 16 Expected (and Rumored) Features
Apple previewed their upcoming version of the iPhone's operating system, the iOS 16 at the Apple's WWDC event. If you are a registered developer with Apple, you can download the beta version of the operating system right now. If you want to wait, Apple is likely release a beta version in July that will be available for free to anyone. The finished and final version of the operating system will be available in September. iPhone 8 and newer will be able to update to iOS 16 and the OS is likely to launch along with the new iPhone 14.
iOS 16 brings major updates and significant improvements ranging from customizable lock screen and important privacy features like where you can protect your identity. For instance, instead of showing your date of birth, the Wallet app will display your ID and that you are over 21. The stand-out features include a redesigned, customizable lock screen with widgets, the ability to edit and delete messages, improved Focus modes, an iCloud Shared Photos Library for families, major improvements for apps like Mail, Home, and Wallet, and much more. While the new update is hardly an overhaul from the previous version, the iOS 16 has certainly some interesting new features that would make the iPhone faster and easier to use.
Apple has finally given us the much-awaited feature of 'Undo send' for iMessage. If you accidentally send an unfinished message, you can use the Undo Send feature to prevent it from being read. You can undo a sent message for up to 15 minutes after you have sent it. You can also edit messages in the first 15 minutes. You can also mark messages and threads as unread and can come back later to read them. Note this feature is limited to iPhone to iPhone messages only.
Apple has finally understood the appeal of Lock Screen and widgets and have now almost caught up with Android. With the new version, Apple has made a substantial update to the iPhone's lock screen. The new Lock Screen is infinitely customizable and there are new font styles and color choices. There is also a wide range of widgets, typefaces, and animated wallpapers. You can also customize different Lock Screens to match your Focus modes. The notification center has gone through a redesign and now shows notifications from the bottom to the top and feature new animations. You can pin widgets like Live Activities and can check the score of a game or track the status of your Uber or food delivery.
One of the most requested features among the Apple community is the ability to share photos and videos over iCloud and the company has listened and has introduced a feature that would allow up to six people to share a library. Users will be able to send photos to the Shared Library using a new toggle in the Camera app. Users will also receive tips and suggestions to share a photo that includes participants in the Shared Photo Library. Every user in the Shared Photo Library can add, delete, edit, or favorite the shared photos or videos, which will appear in each user's Memories and Featured Photos.
The Mail app also receives a significant redesign to the Search feature. in iOS 16. Recent emails, contacts, documents, and links are displayed as you begin to search for emails. Search results are further optimized by automatically correcting typos and using similar words for search terms. You can now schedule emails ahead of time and can cancel the mail up to ten seconds before delivery to the recipient's inbox. Mail will also notify you if you miss an attachment and there are options to resurface a message at any date and time with Remind Later.
The Wallet app has also gone through some changes and now features enhanced privacy, with in-app ID verification being enabled for third-party apps. Tap to pay on iPhone is also coming and now you can view receipts and track orders directly from Wallet. Keys and IDs in the Wallet enhanced privacy features with iOS 16. You can use your ID in Wallet for apps requiring identity and age verification and only the necessary information required for the transaction is shown to the app.
Both the Health and Fitness apps have some interesting new features. Health app adds Medications that allows users to easily manage a medications list, set up schedules and reminders, and track their medications. In the US, users can simply point their iPhone camera at a label to add a medication and know about the medications that they are taking and receive an alert if there are potential critical interactions for their medications. iOS 16 also brings the ability to share your Health data with loved ones and create a PDF of available health records from connected health institutions straight from the Health app.
The next generation of CarPlay is here and the latest version will be able to provide content for multiple screens within the vehicle creating a unified experience. You can also control the radio or change the climate directly through CarPlay. Using the vehicle data, CarPlay will show the speed, fuel level, temperature, and more on the instrument cluster. You can customize the by choosing different gauge cluster designs and widgets.
As mentioned earlier, the beta version for the registered developers is available for download now with a public beta release expected in July. The final version of the iOS 16 will likely be rolled out sometime in September.
Links
iOS 16 – Top 10 Coolest Features! [Video]
Video uploaded by Mrwhosetheboss on June 7, 2022

<!-comments-button-->