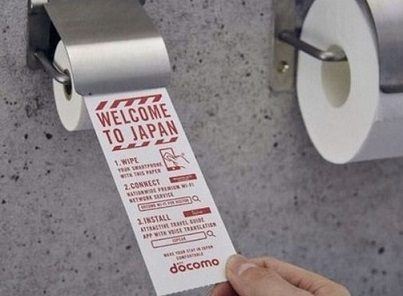 Dotomo Toilet Paper – Wipe, Not Swipe!
They now have toilet paper for smartphones in airport restrooms. When I first ran into this bit of news on BBC, I thought it was a joke. But, when I had a closer look it made a little more sense to me because it has been distributed in Japan and it seems to me that the Japanese are crazy about two things in the world: their bathrooms, and their smartphones. We are even lectured about Japanese restrooms when first coming to the country, about what button to press and what lever to turn. But, mostly about how not to get scared on seeing the high-tech contraptions.
And now, they have introduced a roll of toilet paper, neatly placed next to the human toilet paper. Don't worry though, the toilet paper for your phone is more narrow and has text on it, so you don't confuse the two. The sponsor of this mischief, the Japanese mobile provider Docomo, was hospitable enough to print the info about Wi-Fi spots on it. Imagine this: you take care of your portable assistant and get enlightened about where you could log in your Instagram to share the overwhelming experience of using the restroom. Or perhaps instead, you might twit about how many bacteria one can find on one's mobile phone after a trip to the bathroom. Not that we all care too much for that, but apparently, the Japanese do.
The Japanese culture has always cared about cleanliness. The Japanese tourists are said to be deeply shocked by all the grime they see in the streets of Paris, for example. Apparently, it's such a jarring experience and they're so damaged by it, that the embassy has launched a psychological service for the victims. No, I'm not kidding. Some highly motivated volunteers come to Paris specifically to help clean up the streets. Instead of going to Louvre or Versailles, they pick up cans, paper wraps and garbage and then go home. What a boring trip.
Welcome to Japan
Wipe your smartphone with this paper
Connect nationwide premium Wi-Fi network Service
Install Attractive Travel Guide app with this translation
NTT Docomo firm points to research showing that there are more germs on your phone screen than on a toilet seat.
Credit photo: http://www.bbc.com/news/world-asia-38412707.
NTT DOCOMO is Japan's largest telecommunications company. The company provides innovative, convenient and secure mobile services, which enable customers to realize smarter lives. NTT DOCOMO serves over 71 million customers in Japan via advanced wireless networks, including a nationwide LTE network and one of the world's most progressive LTE-Advanced networks. The scope of DOCOMO's extensive research and development program is unprecedented among mobile operators. The company operates a major R&D center in Japan, as well as advanced facilities in China, Germany and the USA. It collaborates as well, with a wide range of leading-edge technology innovators. As a provider of integrated services centered on mobility, DOCOMO is actively engaged in the development of technologies for next-generation devices, services and networks, as well as revolutionary concepts for all-new convenience, efficiency and creativity in business and daily life.
The germs don't scare us away here at iGotOffer. If you decide to ditch the phone for a cleaner one, we will gladly buy your old and germy phone for top cash, so you can get on with the new and cleaner you!
<!-comments-button-->