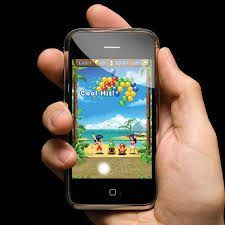 Video Games for iPod
Video games are playable on various versions of Apple's Player iPods. The first iPod had the game Brick, invented by Apple's co-founder Steve Wozniak. Later firmware versions added Brick as a menu option. Revisions of the iPod added three more games: Music Quiz, Parachute and Solitaire.
In September 2006, the iTunes Store began to offer additional games for purchase with the launch of iTunes 7. Those games were: Bejeweled, Cubis 2, Mahjong, Mini Golf, Pac-Man, Tetris, Texas Hold 'Em, Vortex, Asphalt 4: Elite Racing and Zuma. Additional games have since been added and they work on the 5th and 6th generation iPod Classic as well as the 4th and 5th generation iPod Nano.
In 2007, Apple released Lost: The Video Game based on the television show, which was made by Gameloft. Later the same year, "SAT Prep 2008" by Kaplan appeared. This game was introduced as three separate educational games based on the subjects writing, reading, and mathematics. In December 2007, Apple released Sega's Sonic the Hedgehog, which was originally packaged with the Sega Genesis system in the early 1990's.
With third parties like Namco, Square Enix, EA, Sega, and Hudson Soft all making games for the iPod, Apple's player has taken great steps towards entering the video game handheld console market. Video game magazines like GamePro & EGM have even reviewed and rated most of their games.
The games are in the form of .ipg files (iPod game), which are .zip archives. When unzipped, the games reveal executable files along with common audio and image files, which make third party games possible.
Unlike many other MP3 players, simply copying audio or video files to the drive with a typical file management application will not allow an iPod to properly access them. The user must use software that has been designed to transfer media files to iPods, so that the files are playable and viewable. Usually iTunes is used to transfer media to an iPod, though several applications are available on a number of different platforms.
See also:
Apple Encyclopedia: all information about products, electronic devices, operating systems and apps.
iGotOffer.com: the best place to sell my old iPod online. Top Price. Free shipping. BBB A+ rated business.
<!-comments-button-->