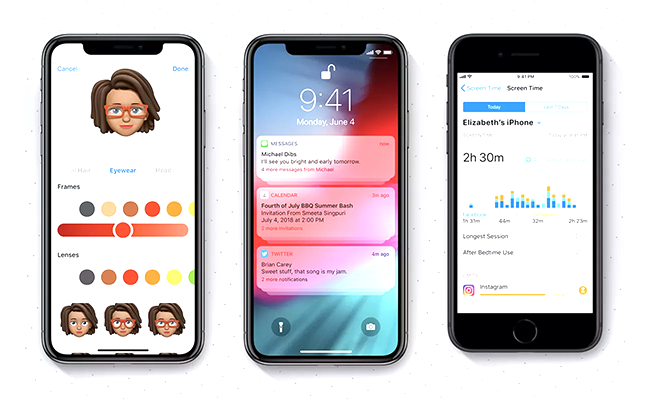 Apple's iOS 12: Its Features and Secrets
Apple released its iOS 12 update on Monday, Sept. 17, at 10 a.m. PT. iOS 12 for iPhone, iPad and iPod Touch (surprisingly, Apple still supports the player) finally arrived. The operating system stays with our devices throughout the next year. The owners of Apple's new iPhone XS and iPhone XS Max will get iOS 12 by default.
iOS 12 is also available for older models starting from the iPhone 5S.
The new features include Memoji, parental controls, improved notifications and a new app, Measure.
Smoother and faster
This time Apple focused on improving the overall performance of its iOS devices and didn't add too many new features that usually perplex users. Obviously, the company decided to hone iOS so that it could work smoothly across the CPUs lineup.
The best new features
Siri is now a bit smarter. A user can create various tasks called Siri Shortcuts that can be triggered with a custom command. The new feature helps send a text, play a podcast and get directions to your favorite destination. Creating shortcuts is going to take a couple of days, but afterwards your every routine will be automated.
This is the list of things that Siri can do as well:
pull up photos based on places, memories, events;
search and find passwords in iCloud Keychain;
find a misplaced iPhone, iPad, or AirPod (critical!);
turn the flashlight on and off
Screen time control. Apple took some pages out of Android's book and introduced screen time control. iOS 12 features new tools that can show how often users pick up their phone, how many notifications they receive, and how much time they spend using various apps.
The time limits can be set for users themselves or for their kids through the family's Apple ID. At bedtime, for example, the apps and notifications are blocked, it's Downtime. It's still possible to create Always Allowed exceptions for certain apps so that kids can call or send texts.
Better notification management with Instant Tuning. This feature helps manage the unnecessary alerts that usually flood in. Users can now group alerts and notifications and even turn off sounds for all of them or just for a group. On the other hand, critical alerts can get through even during Do Not Disturb mode on. By the way, Do Not Disturb can now end automatically at a preset moment in time or when users enter/leave a certain location.
Minor tweaks to Messages, but a great change to FaceTime that never came. The Messages app now has a new camera tool and a Tapback. This new feature allows you to quickly reply with just a tap, send a smile or a thumbs-up by touching and holding the notification. FaceTime isn't so lucky. FaceTime was supposed to add group calls for up to 32 people, but Apple decided to remove this feature, and it didn't appear in iOS 12 after all. Perhaps, it has something to do with the mobile network bandwidth and maybe when 5G arrives, things will start to look up.
Memoji is a customized Animoji. Memoji is going to be a buzz word, we are sure. A Memoji is an animated emoji iPhone X users can create and use instead of Animoji characters.
Closing apps is back to pre-iPhone X era. Apple changed the process of force-closing apps on the iPhone X, and users were not at all happy to go through some extra steps. With iOS 12 the close swipe-up is back.
A built-in tape measure. This is another thing we can do with our iPhones – take measurements of real life objects with the help of augmented reality. God knows, there are dozens of such apps in the Apple Store but it's very nice of Apple to pre-install it.
Photo search by location and event and RAW editing. It looks fantastic, but the AI now allows you to search photos in the Gallery by businesses, places or events. The search criteria can be general, like, "National park", "birthday" or specific like "Yellowstone", "My birthday".
The RAW photo editing will be of great help for those who use iPads as their working tools.
iCloud Keychain, tracking prevention. With iOS 12, passwords are stored in the iCloud Keychain and available on all Apple devices. The reused passwords are flagged for quicker navigation to an app or a website.
Share buttons and comment widgets are often used for tracking visitors and their behavior. Now Safari allows you to ban their tracking features in the browser settings.
Alternate appearance in Face ID. Now users can set up an alternate appearance for their iPhones X and newer. It's a divine feature for those who wear glasses or other face changing accessories like head scarves or hats.
Battery info. After several lawsuits over the batteries issues, Apple decided to show as much info about battery health as possible. It's available at Settings -> Battery menu.
Links
Apple iOS 12: Overview [Video]
Video uploaded by DetroitBORG on September 16, 2018

<!-comments-button-->