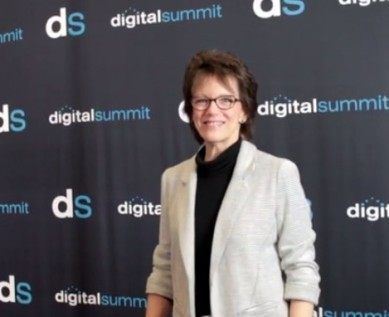 Susan Bennett, The Original Voice of Siri
Born in 1948, Susan Bennett, a voice-over artist, has been the voice of Apple's Siri since Siri's birthday, on October 4, 2011.
According to Wikipedia, she was born in Clinton, New York, and attended high school at Clinton Central School. In 1971, she graduated from Brown University. While at Brown, Susan intended to become a teacher, but preferred to perform as an actress. She acted in theatrical productions, was a member of a jazz band, and was a singer with the "Chattertocks" acapella group.
In 1974, she was recorded as the voice of the First National Bank of Atlanta's "Tillie the All-Time Teller." She has recorded messages and advertisements for Coca-Cola, Delta Air Lines, Ford, Fisher-Price, The Home Depot, Goodyear, VISA, Macy's, Hot Pockets, Club Med, and Cartoon Network, among others.
In June 2005, the software company ScanSoft picked Susan Bennett to be the voice for a database project involving speech construction. As Susan recalls, she worked for the entire month of July 2005, more than four hours each day, five days a week, reading phrases and sentences. These recordings were later formed into the sentences used in the voice of Siri.
Curiously enough, Susan only became aware she was the voice of Siri when a friend asked her if it was she behind the voice, in October 2011. She now lives in Atlanta, Georgia.
There are other voices for Siri, such as the Australian voice recorded by Karen Jacobsen, and Jon Briggs in the UK who is behind the British male voice for Siri.
A FEW WORDS ABOUT SIRI
Siri is a computer program that works as an intelligent personal assistant and navigator, which is a different part of Apple's operating systems. Siri uses a natural language user interface to answer questions, make recommendations, and perform actions by delegating requests to a set of web services. The software adapts to the user's individual language usage and individual preferences with continued use. It then returns results that are more individualized over time.

Siri was introduced as an iOS application available in the App Store by Siri Inc., which was acquired by Apple on April 28, 2010. There are several accent and gender combinations for the voice of Siri.
Siri has been an integral part of iOS since iOS 5, and was introduced as a feature of the iPhone 4S on October 14, 2011. Dictation powered by Siri was added to the third generation iPad with the release of iOS 5.1.1 in May 2012. Full Siri support was added with iOS 6. Siri has been included on all mobile Apple hardware manufactured during or after October 2012.

Today, Siri is also integrated into Apple Watch's watchOS, where the feature can be activated by holding down the Digital Crown, or by saying "Hey, Siri." Siri has been integrated into Apple TV's tvOS, where the feature can be activated using a button on the included Siri Remote.

Since 2014, Siri has been available in some cars via CarPlay, a system that enables the vehicle audio system to be a display and controller for an iPhone. It is available on all iPhones from iPhone 5 with at least iOS 7.1.

Siri was added to the Macintosh with the release of macOS Sierra on September 20, 2016.
In October, 2016, Bloomberg reported that Apple was moving Siri, along with other Apple services, to a new system codenamed Pie. Pie is supposed to give Apple more control over the system, thus enabling potentially faster and more reliable services.

­See also:

<!-comments-button-->