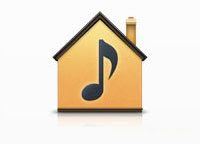 Sharing iTunes Library
iTunes Library: A user's iTunes Library can be shared over a local network by using the closed Digital Audio Access Protocol (DAAP), developed by Apple for this purpose. The sharing of an iTunes library over the network is known as network sharing.
The Digital Audio Access Protocol allows shared lists of songs within the same subnet to be automatically detected. When a song is shared, iTunes can stream the song, but to exclude any unauthorized copying, won't save it on the local hard drive. Songs in Protected AAC format can also be accessed, but authentication is required. A maximum of five users may connect to a single user every 24 hours. The multiple, alternate View options normally available to iTunes users including Cover Flow, are disabled when viewing a shared library over a network.
DAAP relies on the Bonjour network service discovery framework, but Apple has made the DAAP specification available only to third-party licensees such as Roku instead of the general public.
Library sharing was first introduced with iTunes 4.0. With that version, users could freely access shared music anywhere over the Internet by specifying IP addresses of remote shared song libraries. Apple removed this feature with its next version of iTunes 4.0.1, claiming that users were violating the End User License Agreement.
With iTunes 7.0, Apple changed their implementation of DAAP. This change prevents any third-party client, such as a computer running Linux, a modified Xbox, or any computer without iTunes installed from connecting to a remote iTunes repository. However, iTunes will still connect as a client to other iTunes servers and to third-party servers.
iTunes libraries can also be shared using the Home Share option. This option enables users to share both video and audio files through the application. Users can also look for items that they don't already have. Like network sharing, it allows users to share over the same network for up to five computers. The media can then be transferred to any type of iPod or iPad. To set up home sharing, the two computers being used must be on the same network, as well as set up to use the same Apple ID.
Note: Another option to share music files is to burn CDs. Users create a playlist with the songs they wish to share. By inserting a disk into the disk drive, a button should give the option to burn a disk. The files are automatically downloaded to the disk and may be uploaded onto another computer or saved as a backup for the user's computer.
­See also:
iGotOffer Encyclopedia: all information about Apple products, electronic devices, operating systems and apps.
iGotOffer.com: the best place to sell my used iPhone online. Top cash guaranteed. Free quote and free shipping. BBB A+ rated business.
<!-comments-button-->