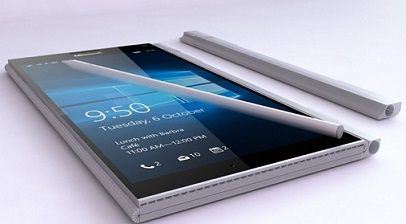 Surface Phone: Microsoft Continues Surface Line-Up
With Snapdragon 830, 2k display, and 20 MP rear camera featured on the coming Surface phone, it's obvious Microsoft bets on productivity. The Snapdragon 830 is rumored to be the Qualcomm next generation processor with a 10-nm manufacturing process and a quad core Kryo CPU, clocked at 2.2GHz and LDDDR4X RAM.
According to the leak from China, the new processor will be able to support 8 GB of RAM, an unheard-of capacity for cell phones.
This might explain why the leak from the Baidu Chinese message board pictures the Surface Phone propped in landscape orientation against a kickstand cover, similar to that for Surface tablets. This may hint at unrivalled productivity of the much awaited portable, pitching it somewhere between the Surface Pro 2-in-1 tablet and Surface Book.
The rumored screen diagonal size of 5.7-inches also places the phone in the category with phablets, rather than phones. However, with 2k resolution it's unwise to make a smaller screen.
It is still unknown if it will be possible to plug the Surface Phone in to a large display via the Windows Dock Station like the HP X3 Elite cell phone, thus turning it into a desktop system, but it might inherit the connectivity from its Windows Surface 'brothers'.
The release date also remains unknown. If Microsoft meets the expectations for this phone, it will be a serious pitch for Apple's top place in the market.
ADDITIONAL INFORMATION ABOUT MICROSOFT SURFACE PHONE (UPDATED INFO)
The Microsoft Surface Phone is long-awaited and desired by many Microsoft adepts. Here's what we know about the Microsoft Surface Phone release date, specs, features, price and more, according to the news and info which was published in March 2017:

Microsoft didn't make any announcements regarding a Surface Phone at Barcelona's Mobile World Congress 2017 tradeshow in February of this year, so we are still in the dark about the device.

However, the electronic giant has had very limited success with mobile devices, struggling to acquire any meaningful amount of market share. With titans like Apple and Google currently dominating the smartphone industry, Microsoft is under immense pressure to create a successful mobile phone.

Unfortunately, the Surface Phone will probably be the last roll of the dice for Microsoft. Despite the company making progress with the Windows 10 phone, the Lumia 950 and Lumia 950 XL weren't able to carry Microsoft to mobile glory. Now, Microsoft needs to launch a perfect phone that can convert already invested iOS and Android users to Windows.

As Trusted Reviews.com website states (and we quote): Surface team has done a great job of disrupting the computing industry in recent years, with the Surface Pro, Surface Book and Surface Studio devices all proving to be a thorn in the backside of Apple. Can the Surface Phone do the same for mobile? Read on to find out what we know so far (see TrustedReviews website).


­See also:

<!-comments-button-->