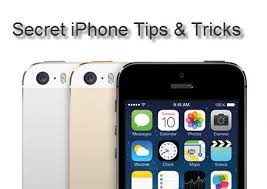 Ten iPhone Tips and Tricks You Probably Don't Know
Useful iPhone Tips and Tricks: A collection of tips showing some features of the iPhone with iOS 8:
User can switch to other keyboards, add keyboards for emojis or other languages. You can switch to the other keyboards by going to Settings > General > Keyboard. Once there, tap and hold down the next keyboard button whenever the keyboard appears.
While editing photos, touch and hold the image to temporarily show the original, so you can see how a photo looks before and after and if you like the changes you have made.
Contacts: you can add profile pictures to contacts. To see profile photos of friends when they call or email you, go to Settings, then tap Facebook or Twitter. Next tap Update Contacts.
Messages: you can keep text notifications quiet. To mute notifications for a conversation, pull up the thread, tap Details, next tap Do Not Disturb.
Using Safari, you can remove webpage clutter. If the page you're on supports it, tap the reader button to see just the text and photos, without any distractions or ads.
Passbook: users can be on their way with Apple Pay. Place your finger on the Touch ID and hold iPhone near the contactless card reader until you feel a vibration and see a checkmark. Set up Apple Pay in Passbook.
In apps that support AirDrop, users can share a photo, video, or document with people nearby. To do so, tap the share button, then tap the person you want to share with.
You can show people you are in messages. Tap Details, then tap Share My Location.
You can gather your best shots in one album by tapping the Favorite button (the little heart at the bottom of the screen) to select pictures and automatically place them in your Favorites album.
You can find nearby movies as well as show times with Siri. Simply ask Siri "What's playing nearby?". She will also provide movie trailers, eviews, and will allow you to buy tickets for select theaters.
­See also:

<!-comments-button-->