Microsoft Surface Book (Intel Core i7, Late 2016)
Microsoft Surface Book i7 (Late 2016, Intel Core i7) is the second generation of the 2-in-1 tablet-laptop designed and manufactured by Microsoft. It consists of a tablet or clipboard and detachable keyboard or performance base which can be locked in place on the dynamic fulcrum hinge and open as a laptop cover. Powerful and meticulously crafted, Surface Book is a real revolution in laptop design. Its detachable 13.5" PixelSense Display is optimized for Pen and touch. With the full power of a high performance laptop and the versatility of a tablet, this computer gives users everything they need to work with professional-grade software, anywhere they want.
Microsoft Surface Book (Intel Core i7, Late 2016) with Performance Base
The screen can also be turned 180 degrees and reattached to the base to work as a propped touch display only. Surface Book i7 (Intel Core i7, Late 2016) has an integrated GPU and an additional discrete graphic card in the keyboard casing. All the connectivity ports, 2 USB 3.0 ports, SD card slot, Mini Display Port, and a charging port are installed into the detachable keyboard. But the 3.5 mm headphone jack has stayed on a clipboard. As for hardware, Surface Book i7 has enhanced storage and memory features: up to 1TB of SSD drive and up to 16 GB of RAM. The 13.5-inch PixelSense Display supports 10-point touch, pin writing with a Bluetooth powered digital pen and Surface Dial. Both the clipboard and the keyboard casings are made of machined magnesium and are so thin that closed Microsoft Surface Book i7 is as thin as the MacBook Pro. Surface Book (Late 2015, Intel Core i5-6300U) touch screen supports 10 touches and the handwriting with a Bluetooth powered Wacom digital pen. Surface Book i7 (late 2016, Intel Core i7) features a 13.5-inch PixelSense display, a 6th generation Intel Core I7 processor with integrated graphic processor and an Nvidia GeForce 965M, a 256GB \ 512GB \ 1TB solid state drive aboard. The storage capacity can be expanded up to 200 GB with an SD card, 3.5 mm audio socket, 2 microphones, 2 Dolby Digital Plus stereo speakers, a Mini Display Port 1.2, one full HD webcam in the front and one in the rear, one infrared camera to support Windows Hello ID system. This is a non-GSM tablet, but it has Wi-Fi 802.11a/ac/b/g/n, Bluetooth 4.0 for wireless connection. 128GB \ 256GB \ 512GB \ 1TB is shipped with a Surface pen. Surface Dial is available for an extra cost.
Release Date
Introduced on October 26, 2016.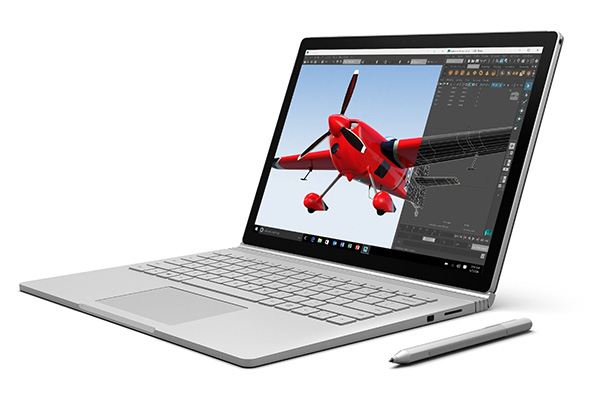 Specifications
Display type: LCD.
Display diagonal size: 13.5.
Display aspect ratio: 3:2.
Pixel density: 267 ppi.
Resolution: 3000 x 2000 pixels.
Contrast ratio: N\A.
Multi-touch support: 10 touches.
Touchpad multi touch support: 5 touches.
Pen support: Surface pen.
Portrait orientation: Yes.
Processor Speed: N\A.
Turbo Speed: N\A.
Processor Architecture: 64-bit.
Processor Upgrade: Soldered.
Processor type: Intel Core i7 (Skylake).
Cores: 2.
Graphics processor: integrated.
Graphics card in keyboard: Nvidia GeForce 965M.
On-Board RAM: 8 GB \ 16 GB dual-channel DDR4, 1600 MHz.
Storage: SSD, 256 GB \ 512 GB \ 1 TB
Expandable storage: MicroSD
Max. expandable storage: 200 GB.
Battery: Lithium-ion.
Battery capacity: 42 Wh.
Battery life: 16 hs (Up to 12 hours of battery life for video playback).
Input\Output: 2 x USB 3.0 with host support, 3.5 mm audio socket, 2 microphones, 2 Dolby Digital Plus stereo speakers, Mini DisplayPort 1.2.
Internet \ Wireless connection: Wi-Fi 802.11a/ac/b/g/n, Bluetooth 4.0.
SIM-card: None.
Sensors: ambient light sensor, accelerometer, gyroscope, magnetometer.
Front webcam: 5 megapixels, FHD (1920 x 1080).
Rear webcam: 5 megapixels, FHD (1920 x 1080).
Infrared cam: yes.
Preinstalled OS: Windows 10 Pro, Office 365 30-day trial.
Online services: Windows Store, Xbox Music, OneDrive, Xbox Games, Xbox Video.
Accessories: pressure-sensitive Surface Pen, Surface Dial, detachable keyboard.
Dimensions: 12.30 x 9.14 x 0.51 – 0.90 inch.
Maximum Weight: 3.63 lb (keyboard included).
Discontinuation and Price
Discontinued:
Price: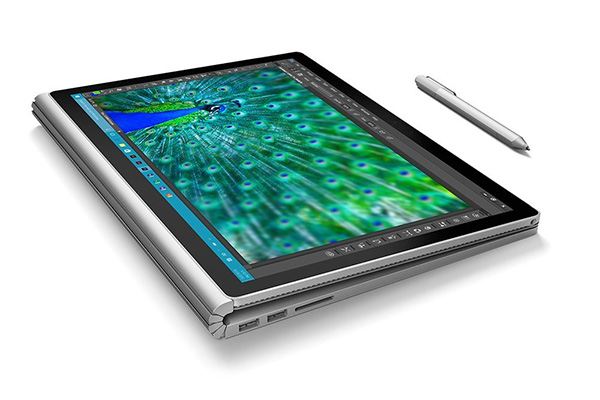 Miscellanea
This hybrid is designed with the creatives in mind. It can run SOLIDWORKS 3D CAD, AutoCAD Revit, and Adobe Premiere Pro as well as resource-consuming Xbox One games with wireless controls connected.
Microsoft has no plans whatsoever for Performance Base independent upgrade or sale, even as a spare part. It will be sold and upgraded in a bundle with the display.
Microsoft Surface Book i7 (Late 2016) has higher resolution than MacBook Pro 13-inch, as Surface Book has 6 million pixels, while 13" MacBook Pro has 4,096,000 pixels.
Microsoft also states that Surface Book is a perfect machine built to run all the professional-grade software its users need for engineering, design, and everything in-between. Its Intel Core processors have twice the power of a MacBook Pro 13-inch with an optional NVIDIA GeForce dGPU for graphics performance.
Microsoft Surface Book i7 (Late 2016) battery life is up to 16 hours, while working or listening to the music. However, battery's run-time for video playback is shorter, being only up to 12 hours of battery life. Anyway, this time keeps any user going all day, every day, so you can use this laptop anywhere.
Surface Book was designed to be a powerful laptop. But this device is thin enough to take anywhere without losing an ounce of performance. the Book is built with a light magnesium chassis and an innovative Dynamic Fulcrum Hinge to keep the computer balanced at any angle.
The 13.5-inch detachable PixelSense Display on this Surface book works perfectly with Pen and touch. The user can detach the display to transform Surface Book into a thin and light Intel Core i5/i7 PC, that runs professional grade software.
Surface Pen has 1024 levels of pressure sensitivity. It has an eraser on the other end, so if the user makes handwritten notes on his or her screen, the result is similar when the persons writes or draws on paper using a pen.
Links
Microsoft Surface Book i7: 3 things you need to know [Video]
Video uploaded by CNET on November 10, 2016.