How to Watch DVDs on a MacBook
Until recently these CD-like discs were the standard way to watch a movie, but these days more and more people are using digital downloads or online services to watch videos. However DVDs are still wildly used.
Apple MacBook Air SuperDrive: Unboxing and Demo [Video]
Video uploaded by DetroitBORG on November 5, 2010.
Apple SuperDrive
How to Play a DVD on a Mac with a DVD Drive
Playing a DVD on a Mac is extremely simple. Just insert the DVD into your Super DVD drive (Super DVD drive is Apple's optical disc reading and writing technology). The DVD player will open automatically and start playing the disc. You can open it using the Menu and click Play to run the movie.
When the movie begins, the on-screen controls vanish, but they'll appear if the user moves the cursor over the screen. The shuttle controls are located at the bottom of the display. Users can use them to play/stop the movie, skip chapters, control the volume, etc. When the user moves the mouse to the top of the display, a horizontal Chapter List bar appears. Clicking on chapters skips to that chapter. To eject the disk, press the Eject button on the keyboard.
Playing a DVD on a Mac without a DVD Drive
Modern Macs don't have physical DVD SuperDrives (the only exception is the MacBook Pro without Retina Display), so users can't play CDs or DVDs using the drive. This situation makes playing DVD movies on a Mac somewhat more challenging. However, there are some options available for playing videos on a Mac:
External SuperDrive
You can attach a SuperDrive to your Mac, even when the device doesn't have a built-in SuperDrive. Apple sells a USB SuperDrive that connects to any MacBook Air, MacBook Pro with Retina Display, iMac, or Mac mini. Once connected, the external SuperDrive acts just like an internal one. The user inserts a DVD and the SuperDrive will play DVDs, CDs, and record both CDs and DVDs.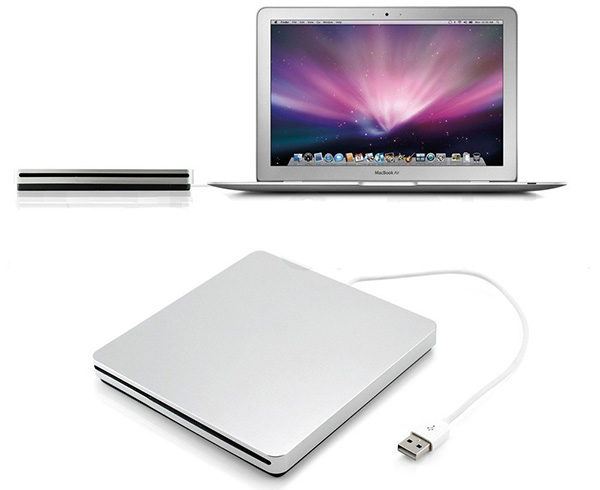 Remote Disc
Apple's Remote Disc is a useful feature which allows you to share computers to watch movies. That means you can insert a DVD into a drive on one Mac, and watch it over a network using another machine. This method, however, is limited as it will not work for audio CDs or copy-protected DVDs (which is most commercial DVDs). For these you need to use a directly connected SuperDrive.
To turn on Remote Disc:
On the computer with the built-in SuperDrive, open System Preferences. Then click on Sharing.
Click the lock icon.
Enter your admin password.
Tick DVD or CD Sharing.
Insert the DVD into the drive and the user on another computer will be able to see it.
More Details About the DVD Player Application
DVD Player is an app which allows you to watch DVDs on the MacBook. This app is bundled within OS X. If you have a SuperDrive on your Mac, insert a disc into the machine and the program will automatically launch. The app is easy to use, and will either fill your screen instantly or present the DVD menu screen in a smaller window. When viewing DVDs in full-screen mode, the controls appear as a pop-up panel at the bottom of the screen (much like the Dock with Hiding turned on). At other times these controls appear as a floating panel. There you'll also find buttons for slow motion, subtitles, and special DVD features such as alternate view-angles.
To make fine adjustments to sound and picture quality, open the Audio Equalizer and Video Color, respectively. Only one can be open at a time, the other then being available from the dropdown menu at the top of the panel.
The same dropdown offers the Video Zoom control. This control lets the user magnify and re-frame the action in the viewer window. This option can be also accessed from the Window menu.
By selecting either Bookmarks or Video Clips from the Window menu, the user can open a panel that stores shortcuts to the user's favorite moments and segments (Bookmarks and Video Clips) on a DVD, making them easy to find the next time you play that DVD.
When you minimize the DVD Player it keeps playing in miniature on the Dock so that you can keep an eye on the movie while doing something else.
DVD Player Shortcuts
Play or pause: Space bar.
Stop: Command key + .
Skip to Next Chapter: Arrow looking right.
Skip to Previous Chapter: Arrow looking left.
Scan Forward: Command key + Arrow looking right.
Scan Backward: Command key + Arrow looking left.
Go to Beginning of Disc: Command key + Shift + D.
Go to Menu Screen: Command key + '.
Toggle Closed Captioning On and Off: Command key + Option + T.
Add Bookmark: Command key + =.
Volume Up or Down: Command key + Arrow looking up or Command key + Arrow looking down.
Toggle Mute On and Off: Command key + Option + Arrow looking down.
Show or Hide the Controller: Command key + 0.
Switch to Finder: Command key + Option + F.
Note that all recent Macs feature a video output port. With an optional adapter, this will output the screen in S-video or Composite video – useful if you have a widescreen TV and want to use your Mac as a DVD player. With a laptop, you can consider hooking it up to a bigger computer screen. iBook owners can also run Screen Spanning Doctor to allow better resolution. DVDs can also be played using an Apple Remote and OS X's Front Row full-screen media player..
Links
Sell your old electronics to iGotOffer.com. Check on to see our new prices. We can help you save money by buying your used devices and paying top dollar cash online!: Sell My MacBook now.
Read our blog, where you can learn more about all aspects related to the consumer electronics and more: iGotOffer Blog.