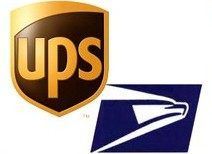 What is the Difference Between UPS and USPS
It is very easy to confuse UPS and USPS because of their acronyms, but they are two different companies. If you need to ship a package, you should know what the differences are between them.
USPS is the acronym for the United States Postal Service. This government agency was founded almost 250 years ago, in 1775, as a federal entity. USPS, also known as the postal service or US Mail, offers domestic mail delivery services. It is funded by its delivery services and the sale of postage stamps.
UPS is the acronym for the United Parcel Service, Inc. Founded in 1907 as a publicly traded company, UPS offers logistics services, courier express, and freight forwarding. It is one of the largest package delivery companies in the world.
USPS has strict guidelines in terms of the size and weight of the package, but UPS delivers packages of virtually any size. UPS focuses on commercial deliveries, while USPS has a long history of trading with residential customers.
Today, priority mail delivered by both companies takes two to three business days to get delivered, but a common package might take up to two weeks before it is delivered to the recipient. In fact, it was USPS that created the concept of express mail.
In terms of rate, both USPS and UPS offer competitive prices. A few other existing private delivery services are more expensive, but they may offer other services and faster shipping. For example, FedEx developed the concept of overnight mail.
A FEW WORDS ABOUT UPS HISTORY
Founded in 1907, UPS is the world's largest package delivery company and provider of transportation and logistics services. The company provides a powerful competitive advantage that can help business owners earn repeat customers and grow their businesses.

In 1907, there was a great need in North America for private messengers and delivery services. To help meet this need, an enterprising young man named James E. ("Jim") Casey, borrowed $100 from a friend and established the American Messenger Company in Seattle, Washington. Jim recalled later that there were quite a few messenger services already in the Seattle area, some of which he had worked for in the past.

Initially the company worked from its basement headquarters. The messengers ran errands, delivered packages, and carried notes, baggage, and trays of food from restaurants. Employees made most deliveries on foot, and used bicycles for longer trips. Only a few automobiles were in existence at that time, and the department stores of the day still used horses and wagons for merchandise delivery.

It wasn't until 1913 that the United States Parcel Post system was established by Jim and his partner, Claude Ryan. Jim´s brother, George, and a handful of other teenagers were the company´s messengers. The company did well despite stiff competition, largely because of Jim Casey´s strict policies of customer courtesy, reliability, round-the-clock service, and low rates. These principles, which guide the transportation giant even today, have been summarized by this slogan launched by Jim Casey: "Best service and lowest rates."

­See also:

<!-comments-button-->