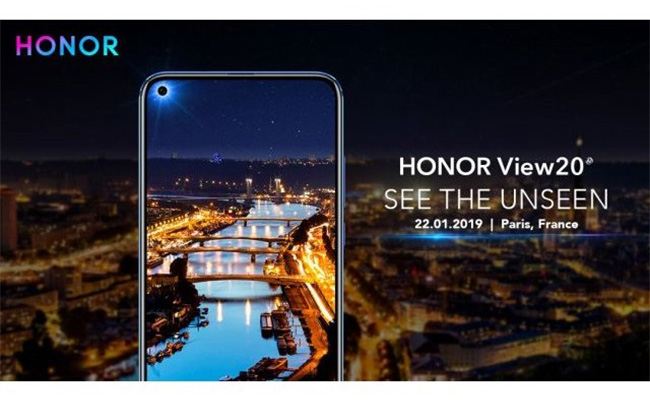 Pinhole Camera Phones: Huawei Honor View 20 and Samsung A8s with In-Screen Cameras are Almost Here!
Honor View 20 – the first smartphone with an in-screen camera – became officially available for preview in Hong Kong. The official presentation for China is scheduled on December 26 in China, while the global event will take place on January 22 in Paris.
Honor View 20 will feature a 48 MP camera and Sony IMX586 sensor. Its screen will have a 4.5 mm cutout for the camera, and Huawei confirmed the screen will now be called Full-View Display 3.0. The chipset Kirin 980 with its dual-NPU has the capability to operate in a 48MP AI HDR mode that can match single-lens reflex cameras.
The Huawei sub-brand also introduced a breakthrough technology, Link Turbo. It merges Wi-Fi + 4G networks to avoid choking over poor public networks. The feature is AI powered. This artificial intellect compares the networks' speed: if one of them is slow, it simultaneously connects to the other. However, many experts warn that AI processes data slower than a simple non-smart software.
As for the camera, Honor View 20 is the only modern flagship with the sole camera, and engineers did their best to pack it. A Sony IMX586 CMOS is on a massive 1/2-inch sensor (0.8 µm/pixel) and features the Quad Bayer color array, stacking adjacent 2×2 pixels in the same color. The photos appear sharper and less "noisy," even in challenging low-light scenes. The company promises that View 20 will shoot low-noise 12MP pictures in low-light.
Any other specs of the new Huawei Honor camera phone, including those of an in-screen camera, are still kept under wraps.
Samsung is following its immediate competitor in Asia with its Samsung Galaxy A8s. The Galaxy A lineup includes mid-class smartphones, which sometimes feature a new but questionable technology.
Samsung Galaxy A8s gets a new Infinity-O display, with an in-screen front camera in the same upper left corner. Outside of a pinholed 6.4-inch (2340 x 1080 pixel) display, the phone is a standard device. A Snapdragon 710 comes with either 6GB or 8GB of RAM, and 128GB of onboard storage with up to 512GB of expansion via microSD. Samsung Galaxy A8s shares the same triple-camera array as the Galaxy A7 on the back, while the front selfie camera contained within the cutout features a 24 MP sensor.
The third phone to join the set of the pinholed devices is Huawei's Nova 4 flagship, on December 17th. The design with a dot instead of a notch is curious enough, but also brings up an issue of fragility: Will a pinholed display survive a drop or a scratch? Will a drilled-through OLED matrix suffer the same stress as an untouched one? We'll see in 2019.
Links
Samsung Galaxy A8S – INFINITY O is HERE!!! [Video]
Video uploaded by XEETECHCARE on December 10, 2018

<!-comments-button-->