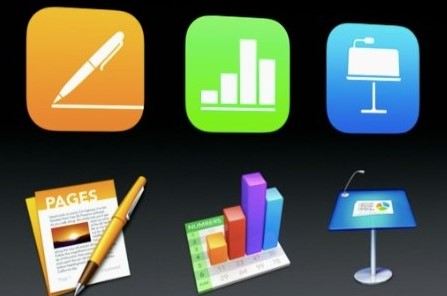 iWork and iLife Are Now Free for iPad, iPhone, iPod and Mac
The great day has come: now iWork office pack as well as iMovie and GarageBand for iOS and macOS devices, are free! Apple has made its apps free for all the macOS devices and the iOS devices, with storage capacity of 32 GB and more.
The now, free for download iWork, includes the following apps: Pages, Numbers, and Keynote. Identical to Word, Excel and Publisher by Microsoft respectively, and copied by Google Docs and Libre Office in function, they've been included free in previous versions of Apple handhelds, but never come as a pack. A user had to purchase them all together.
Though viewed by many as a home and small business tool, iWork sports built-in iCloud document-hosting services, and links to iPhoto and Aperture photo managing apps. This Apple app has always emphasized the 3D graph, charts and tables. Besides, the interface is much simpler, and features great touch screen support. iWork application can also export documents from their native formats into those of Microsoft Office and PDF. While Microsoft office pack demands third-party software for the same task.
iLife apps also come now free, though there are only two left of them: GarageBand and iMovie. GarageBand is a great music and audio app that helps to write, record and mix music, but also provides music lessons for piano and guitar. Basic lessons come free and artist lessons are payable. GarageBand is also of great help for recording podcasts. This is a great app for any musician, since it comes with notation support and is also capable of imitating different musical instruments. Apple goes a long way to encourage aspiring musicians of all ages, by giving this app away for free.
iMovie does the same for movie lovers. Instagram and YouTube fans will appreciate the possibility to acquire this app for free now, as well.
Of course, some extra features for these apps remain payable, but the core of the software come free. Even if you don't have them on your Apple device from the day of purchase, you can download it from App Store. The former price for iWork apps, before the price drop, amounted to $20 each for Macs, and $10 for the iOS versions, while Garage Band and iMovie for Mac costed $5 and $15, respectively. The price change applies to all customers.
The almost-Christmas give-away, won't mean much for owners of the latest Apple gadgets activated at or after September 2013 (for Mac the borderline month is October 2013) since they got iWorks apps pre-loaded for free.
But those who still have older devices, or have removed the said apps and would like to bring them back, are lucky. To help them, Apple has published a guideline on how to install the free apps.
Apple has been lowering the price for these apps for some years already, but decided that the give-away will alleviate these customers confused by software pricing. It's a much wiser move than selling the office pack for a monthly subscription. Yes, Microsoft, we're looking at you.
See also:
Selling iPhone, iPad, iPod, iMac, MacBook? Get top $! Simple way to sell used Apple electronics. Best price on the net: Sell my old electronics online today!
<!-comments-button-->