Microsoft Surface Pro 5 Is Coming
As for new tablet models the attention has shifted from iPads to Windows Surfaces. Microsoft Surface Pro 5 is the most awaited tablet this fall. The web is buzzing with numerous speculations about Pro 5 specs and date of release and whether it will be announced on October 26.
Microsoft Surface Pro 5: the Most Awaited Tablet of 2016
We have already written (see Will Microsoft Present New All-In-One PC This Fall?) that Microsoft is likely to present the all-in-one PC this fall but tech bloggers and journalists still have their hopes high for the Pro 5 tablet. The primary hope relates to the new Intel Kaby Lake processor [сделать ссылкой на статью, напишу чуть позже] announced earlier this year in August. The top class highly priced Microsoft tablets should be powered with Kaby Lake of course.
The other specs, those of display resolution and size, SDD capacity or RAM capacity, still remain a secret. But we shouldn't wait for great departures here. Of course, they will be increased and enhanced but main improvements will probably concern Windows 10 features. And speaking of those, some reviews speculate, Microsoft can postpone its Surface Pro 5 presentation and release until March, 2017, taking into account the issues Surface Pro 4 was released with last time. We mean the battery drain and sleep mode troubles. Perhaps, as the most knowledgeable informants hint, we'll have to do with Windows 10 annual release and some improvements in existing Surface tablets.
Under the circumstances, the only thing left to hope for is the type cover. Will it be bundled with Surface Tablets, or will Microsoft go on selling it as an independent accessory? The question of the year, it is.
My opinion is, Microsoft will kill the Surface Tablet line and pool the resources to Surface Book – the relatively new form-factor. Microsoft Store has been forcing third-party tablet-books to the customers since July.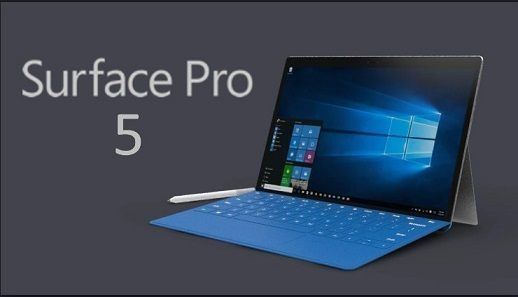 Later Updates to the Text
Microsoft Surface Pro 5 release hints: date, tech specs, other features of the new generation of Microsoft's Surface Tablets
As Microsoft deals for Surface Pro 4 is everywhere in December 2016, it's an obvious sign that the release of the two-in-one PC tablet known as Surface Pro 5 is just around the corner. Although the new tablet wasn't released along with the new Surface Book i7 and the Surface Studio on October 26, 2016, many are anticipating for the device especially that rumors about its features have emerged and propagate online.
According to the gossips, the all new Microsoft Surface Pro 5 is presumed to come in two variants wherein the entry-level version will have a 2K resolution, while the top-tier version will have a 4K screen display resolution. According to various experts, the top-tier one will feature a 16GB of RAM.
The new version of Surface Pen, which will be revealed with the Microsoft Surface Pro 5 tablet, is rumored to be capable now to automatically charge wirelessly once it is attached to the tablet. If true, the upgrade is a big plus since the existing Surface Pen merely use alkaline AAAA batteries, which is not enough as batteries tend to die over time.
Another rumor has it that the Microsoft Surface Pro 5 will no longer feature a USB 3.0 port. Instead, the device will have a USB-C port. Users will be able to use this port for charging.
Yet according to another version, the new computer might feature a fingerprint sensor on its improved screen. Previously, it was rumored that the Pro 5 tablet would use a Skylake chipset. Recent speculations however reveal that the processor will be an Intel Kaby Lake. The device would sport 16GB of RAM and 512GB on-board internal storage. Don't forget that the current Pro 4 uses the latest sixth-generation "Skylake" Intel processors (Core m3, Core i5 or Core i7). In fact, at the end of May 2016, Intel confirmed that Skylake's successor, Kaby Lake, would launch by the end of 2016. That adds more impetus to the early 2017 theory.
The new tablet might use an AMD ARM processor which will give it a longer battery life.
And finally, it's supposed that Surface Pro 5 will possibly run with the latest Microsoft operating system Windows 10 Redstone 3. Note that this next generation two-in-one laptop is considered as the competitor of Apple iPad Air and MacBook Air.
Let' say that the Surface line has become a category trailblazer, as even Apple's iPad Pro and Google's Pixel C have lately borrowed envelope-pushing features like the Surface's snap-on keyboard and multitasking chops. And remember that Microsoft has also brought out its Surface Book, the first-ever laptop. The company continued to turn heads on October 26, when it revamped the Surface Book's hardware, literally increasing the power, battery life, and price of the Surface Book i7 model and unveiled the same day the Surface Studio, a desktop all-in-one PC for designers and artists in need of high-end horsepower and display. It also revealed its Surface Dial accessory, a touch-friendly dial designed to sit beside your keyboard for fine contextual controls in whatever program you're using. All of these novelties are stoking the fires of the rumor mill, generating speculation about what new devices can we expect from Microsoft with the coming of its Surface Pro 5, though there is so far no detail other than predictions, rumors and gossips about the Surface Pro 5 that emerge every day or so. For example, it's said the Microsoft will change its position on the Surface Pro's keyboard cover which has always been an integral component of the Surface experience, but has been traditionally sold separately. Could Microsoft roll it into the Surface Pro 5's base price, as Samsung does with the competing TabPro S?
Links