iPhone 6s Plus – Full Phone Information, Tech Specs
The iPhone 6s Plus is the successor to the iPhone 6 Plus. The modernized model of the iPhone 6 Plus beat its extremely successful predecessor's sales record, becoming Apple's new record setter by having sold 13 million models in the first weekend.
iPhone 6S Plus In 2022! (Still Worth It?) (Review) [Video]
Video uploaded by Simple Alpaca on January 8, 2022.
Apple iPhone 6s Plus Full Information
The iPhone 6s Plus looks identical to the iPhone 6 Plus. In fact, the only visible marking that differentiates the iPhone 6S Plus from the iPhone 6 Plus is the small S logo on the rear below the word iPhone (the logo will be mostly covered by the user's hand 90% of the time. If the device is in a case, the logo will not be visible at all, of course.
Release Date
Announced on September 9, 2015.
Released on September 26, 2015.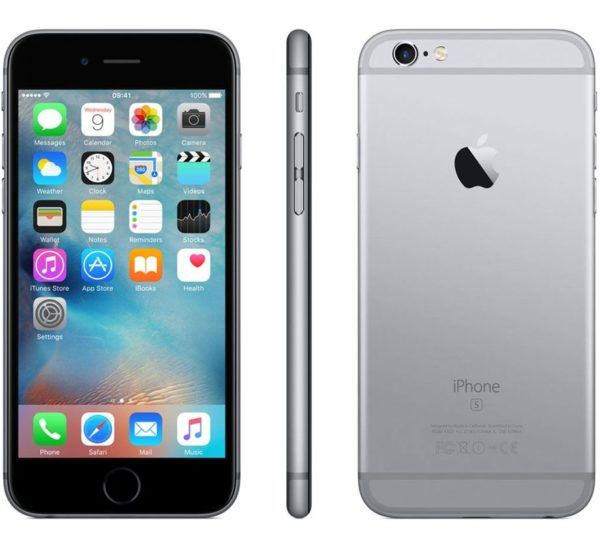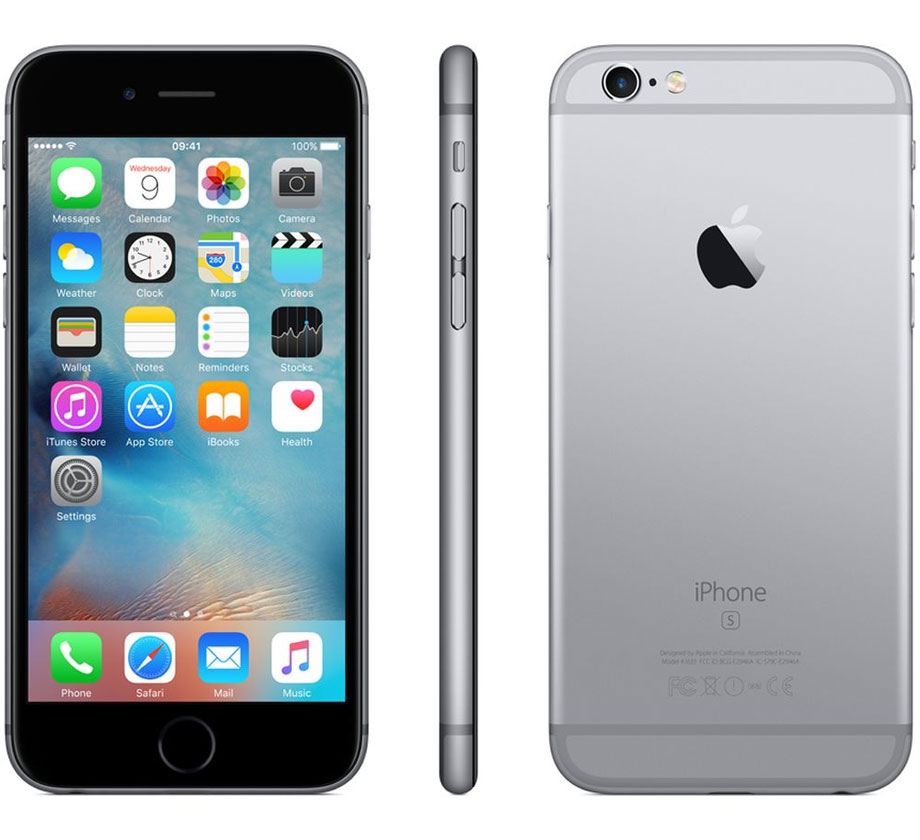 Specifications
Processor Type: Apple A9.
Processor Speed: 1.8 GHz.
Onboard RAM: 2 GB.
Storage Capacity: 16, 64, 128 GB.
OS: Pre-Installed OS: iOS 9.0.1 (13A405). Maximum OS: Current.
Usage Time: Standby Time – 250 hours. Up to 80 hours of audio playback, 24 hours of talk time on 3G, 12 hours of Internet use on 3G, 12 hours of Internet use on LTE, 12 hours of Internet use on Wi-Fi, 14 hours of HD video playback and up to 16 days of standby time.
Display: 5.5-inch display with 1080 x 1920 resolution at 401 ppi.
Connectivity: Built-in support for Wi-FI. USB. Lightning and Headphone ports.
Audio Support: AAC (8 to 320 Kbps), Protected AAC (from iTunes Store), HE-AAC, MP3 (8 to 320 Kbps), MP3 VBR, Audible (formats 2, 3, 4, Audible Enhanced Audio, AAX, and AAX+), Apple Lossless, AIFF, and WAV.
Rear Camera: 12 MP, 29mm, dual-LED.
Front Camera: 5 MP, 31mm.
Video Support: H.264 video up to 4K, 30 frames per second, High Profile level 4.2 with AAC-LC audio up to 160 Kbps, 48kHz, stereo audio in .m4v, .mp4, and .mov file formats; MPEG-4 video up to 2.5 Mbps, 640 by 480 pixels, 30 frames per second, Simple Profile with AAC-LC audio up to 160 Kbps per channel, 48kHz, stereo audio in .m4v, .mp4, and .mov file formats; Motion JPEG (M-JPEG) up to 35 Mbps, 1280 by 720 pixels, 30 frames per second, audio in ulaw, PCM stereo audio in .avi file format.
Dimensions: 6.23 in, 3.07 in, 0.29 in.
Average Weight: 6.77 oz.
Battery: Lithium Ion battery. Non-removable Li-Po 2750 mAh battery.
Color: Silver, Gold, Space Gray, Rose Gold.
Apple Orders, Discontinuation, Price
Apple Order: MKTM2LL/A.
Model Codes: N66AP and N66mAP.
Firmware code: iPhone8,2.
Apple Model Numbers (four model numbers):
Discontinuation: Still available.
Initial Price:
US$299 for 16GB subsidized by a two-year contract
US$399 for 64GB subsidized by a two-year contract
US$499 for 128GB subsidized by a two-year contract
Unlocked and contract-free for US$749 for 16GB
Unlocked and contract-free for US$849 for 64GB
Unlocked and contract-free for US$949 for 128GB4.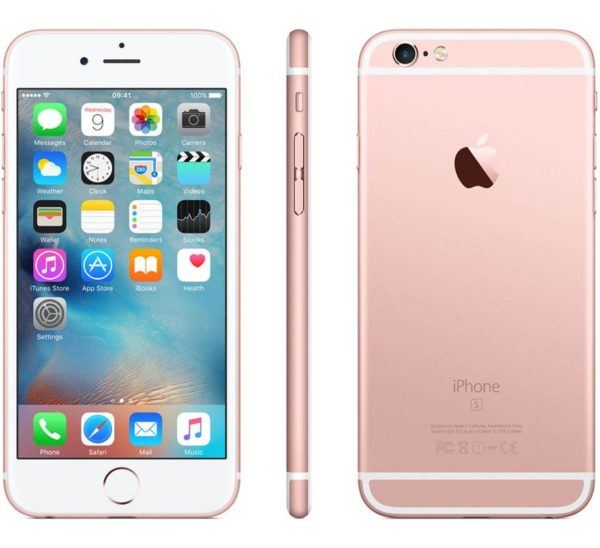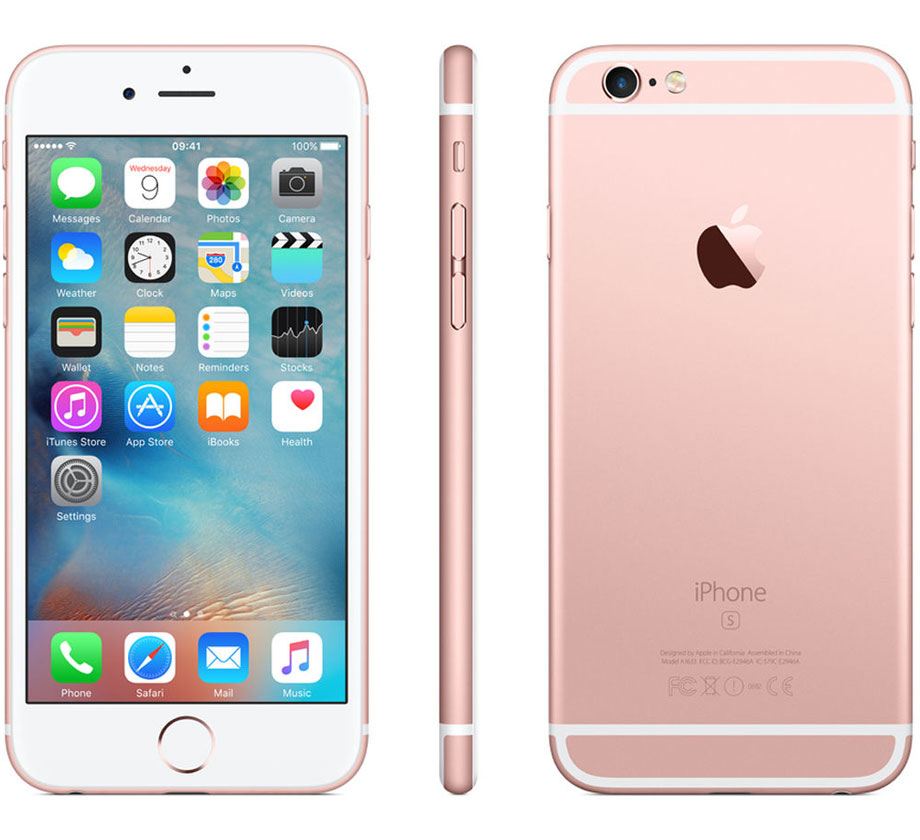 Features
To insert the new nano-SIM, you need to first locate the SIM removal tool. Remove the handset from the box, and then lift the phone tray out along with the pack of documents. Open the pack and attached to the inside is a small metal ring with a spike on. This is the SIM removal tool and is used to eject the SIM card tray.
Halfway down the right hand side of the iPhone 6s is a small pin hole. Push the SIM removal tool into this hole and a small tray will pop out. Put your nano-SIM card into this tray, making sure that it is orientated correctly, and with the gold contacts facing down. Slide it back into the iPhone to complete the process.
Accessories: Shipped with Apple EarPods with Remote and Mic, Lightning to USB cable, and a USB power adapter.
How to set up your iPhone 6s Plus for the first time: To begin the setup, make sure you have inserted the SIM card into the phone. You do not need to connect your new iPhone to your computer, as long as you have an internet connection available for activation. You can go back one page in the setup screen by tapping the Back arrow in the top left-hand corner of each screen. To move forward to the next screen, tap the Next button in the top right-hand corner. Get started by pressing the power button on the right-hand edge of your new iPhone to turn it on. You may need to hold it in for a second or so until you feel a vibration, which means the phone is starting up: – Swipe across the screen to begin the setup wizard – Select your language – English is at the top of the list to make it easy to find, but if you wish to use a different language just scroll down until you find the one you need, then tap on it to select – Select your country – choose the most appropriate option for your location. You will need to connect your iPhone 6s Plus to the internet to activate it. This is easily achieved by connecting to a Wi-Fi network. Find the name of your network in the list, and tap on it to select it.
Miscellanea
The iPhone 6s Plus was introduced by Tim Cook at Apple's Hey Siri, Give Us a Hint event on the 9th September 2015. This version of Apple's smartphone was made available to preorder on 12th September 2015 and started shipping on 25th September 2015.
Despite the very impressive number of changes to the iPhone 6s Plus compared to its predecessor, the smartphone's users noted the limited change in the life of the battery, and complained about this issue.
The iPhone 6s Plus offers the optical image stabilization option for both video and still photos, which provides a better low light performance than the iPhone 6 and the iPhone 6s.
Links