Miscellaneous Apple Mac Facts
Most (if not all) of the stories in this collection of facts about the Apple Mac are real stories. From the first days of the device, to the present, with many stops in between. Some of the stories, however, may be partially fabricated, created by fans or detractors, who knows? But if the tale were removed from our lives, the whole world would collapse. If you like our collection, share it with your friends and relatives. And perhaps you can contribute and make our anthology even richer by leaving your comments.
Top 10 Facts – Apple [Video]
Video uploaded by LEMMiNO on March 19, 2015.
Apple Mac Miscellaneous Facts and Old History
Curious facts you didn't know about Mac
Apple's Mac Commercial: In 1984, it was Ridley Scott, the famous director who made Alien and Blade Runner, that directed the commercial introducing the Mac.
The Lisa: The Apple Lisa computer, which predated the Mac lines, was named after Steve Jobs' daughter, Lisa. This $10,000 computer featured advanced preemptive multitasking, some of the features which users wouldn't see on the Mac until OS X in 2000. It also had dual built-in floppy disk drives.
Refunding advanced users: Lisa's operating system was not capable of supporting the demands of advanced users. The computer was prone to crash and restart under heavy loads from large, complex spreadsheets or graphs. Apple refunded an unspecified number of users in full for their systems, a fact unprecedented in the computing business.
Autographed Macs: Every original 1128 K Macintosh is autographed. Inside the beige plastic enclosure of every first model were engraved signatures from everyone on the Apple Mac team, including Steve Jobs and Steve Wozniak;
Multitasking: The first Macintosh couldn't multitask, despite their windowed interface. System 5, which launched in 1987, was the first version of the Macintosh operating system that actually let users run several programs simultaneously. It was superseded in 1988 by System 6, a more capable version which came with all Macintosh models worldwide.
Lisa: The Apple Lisa personal computer was one of the first personal computers to use GUI (Graphical User Interface).
Lisa's Clock: Lisa used a real-time clock with a 4-bit integer. The base year is defined as 1980, and the software won't accept any value below 1981. So, the only valid range is 1981-1995. Thus, Lisa has a "1995 problem".
Lisa's Name: Apple stated the name Lisa was an acronym for Local Integrated System Architecture. However, Steve Jobs' first daughter was named Lisa Nicole Brennan (born in 1978), and rumor has it that the acronym was reverse engineered from the name Lisa. Many years later, Jobs would tell his biographer Walter Isaacson, "Obviously it was named for my daughter."
Lisa Office System: When first launched, the Lisa Office System could not be used to write programs for itself. A separate development OS, called Lisa Workshop, was required. During this development process, engineers would alternate between the two OSes at startup, writing and compiling code on one OS, and testing it on the other. In April 1984, Apple introduced MacWorks, a software emulation environment which allowed the Lisa to run Macintosh System software and applications. This helped make the Lisa more attractive to potential customers.
Commercial Failure: The Apple Lisa was a commercial failure. The intended business customers were reluctant to purchase the computer because of its price of $9,995, making it unable to compete with the less expensive IBM PCs. Besides, Steve Jobs announced that Apple Computers would be releasing a new computer in the near future, and the new device would not be compatible with Lisa.
Lisa and NASA: In 1984, the largest Lisa customer was NASA. The agency used LisaProject for project management. NASA eventually faced problems when the Lisa was discontinued.
Lisa's Languages: Fully translated versions of Lisa's software and documentation were commercially available in British, French, West German, Italian, Scandinavian and Spanish. Lisa's keyboard can identify its native language layout, and the entire user experience will be in that language, including any hardware diagnostic messages.
Dvorak Keyboard: The Dvorak keyboard layout was never ported to the Lisa, though such porting had been available for the Apple III, IIe, and IIc, and later for the Macintosh.
Collectibles: Like every early Graphical Users Interface (GUI) computer, working Lisa computers are fairly valuable collector's items. Collectors will pay hundreds, or even thousands, of dollars for Lisa 1 and 2 in good working condition. The original model is the most sought after, but ProFile and Widget hard disks, which are necessary for running the Lisa OS, are also valued if in working order.
Commercial Failure II: Although Apple spent an incredible amount of time and money developing the Lisa from 1978 to 1982, at the cost of $50 million, the computer turned out to be an unpopular system. This was caused by its high price ($9,995) and few available software applications. The Lisa was slow, as the large OS was a huge burden on the 5MHz CPU. Its floppy drives were slow and unreliable.
Lisa 2 Model: After selling about 6,500 Lisa computers, Apple Computers offered an upgrade path for Lisa owners, replacing the two "Twiggy" unreliable drives with a single 400K 3-1/2-inch Sony floppy drive in the Lisa 2 model.
Lisa Is Gone: The Lisa line was discontinued by Apple Computers in April 1985. In 1986, Apple offered all Lisa/XL owners the opportunity to return their computer. The Lisa personal computer was a victim of politics and economics. With the advent of the portable, robot-manufactured Macintosh, the handmade desktop-sized Lisa became too costly to produce and was dropped from the Apple line two years after it had been released.
Technician Friendly: The Lisa was very technician-friendly. Indeed, once the back panel is removed, the entire electronics assembly slides out in one piece. The circuit boards can then be easily removed from their sockets. Lisa's power supply is just as easy to remove and replace, as it is held in place by a single thumb-screw, and slides out with a tug.
NeXT: In 1985, Steve Jobs formed NeXT. In 1988, the new company introduced highly advanced computers. In 1996, Apple bought NeXT, and put Steve Jobs in charge of the department one year later (Apple kicked out Steve Jobs in 1985). The NeXTSTEP OS, including Mach kernel and BSD Unix code, eventually became Mac OS X.
First Portable Mac: Apple introduced its first portable Macintosh in 1989. The first portable Mac featured a sharp active-matrix LCD display and a 16MHz 68000 processor (very powerful processor for that era). It weighed 16 pounds. Apple Computers sold it at $6,500 a piece!
PowerBook: In 1991, Apple introduced the PowerBook portable computer. It was rather slim and had a runaway success. The PowerBook lineup consisted of three models: the PowerBook 100, the PowerBook 140, and the PowerBook 170. The models featured trackballs for mouse navigation. They had a prominent wrist wrest area, and their keyboards were pushed back.
Apple's PowerBook Duo 210: Introduced in 1992, this computer was designed to be used with a desktop dock. PowerBook Duo 210 didn't have an internal floppy disk drive. It weighed just 4.2 pounds undocked.
Carl Sagan Computer: In 1994 Apple Computers released the Power Mac 7100. The company codenamed it Carl Sagan. The scientist didn't like his name associated with the computer and sued Apple when he found out. He lost, and Apple changed the codename to BHA. Unofficially, they said the letters meant Butthead Astronomer. Some months later, Apple decided to finally remove any mention of Sagan.
The First Laptop Trackpad: In 1994, Apple released the PowerBook 500. It was the first laptop ever made with a trackpad. In two years, almost the entire laptop market had switched to trackpads.
The First Wireless Connection: The first computer to include wireless connectivity was the colorful iBook in 1999. This feature was presented in the form of an optional AirPort card. Today, we cannot imagine a laptop that isn't wireless.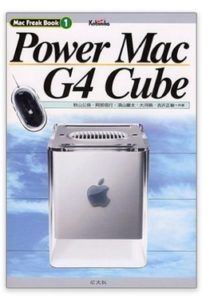 Apple Power Mac G4 Cube
Disaster of Cubism: In 2000, Apple introduced its G4 Cube Mac, one of the biggest failures in the history of the company. The G4 Cube became famous for hairline cracks that appeared in the clear plastic molded casing over time. The model was sold at $1,799 (monitor not included!).
Cheetah: The very first final OS X version was codenamed Cheetah. The wild cat naming thing continued for eight successive versions of new OS.
Wall-E: The intelligent robot, Wall-E, in the Disney Pixar film makes a short beep when he is fully recharged. This sound is the same noise made by Apple Macs when switched on.
Start-Up Modes: When troubleshooting your Mac, there are various key combinations that do useful things, during start-up. In each case, you have to make sure the Mac is switched off (hold down the power button for five seconds if you're not sure). Then switch it on, and as soon as you hear the start-up chime hold down one of the following until something appears on the screen: Shift – Safe Mode. Command key + S – Single User Mode.C – Boot from CD.
Wally-E Looking for the Macs
Tricks and Treats
VirtualBox: Do you know that you can run almost any other OS on your Mac? If your colleague works with an application that does not exist for OS X, you want to practice scripting on Linux, or you need to prepare for your IT exam and get comfortable with Windows servers, you need to install a virtual machine on your computer. There is an application named VirtualBox that is absolutely free, and you can get it here: virtualbox-mac.
Apple Maps and Apple Mac: If you can't find where you have parked your car, iOS 10 and later can help you with that with its Apple Maps feature! The parking reminder will automatically drop a pin to locate the car's stationary location.
Paragon Software: The file system format on Mac and PC are different, and that's why you may have issues transferring data from your Mac to your friend's USB stick or external hard-drive. On Mac, the file system format is called HFS, whereas on PC it's called NTFS. NTFS is not supported by Apple. So, how do you access NTFS from your Mac? The answer is Paragon software. Unfortunately, the program is not free, but if you use it, you'll never have that problem again! You can download it here: Paragon-software.com.
Mac: Find Your Stuff: You can find stuff quickly on your Mac, as Mac OS X has tons of good features for sorting and searching through all the data. These technologies use Spotlight, Spaces, Exposé, and Quick Look, which you can use easily with just a bit of practice.
Finder Windows: You might want to customize the Finder windows and modify the folders that contain icons. By default, these windows contain a plain white background. You can add a number of custom patterns and images, however. That's one easy way to liven up Folders. Sometimes it's also practical, because it allows you to identify the active Finder window.
Bluetooth Mouse: If you have a Bluetooth mouse and keyboard, the relevant System Preferences panel can also be reached from the Bluetooth icon on the menu bar.
Automate Images: Your Mac can automate image imports from other devices, such as digital cameras and phones, by using the Image Capture feature.
Snapping the Screen: On your Mac, the shortcut Command key + Shift + 3 deposits a snap of your Mac's screen onto the desktop in the PNG format. The screenshot is named with the date and time it was snapped.
Links