iMac (21.5-inch, 2.8GHz Intel Core i5, Late 2015)
The iMac (21.5-inch, 2.8GHz Intel Core i5, Late 2015) introduced in October 13, 2015, continues the late 2013 iMacs line up, rather than that of the late 2014, namely – the iMac (21.5-inch, 2.7GHz Intel Core i5, Late 2013). It has a quad processor of enhanced microarchitecture, and neither Retina display nor Fusion Drive, nor an SSD storage. The quad core processor (Intel Core-i5 Ivy Bridge with Broadwell microarchitecture) has been upgraded to 2.8 GHz. The design is similar to the iMacs of 2012. This is the all-in-one desktop computer in an ultra-thin (5 mm depth at the edges) all-aluminum unibody casing behind the 21.5-inch LED-backlit IPS screen with cover glass fully laminated to the LCD and anti-reflective coating. There's a bulge though in the center of the back panel to house all the hardware. The computer is mounted on an aluminum stand with a slightly tapered foot and an adjusting hinge.
Apple iMac 21.5-inch with Retina 4K display: Unboxing & Review [Video]
Video uploaded by DetroitBORG on October 16, 2015.
iMac (21.5-inch, 2.8GHz Intel Core i5, Late 2015)
The iMac (21.5-inch, 2.8GHz Intel Core i5, Late 2015) features a dual core 2.8 GHz Intel Core i5 i5-5575R processor (Broadwell), with four independent processor cores on a single chip, DMI system bus and an integrated graphics core, 8 GB of RAM, a 1TB hard drive (5400 RPM), an SD memory slot card reader, an integrated Intel Iris Pro 6200 Graphics 6000 graphics with 1.7 GB of shared memory, a built-in FaceTime HD webcam and stereo speakers, as well as two "Thunderbolt-2" ports and 4 USB 3.0 ports. It also has built-in AirPort Extreme (802.11g) and Bluetooth 4.0. The cooling system is CPU controlled and the in-built speakers are mounted beneath the 21.5-inch screen for the clearer less distorted sound to bounce off the desk or other surface. The speakers' grills also work as the vent ones. The iMac (21.5-inch, 2.8GHz Intel Core i5, Late 2015) is shipped with a compact aluminum Apple Wireless Keyboard and either with a Magic Mouse or a traditional wired Apple Mouse or a multi-touch Magic Trackpad.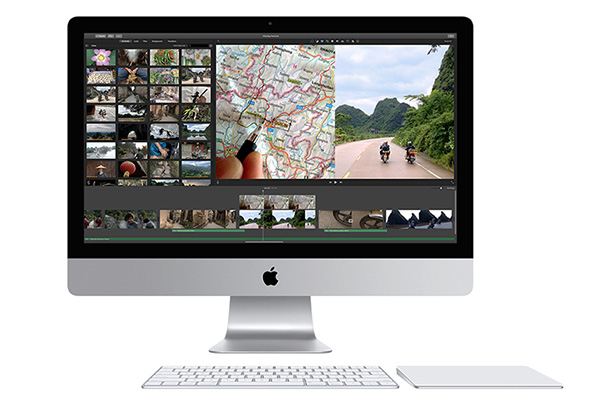 Release Date
Introduced on October 13, 2015.
Specifications
Codename: iMac with Retina Display.
Processor Speed: 2.8 GHz.
Boost Speed: 3.3 GHz.
Processor Architecture: 64-bit.
Processor type: Core i5 (I5- 5575R) "Broadwell".
Processor upgrade: Soldered.
Cores: 4.
Graphics core: Yes.
On-Board Ram: 8 GB, DDR3 1600 MHz, upgrade at time of order only.
Max. Ram: 16 GB.
Video: 21.5″ LED-backlit TFT active matrix IPS, 16:9 widescreen, 1920 x 1080 pixels max resolution.
Webcam: FaceTime HD camera 720p, 0.9 MP, 1280 x 720 resolution.
Graphics: Intel Iris Pro 6200 graphics with 1.7 GB of shared memory.
Storage: 1TB hard drive (5400 RPM).
Fusion Drive: optional, built-to-order.
SSD supported: "blade" type.
Input\Output: 4x USB 3.0, 2 "Thunderbolt-2" ports, built-in microphone, built-in speakers, audio out, audio input/output, FaceTime HD webcam, SD card reader, Kensington Lock slot.
Optical drive: None.
Card reader: SDXC card.
Card format: SDXC.
Internet \ Wireless connection: Integrated Airport Extreme 802.11 a/b/g/n, Gigabit Ethernet, Bluetooth 4.0.
Preinstalled OS: 10.11 (15A2301).
OS max. upgrade: 10.12 "Sierra".
Dimensions: 17.7 x 20.8 x 6.9 inch.
Weight: 12.5 lb.
Model Identifiers
Price, Discontinuation
Price: $1299.
Discontinued: June 5, 2017.
Miscellanea
Broadwell chips are often called the 5th Intel Core generation, but it isn't actually a great departure from Sandy Bridge, other than in size and heat escape.
Due to low heat flux Broadwell processors can be used in portable fanless systems.
Links