How to Identify Your iMac
On iMac you can locate the serial number, model identifier, and part number on the device's surface. Besides, on almost all versions of this computer you will find this information in the About this Mac window. If you have the original box of your iMac, you can find the information on the packaging. If you purchased the device in Apple store or at an authorized third-party retailer, the serial number will appear on the invoice or receipt.
How to Find iMac Serial Number, Model Identifier and Part Number
In the "About This Mac" window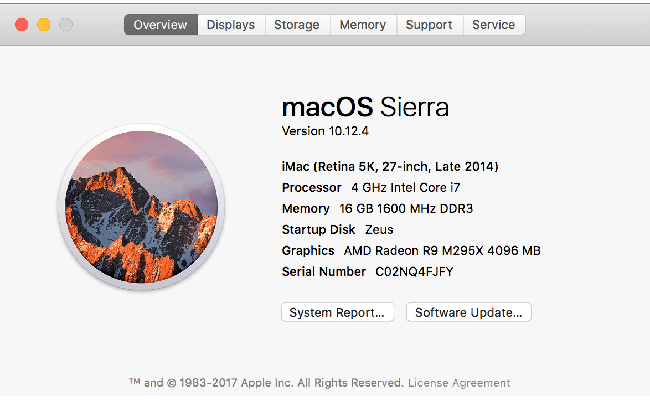 Choose Apple menu and head for About This Mac. The window will list your computer's official model name and its serial number. You can then use this serial number to find tech specs for this specific model or to check support options.
The computer's model identifier allows users to get more information about the device. To find the identifier:
In the About This Mac window, click System Report.
The System Information window will open, where you will be able to find Model Identifier in the Hardware Overview
You can use the identifier to locate your iMac in the table below.
On the surface of your iMac
The serial number of your iMac is printed on its surface. To find it, shut down your iMac and unplug any connected cables so you can safely move it. Then gently lay the computer face-down on a soft, clean towel or cloth.
The serial number is on the underside of the base (or foot) of the iMac, along with a bar code and regulatory markings.
On the original packaging
If you still have the original packaging for your iMac, you can find the serial number on a barcode label on the box. Note that the packaging also lists the Apple part number. You can match that number to the number that appears in the table below to find your iMac model.
Note also that in Apple part numbers, the letters "xx" before the slash represent variables which define country or region
On the Receipt or Invoice
Additionally, you can find the serial number, model number, and configuration details of your iMac on its receipt or invoice, if you have purchased the computer directly with Apple or its subsidiaries, and if you still have the invoice.
iMac Pro 27-inch Models
iMac Pro (27-inch Retina 5K, 2.3GHz 18-core Intel Xeon, Late 2017)
iMac Pro (27-inch Retina 5K, 2.5GHz 14-core Intel Xeon, Late 2017)
iMac Pro (27-inch Retina 5K, 3.0GHz 10-core Intel Xeon, Late 2017)
iMac Pro (27-inch Retina 5K, 3.2GHz 8-core Intel Xeon, Late 2017)
iMac 27-inch Models
iMac (27-inch Retina 5K, 3.6GHz Intel Core i9, 2019)
Model Identifier
iMac19,1
Model Number
BTO/CTO
Part Number
MRR12LL/A
Family
27-inch Retina 5K, 2019
Released
2019
Dimensions
20.3 x 25.6 x 8 in
Weight
21 pounds
Display Size
27 inches
Processor
3.6GHz 8-core 9th-generation Intel Core i9
RAM
8GB
Storage
1TB Fusion Drive
Graphics
- Radeon Pro 575X with 4GB of GDDR5 memory
- Radeon Pro 580X with 8GB of GDDR5 memory
- Radeon Pro Vega 48 with 8GB of HBM2 memory
Optical
None
See also
Sell your iMac (27-inch Retina 5K, 3.6GHz Intel Core i9, 2019) online now
iMac (27-inch Retina 5K, 3.7GHz Intel Core i5, 2019)
Model Identifier
iMac19,1
Model Number
A2115 (EMC 3194)
Part Number
MRR12LL/A
Family
27-inch Retina 5K, 2019
Released
2019
Dimensions
20.3 x 25.6 x 8 in
Weight
21 pounds
Display Size
27 inches
Processor
3.7GHz 6-core 9th-generation Intel Core i5
RAM
8GB
Storage
2TB Fusion Drive
Graphics
- Radeon Pro 580X with 8GB of GDDR5 memory
- Radeon Pro Vega 48 with 8GB of HBM2 memory
Optical
None
See also
Sell your iMac (27-inch Retina 5K, 3.7GHz Intel Core i5, 2019) online now
iMac (27-inch Retina 5K, 3.1GHz Intel Core i5, 2019)
Model Identifier
iMac19,1
Model Number
A2115 (EMC 3194)
Part Number
MRR02LL/A
Family
27-inch Retina 5K, 2019
Released
2019
Dimensions
20.3 x 25.6 x 8 in
Weight
21 pounds
Display Size
27 inches
Processor
3.1GHz 6-core 8th-generation Intel Core i5
RAM
8GB
Storage
1TB Fusion Drive
Graphics
Radeon Pro 575X with 4GB of GDDR5 memory
Optical
None
See also
Sell your iMac (27-inch Retina 5K, 3.1GHz Intel Core i5, 2019) online now
iMac (27-inch Retina 5K, 3.0GHz Intel Core i5, 2019)
Model Identifier
iMac19,1
Model Number
A2115 (EMC 3194)
Part Number
MRQY2LL/A
Family
27-inch Retina 5K, 2019
Released
2019
Dimensions
20.3 x 25.6 x 8 in
Weight
21 pounds
Display Size
27 inches
Processor
3.0GHz 6-core 8th-generation Intel Core i5
RAM
8GB
Storage
1TB Fusion Drive
Graphics
Radeon Pro 570X with 4GB of GDDR5 memory
Optical
None
See also
Sell your iMac (27-inch Retina 5K, 3.0GHz Intel Core i5, 2019) online now
iMac (27-inch Retina 5K, 4.2GHz Intel Core i7, Mid 2017)
iMac (27-inch Retina 5K, 3.8GHz Intel Core i5, Mid 2017)
iMac (27-inch Retina 5K, 3.5GHz Intel Core i5, Mid 2017)
iMac (27-inch Retina 5K, 3.4GHz Intel Core i5, Mid 2017)
iMac (27-inch Retina 5K, 4.0GHz Intel Core i7, Late 2015)
iMac (27-inch Retina 5K, 3.3GHz Intel Core i5, Late 2015)
iMac (27-inch Retina 5K, 3.2GHz Intel Core i5, Late 2015)
iMac (27-inch Retina 5K, 3.3GHz Intel Core i5, Mid 2015)
iMac (27-inch Retina 5K, 4.0GHz Intel Core i7, Late 2014)
iMac (27-inch Retina 5K, 3.5GHz Intel Core i5, Late 2014)
iMac (27-inch, 3.5GHz Intel Core i7, Late 2013)
iMac (27-inch, 3.4GHz Intel Core i5, Late 2013)
iMac (27-inch, 3.2GHz Intel Core i5, Late 2013)
iMac (27-inch, 3.4GHz Intel Core i7, Late 2012)
iMac (27-inch, 3.2GHz Intel Core i5, Late 2012)
iMac (27-inch, 2.9GHz Intel Core i5, Late 2012)
iMac (27-inch, 3.4GHz Intel Core i7, Mid 2011)
Model Identifier
iMac12,2
Model Number
A1312 (EMC 2429)
Part Number
MD063LL/A
Family
27-inch, Mid 2011
Released
2011
Dimensions
20.4 x 25.6 x 8.15 in
Weight
30.5 pounds
Processor
3.4Ghz Intel Core i7
Display Size
27 inches
RAM
4GB
Storage
1TB HDD
Optical
8X DL "SuperDrive"
See also
Sell your iMac (27-inch, 3.4Ghz Intel Core i7, Mid 2011) online now
iMac (27-inch, 3.1GHz Intel Core i5, Mid 2011)
Model Identifier
iMac12,2
Model Number
A1312 (EMC 2429)
Part Number
MC814LL/A
Family
27-inch, Mid 2011
Released
2011
Dimensions
20.4 x 25.6 x 8.15 in
Weight
30.5 pounds
Processor
3.1Ghz Intel Core i5
Display Size
27 inches
RAM
4GB
Storage
1TB HDD
Optical
8X DL "SuperDrive"
See also
Sell your iMac (27-inch, 3.1Ghz Intel Core i5, Mid 2011) online now
iMac (27-inch, 2.7GHz Intel Core i5, Mid 2011)
Model Identifier
iMac12,2
Model Number
A1312 (EMC 2429)
Part Number
MC813LL/A
Family
27-inch, Mid 2011
Released
2011
Dimensions
20.4 x 25.6 x 8.15 in
Weight
30.5 pounds
Processor
2.7Ghz Intel Core i5
Display Size
27 inches
RAM
4GB
Storage
1TB HDD
Optical
8X DL "SuperDrive"
See also
Sell your iMac (27-inch, 2.7Ghz Intel Core i5, Mid 2011) online now
iMac (27-inch, 2.93GHz Intel Core i7, Mid 2010)
iMac (27-inch, 3.6GHz Intel Core i5, Mid 2010)
Model Identifier
iMac11,3
Model Number
A1312 (EMC 2390)
Part Number
BTO/CTO
Family
27-inch, Mid 2010
Released
2010
Dimensions
20.4 x 25.6 x 8.15 in
Weight
30.5 pounds
Processor
3.6Ghz Intel Core i5
Display Size
27 inches
RAM
4GB
Storage
1TB HDD
Optical
8X DL "SuperDrive"
See also
Sell your iMac (27-inch, 3.6Ghz Intel Core i5, Mid 2010) online now
iMac (27-inch, 2.8GHz Intel Core i5, Mid 2010)
Model Identifier
iMac11,3
Model Number
A1312 (EMC 2390)
Part Number
MC511LL/A
Family
27-inch, Mid 2010
Released
2010
Dimensions
20.4 x 25.6 x 8.15 in
Weight
30.5 pounds
Processor
2.8Ghz Intel Core i5
Display Size
27 inches
RAM
4GB
Storage
1TB HDD
Optical
8X DL "SuperDrive"
See also
Sell your iMac (27-inch, 2.8Ghz Intel Core i5, Mid 2010) online now
iMac (27-inch, 3.2GHz Intel Core i3, Mid 2010)
Model Identifier
iMac11,3
Model Number
A1312 (EMC 2390)
Part Number
MC510LL/A
Family
27-inch, Mid 2010
Released
2010
Dimensions
20.4 x 25.6 x 8.15 in
Weight
30.5 pounds
Processor
3.2Ghz Intel Core i3
Display Size
27 inches
RAM
4GB
Storage
1TB HDD
Optical
8X DL "SuperDrive"
See also
Sell your iMac (27-inch, 3.2Ghz Intel Core i3, Mid 2010) online now
iMac (27-inch, 2.8GHz Intel Core i7, Late 2009)
iMac (27-inch, 2.66GHz Intel Core i5, Late 2009)
iMac (27-inch, 3.33GHz Intel Core 2 Duo, Late 2009)
iMac (27-inch, 3.06GHz Intel Core 2 Duo, Late 2009)
iMac 21.5-inch Models
iMac (21.5-inch Retina 4K, 3.2GHz Intel Core i7, 2019)
Model Identifier
iMac19,2
Model Number
A2116 (EMC 3195)
Part Number
BTO/CTO
Family
21.5-inch Retina 4K, 2019
Released
2019
Dimensions
17.7 x 20.8 x 6.9 in
Weight
12.5 pounds
Display Size
21.5 inches
Processor
3.2GHz 6-core 8th-generation Intel Core i7
RAM
8GB
Storage
1TB HDD / Fusion Drive
Graphics
- Radeon Pro 555X with 2GB of GDDR5 memory
- Radeon Pro 560X with 4GB of GDDR5 memory
- Radeon Pro Vega 20 with 4GB of HBM2
Optical
None
See also
Sell your iMac (21.5-inch Retina 4K, 3.2GHz Intel Core i7, 2019) online now
iMac (21.5-inch Retina 4K, 3.0GHz Intel Core i5, 2019)
Model Identifier
iMac19,2
Model Number
A2116 (EMC 3195)
Part Number
MRT42LL/A
Family
21.5-inch Retina 4K, 2019
Released
2019
Dimensions
17.7 x 20.8 x 6.9 in
Weight
12.5 pounds
Display Size
21.5 inches
Processor
3.0GHz 6-core 8th-generation Intel Core i5
RAM
8GB
Storage
1TB Fusion Drive
Graphics
- Radeon Pro 560X with 4GB of GDDR5 memory
- Radeon Pro Vega 20 with 4GB of HBM2
Optical
None
See also
Sell your iMac (21.5-inch Retina 4K, 3.0GHz Intel Core i5, 2019) online now
iMac (21.5-inch Retina 4K, 3.6GHz Intel Core i3, 2019)
Model Identifier
iMac19,2
Model Number
A2116 (EMC 3195)
Part Number
MRT32LL/A
Family
21.5-inch Retina 4K, 2019
Released
2019
Dimensions
17.7 x 20.8 x 6.9 in
Weight
12.5 pounds
Display Size
21.5 inches
Processor
3.6GHz quad-core 8th-generation Intel Core i3
RAM
8GB
Storage
1TB HDD
Graphics
Radeon Pro 555X with 2GB of GDDR5 memory
Optical
None
See also
Sell your iMac (21.5-inch Retina 4K, 3.6Ghz Intel Core i3, 2019) online now
iMac (21.5-inch Retina 4K, 3.6GHz Intel Core i7, Mid 2017)
iMac (21.5-inch Retina 4K, 3.4GHz Intel Core i5, Mid 2017)
iMac (21.5-inch Retina 4K, 3.0GHz Intel Core i5, Mid 2017)
iMac (21.5-inch, 2.3GHz Intel Core i5, Mid 2017)
iMac (21.5-inch Retina 4K, 3.3GHz Intel Core i7, Late 2015)
iMac (21.5-inch Retina 4K, 3.1GHz Intel Core i5, Late 2015)
iMac (21.5-inch, 2.8GHz Intel Core i5, Late 2015)
iMac (21.5-inch, 1.6GHz Intel Core i5, Late 2015)
iMac (21.5-inch, 1.4GHz Intel Core i5, Mid 2014)
iMac (21.5-inch, 3.1GHz Intel Core i7, Late 2013)
iMac (21.5-inch, 2.9GHz Intel Core i5, Late 2013)
iMac (21.5-inch, 2.7GHz Intel Core i5, Late 2013)
iMac (21.5-inch, 3.3GHz Intel Core i3, Early/Edu 2013)
iMac (21.5-inch, 3.1GHz Intel Core i7, Late 2012)
iMac (21.5-inch, 2.9GHz Intel Core i5, Late 2012)
iMac (21.5-inch, 2.7GHz Intel Core i5, Late 2012)
iMac (21.5-inch, 3.1GHz Intel Core i3, Late/Edu 2011)
iMac (21.5-inch, 2.8GHz Intel Core i7, Mid 2011)
iMac (21.5-inch, 2.7GHz Intel Core i5, Mid 2011)
iMac (21.5-inch, 2.5GHz Intel Core i5, Mid 2011)
Model Identifier
iMac12,1
Model Number
A1311 (EMC 2428)
Part Number
MC309LL/A
Family
21.5-inch, Mid 2011
Released
2011
Dimensions
17.75 x 20.8 x 7.42 in
Weight
20.5 pounds
Processor
2.5Ghz Intel Core i5
Display Size
21.5 inches
RAM
4GB
Storage
500GB HDD
Optical
8X DL "SuperDrive"
See also
Sell your iMac (21.5-inch, 2.5Ghz Intel Core i5, Mid 2011) online now
iMac (21.5-inch, 3.6GHz Intel Core i5, Mid 2010)
iMac (21.5-inch, 3.2GHz Intel Core i3, Mid 2010)
iMac (21.5-inch, 3.06GHz Intel Core i3, Mid 2010)
iMac (21.5-inch, 3.33GHz Intel Core 2 Duo, Late 2009)
iMac (21.5-inch, 3.06GHz Intel Core 2 Duo, Late 2009)
iMac 24-inch Models
iMac (24-inch, 3.06GHz Intel Core 2 Duo, Early 2009)
iMac (24-inch, 2.93GHz Intel Core 2 Duo, Early 2009)
iMac (24-inch, 2.66GHz Intel Core 2 Duo, Early 2009)
iMac (24-inch, 3.06GHz Intel Core 2 Duo, Early 2008)
iMac (24-inch, 2.8GHz Intel Core 2 Duo, Early 2008)
iMac (24-inch, 2.8GHz Intel Core 2 Extreme, Mid 2007 AI)
iMac (24-inch, 2.4GHz Intel Core 2 Duo, Mid 2007 AI)
iMac (24-inch, 2.33GHz Intel Core 2 Duo, Late 2006)
iMac (24-inch, 2.16GHz Intel Core 2 Duo, Late 2006)
iMac 20-inch Models
iMac (20-inch, 2.26GHz Intel Core 2 Duo, Mid/Edu 2009)
iMac (20-inch, 2.0GHz Intel Core 2 Duo, Mid/Edu 2009)
iMac (20-inch, 2.66GHz Intel Core 2 Duo, Early 2009)
iMac (20-inch, 2.66GHz Intel Core 2 Duo, Early 2008)
iMac (20-inch, 2.4GHz Intel Core 2 Duo, Early 2008)
iMac (20-inch, 2.4GHz Intel Core 2 Duo, Mid 2007 AI)
iMac (20-inch, 2.0GHz Intel Core 2 Duo, Mid 2007 AI)
iMac (20-inch, 2.33GHz Intel Core 2 Duo, Late 2006)
iMac (20-inch, 2.16GHz Intel Core 2 Duo, Late 2006)
iMac (20-inch, 2.0GHz Intel Core Duo, Early 2006)
iMac 17-inch Models
iMac (17-inch, 2.16GHz Intel Core 2 Duo, Late 2006)
Model Identifier
iMac5,1
Model Number
A1208 (EMC 2114)
Part Number
BTO/CTO
Family
17-inch, Late 2006
Released
2006
Dimensions
16.9 x 16.8 x 6.8 in
Weight
15.5 pounds
Processor
2.16Ghz Intel Core 2 Duo
Display Size
17 inches
RAM
1GB
Storage
160GB HDD
Optical
8X DL "SuperDrive"
See also
Sell your iMac online now
iMac (17-inch, 2.0GHz Intel Core 2 Duo, Late 2006)
Model Identifier
iMac5,1
Model Number
A1208 (EMC 2114)
Part Number
MA590LL
Family
17-inch, Late 2006
Released
2006
Dimensions
16.9 x 16.8 x 6.8 in
Weight
15.5 pounds
Processor
2.0Ghz Intel Core 2 Duo
Display Size
17 inches
RAM
1GB
Storage
160GB HDD
Optical
8X DL "SuperDrive"
See also
Sell your iMac online now
iMac (17-inch, 1.83GHz Intel Core 2 Duo, Late 2006 IG)
Model Identifier
iMac5,2
Model Number
A1195 (EMC 2124)
Part Number
MA710LL
Family
17-inch, Late 2006
Released
2006
Dimensions
16.9 x 16.8 x 6.8 in
Weight
15.5 pounds
Processor
1.83Ghz Intel Core 2 Duo
Display Size
17 inches
RAM
512MB/1GB
Storage
160GB HDD
Optical
DVD-ROM/CD-RW
See also
Sell your iMac online now
iMac (17-inch, 1.83GHz Intel Core Duo, Mid 2006 IG)
Model Identifier
iMac4,2
Model Number
A1195 (EMC 2110)
Part Number
MA406LL/A
Family
17-inch, Mid 2006
Released
2006
Dimensions
16.9 x 16.8 x 6.8 in
Weight
15.5 pounds
Processor
1.83Ghz Intel Core Duo
Display Size
17 inches
RAM
512MB
Storage
80GB HDD
Optical
DVD-ROM/CD-RW
See also
Sell your iMac online now
iMac (17-inch, 1.83GHz Intel Core Duo, Early 2006)
Model Identifier
iMac4,1
Model Number
A1173 (EMC 2104)
Part Number
MA199LL
Family
17-inch, Early 2006
Released
2006
Dimensions
16.9 x 16.8 x 6.8 in
Weight
15.5 pounds
Processor
1.83Ghz Intel Core Duo
Display Size
17 inches
RAM
512MB
Storage
160GB HDD
Optical
8X DL "SuperDrive"
See also
Sell your iMac online now
Links
Evolution Of Apple Computers (iMac) 1976-2019 [Video]
Video published by ছায়ালোক on February 12, 2019