iPhone 4s – Full Phone Information, Tech Specs
The iPhone 4s is the fifth generation of Apple's smartphone. While no differences to the phone's external characteristics were made, this version of the iPhone released a year later after its very successful predecessor introduced a few changes to the 4s version compared to the iPhone 4, including increased battery life, extended wireless connectivity and a more powerful dual­core processor. The 4S model hosted major internal upgrades, including an upgrade to the Apple A5 chipset, and an 8-megapixel camera with 1080p video recording.
Apple iPhone 4s Full Information
The iPhone 4s debuted with iOS 5, the fifth major version of iOS, Apple's mobile operating system, that introduced features including iCloud, iMessage, Notification Center, Reminders, and Twitter integration.
Release Date
Announced on October 4, 2011.
Released on October 14, 2011.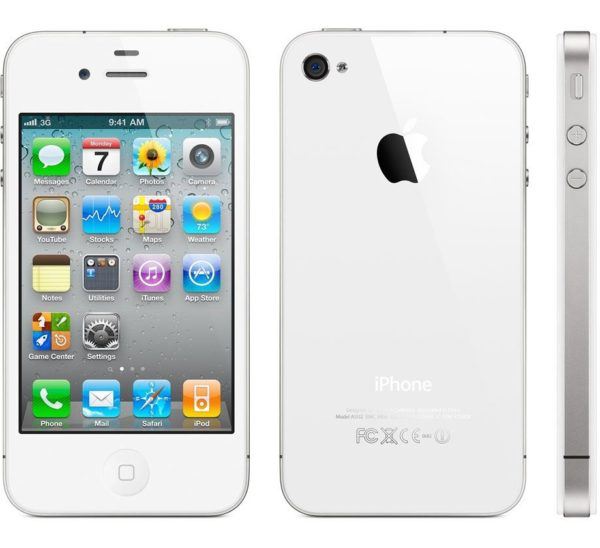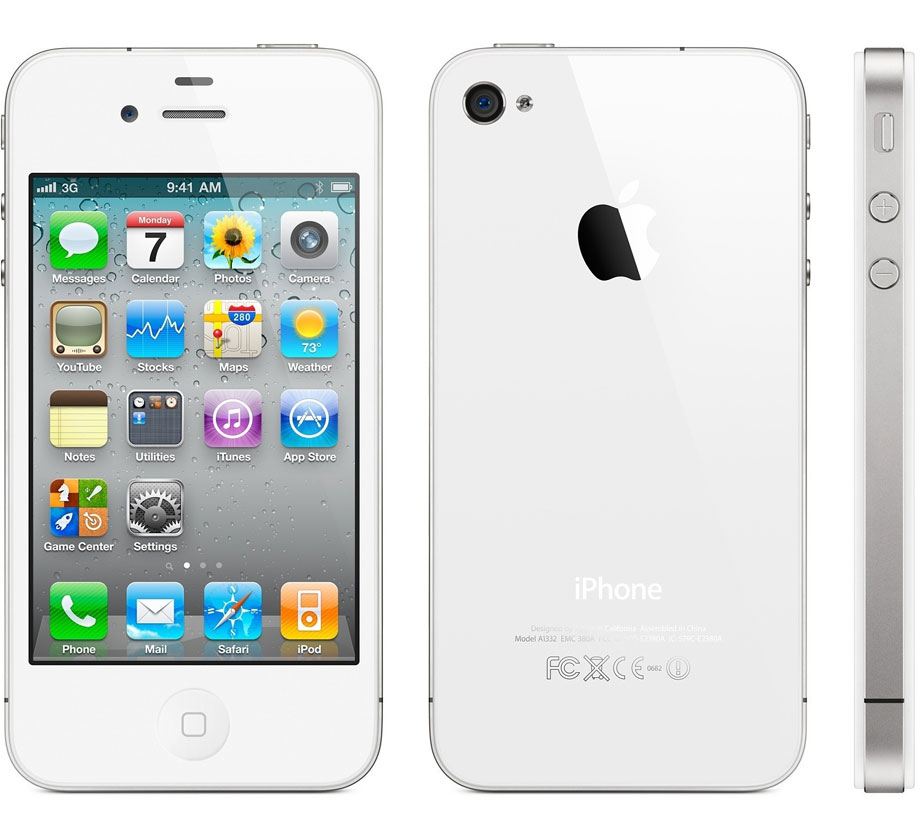 Specifications
Processor: Dual­core, Apple A5.
Processor speed: 800 MHz.
Onboard RAM: 512 MB.
Storage capacity: 8, 16, 32 and 64 GB.
Core design: ARM Cortex–A9.
CPU: 1.0 GHz. CPU Speed: 800 MHz.
OS: iOS (9.x, 8.x, 7.x, 6.1, 6, 5.1, 5).
Usage time: Standby Time: 300 hours. Up to 40 hours of audio playback. 14 hours of talk time on 2G. 8 hours of talk time on 3G. 6 hours of Internet use on 3G. 9 hours Internet use on Wi­Fi.
Display: 3.5"-inches display with 640 x 960 resolution at 326 ppi.
Connectivity: Built­in support for Wi­Fi (802.11 b/g/n), Bluetooth 4.0, USB dock and headphone ports.
Audio support: AAC, Protected AAC, HE­AAC, MP3, MP3 VBR, Audible (formats 2,3,4, Audible Enhanced Audio, AAX, and AAX+), Apple Lossless, Aiff, and WAV.
Rear camera: Sony Exmor R IMX145.
Front camera: 0.3 MP VGA (480p).
Photo support: The Safari web browser supports JPG, GIF, and TIFF images.
Video support: H.264 video up to 1080p, 30 frames per second, High Profile level 4 with AAC­LC audio up to 160 Kbps, 48kHz, stereo audio in .m4v., .mp4, and .mov file formats; MPEG­4 video up to 2.5 Mbps, 640 by 480 pixels, 30 frames per second, Simple Profile with AAC­LC audio up to 160 Kbps per channel, 48kHz, stereo audio in .m4v, .mp4, and .mov file formats; Motion JPEG (M­JPEG) up to 35 Mbps, 1280 by 720 pixels, 30 frames per second, audio in ulaw, PCM stereo audio in .avi file format.
Dimensions: 4.54 in height, 2.31 in width, 0.37 in depth.
Average weight: 4.94 oz
Accessories: Shipped with Apple Earphones and Remote and Mic, dock connector to USB cable, USB power adapter, and documentation.
Battery: Lithium ion battery. Power – 5.3 Whr. Current: 1430 mAh. Voltage – 3.7V.
Color: Black and White.
Detailed Information
Model Number
A1431, A1387
(on the back)
Released
October 2011
Display Size
3.5 inches
Dimensions
115.2 x 58.6 x 9.3 mm (4.54 x 2.31 x 0.37 in)
Weight
140 g (4.94 oz)
Capacity
8/16/32/64GB, 512MB RAM
Colors
Black, White
Front Panel
Flat and made of glass
Back Panel
Flat and made of glass, and there's a stainless steel band around the edges
SIM tray
On the right side that holds a "third form factor" (3FF) micro-SIM card
Serial Number
Printed on the SIM tray
IMEI/MEID
+ You will find it in the Settings menu
See also
Sell used iPhone 4s online now
Apple Orders, Discontinuation, Price
Apple Order: MC918LL/A.
Discontinued: September 9, 2014.
Initial price:
US$199 (8GB)
US$299 (16GB)
US$399 (32GB).
Features
There were no external differences between the iPhone 4 CDMA model and the iPhone 4S, with the exception of a SIM card slot on the iPhone 4S. In fact, all changes were internal. However slight external differences between the iPhone 4 GSM model and the iPhone 4S exist, as said differences existed between the CDMA and GSM models of the iPhone 4.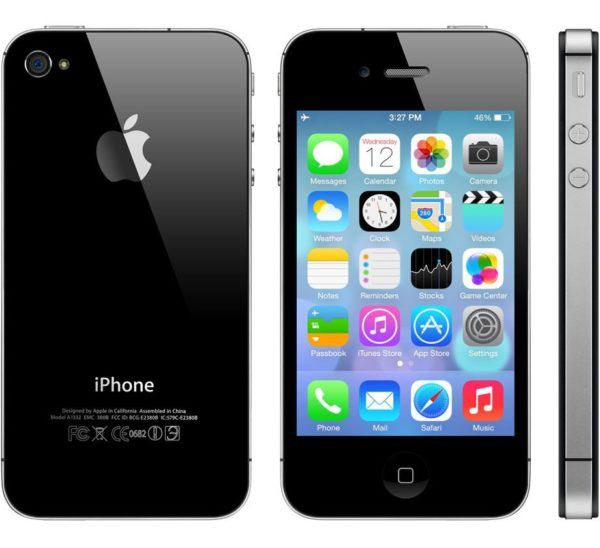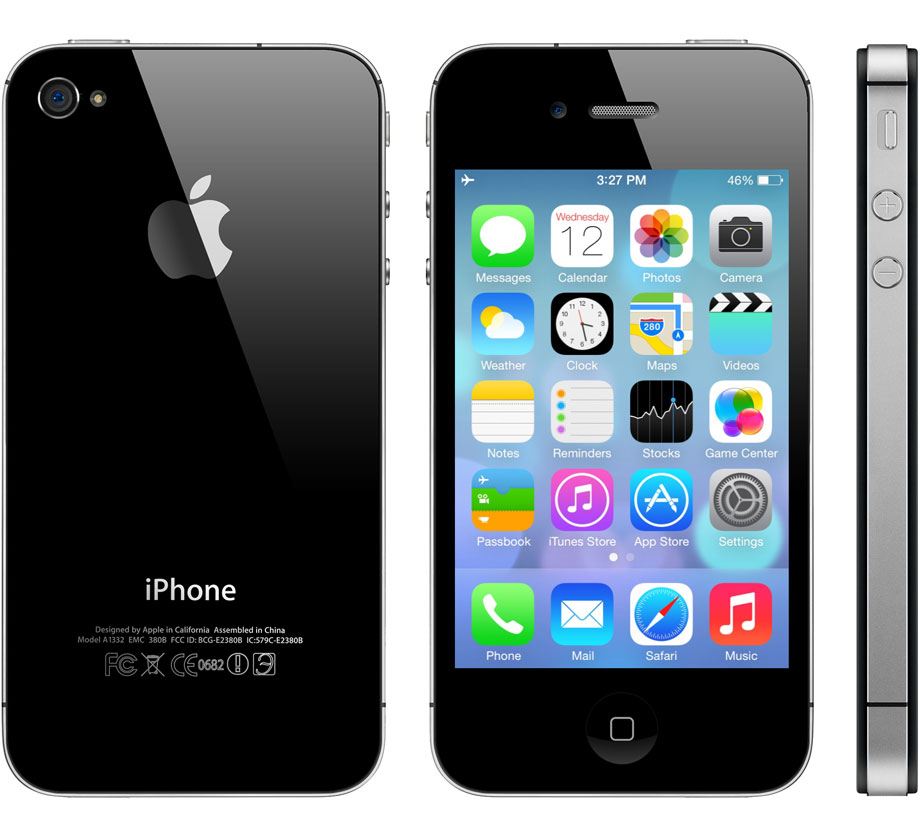 Miscellanea
The fifth generation iPhone was originally named the iPhone 4S – with a capitalized "S" – but was later stylized with a lowercase "s" in September 2013. The "S" stood for Siri – the 4s introduced exclusive personal assistant which was later included in the iPhone's successors.
The iPhone 4 and 4S were designed by Apple's leading designer Jonathan Ive. The 4th generation of iPhones differ from earlier Apple designs, as the bulges of the back panel as well as the band between the front and back were now gone and have been replaced with flattened surfaces. The redesign reflects the utilitarianism and uniformity of existing Apple products, such as the iPad and the iMac. The overall dimensions of the iPhone 4S are lower than that of the 3GS.
At announcement of this model, Apple said that it had plans in place for its new iPhone 4S to support many languages. Different features have different language requirements, such as keyboards compared to the word predictor and spell-checker, which needs a large dictionary of words. Language support is related to the iOS 5 operating system that the device launched with, although not always. The Siri digital assistant supported French, English, and German at launch. Since it uses a software based keyboard supported by the multi-touch display, it can support many different keyboard layouts without having to change physically. The iPhone 4S can display different languages and scripts at the same time.
Apple held the Let's Talk iPhone event on October 4, 2011, when Mike Capps demonstrated Epic Games' Infinity Blade II, the sequel to Infinity Blade, on an iPhone 4S. Mike Capps boasted that the game used Epic Games' Unreal Engine 3 and featured the same graphic techniques used in the Xbox 360 game Gears of War 3.
Reception to the iPhone 4S was generally favorable. Reviewers noted Siri, the new camera, and processing speeds as significant advantages over the prior model.
The iPhone 4s was succeeded by the iPhone 5 as Apple's flagship phone on September 12, 2012, but the iPhone 4S remained in production, albeit being sold with reduced storage (from 16/32/64 GB down to 8 GB.)
Even though this model was discontinued officially on September 9, 2014, following the announcement of the iPhone 6, it later supported as of iOS 9.
During the course of its lifetime, the iPhone 4S is the best-selling iPhone ever produced and it is the first iPhone to support five major versions of iOS: 5, 6, 7, 8, and 9.
This version is also the last iPhone to have the original 30 pin connector (replaced by the Lightning Connector when the iPhone 5 was released).
Links
iPhone 4s Review [Video]