The eleventh major release of the Apple iOS is to be released this fall. The first beta version of iOS 11, announced at the Worldwide Developers Conference on June 5, 2017, became available for developers after the presentation. A public beta release date was set for mid-2017.
iOS 11: New Features
This famous operating system features a complete design overhaul with the new iOS 11. The lock screen and Notification Center are now combined, and all notifications are displayed on the lock screen, and are scrollable. However, displaying the notifications on the lock screen is a dubious feature from a security point of view.
The different pages of the Control Center are merged into a single page, and 3D Touch icons are assigned with more options. Users can now customize the settings shown in the Control Center.
The App Store design has been changed in a radical way, with an emphasis on daily highlights and editorial content.
Further, the iPad receives some exclusive software expansions, like a "Files" app for managing files, and for organization of local and cloud-stored files. It also includes an always-visible application dock, drag-and-drop file support between apps, and a new multitasking interface allowing you to work with multiple screens. These changes are focused on the iPad Pro audience, as this Apple tablet has been positioning itself as the stand-in for MacBook while traveling.
Siri will translate between languages, feature more human voices, and employ a privacy-minded "on-device learning" for better understanding users' interests, while offering improved suggestions.
The camera comes equipped with new settings for improved portrait mode pictures, and uses new encoding technologies to reduce photo and video sizes.
Messages' features are expanded across iCloud for better synchronization between iOS and macOS devices. The person-to-person Apple Pay payments support augments the app options as well.
Here is a list of changes coming to the new iOS.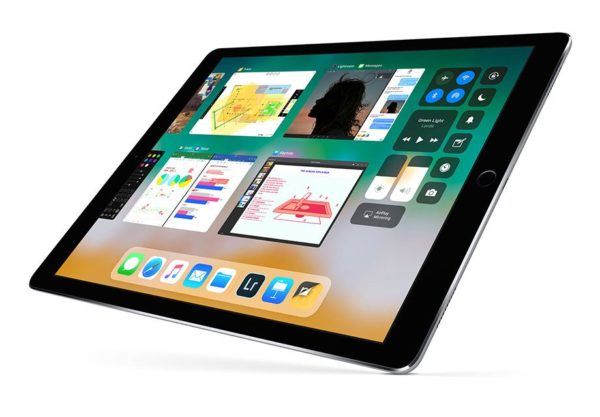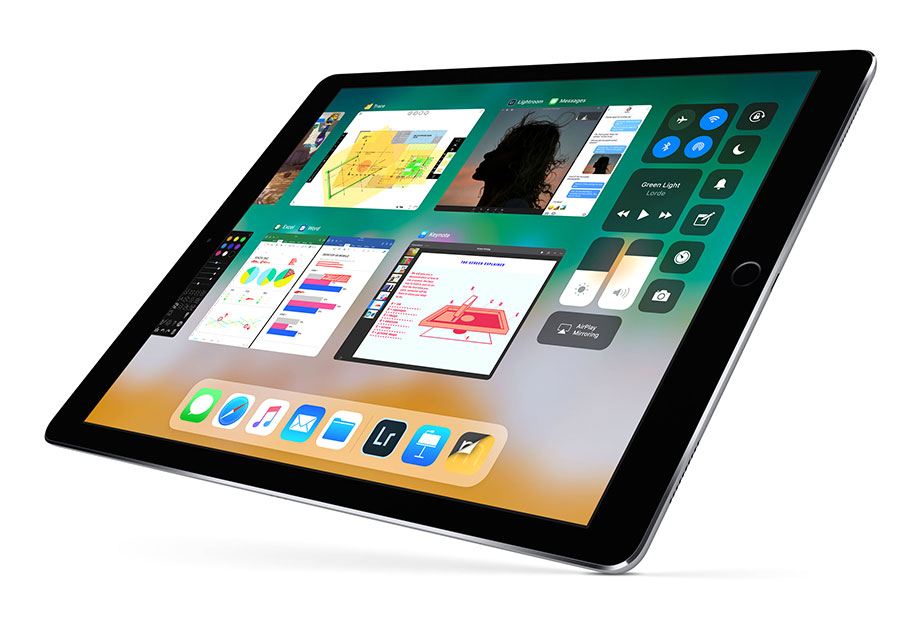 Lock Screen
The Lock Screen and Notification Center are merged, all notifications are seen right on the lock screen. Scroll up or down to show or hide them.
Control Center
The Control Center is redesigned completely. Some pages are merged, and 3D Touch icons are used for additional button options. Sliders to adjust the volume and brightness have also been added. The Control Center is customizable via the Settings app, and allows you to enhance the list of features shown.
Siri
The Siri intelligent digital assistant now has a more human voice and supports language translation between English, Chinese, French, German, Italian and Spanish from the launch. It also understands typing and follow-up questions from users.
Siri also employs "on-device learning" using not only the questions asked but also users' behavior in various apps. Such a technique seems to help Siri better understand users' interests and inclinations.
Note that Siri is the most popular personal assistant in the world. Actually, around 380 million active devices access Siri each month across dozens of countries. Using the latest advancements in machine learning and artificial intelligence, new male and female voices are more natural and expressive, adjusting intonation, pitch, emphasis and tempo while speaking. Indeed, the feature can translate English words and phrases into Chinese, French, German, Italian or Spanish. Siri extends beyond voice, using on-device learning to deliver more personal experiences and offers suggestions based on personal usage of Safari, News, Mail, Messages and more. As Siri learns topics or places a user is interested in while browsing Safari, they will be suggested when typing in Mail, Messages and other apps.
Settings
In the wake of numerous court suits featuring car accidents due to careless driving, iOS 11 will now feature a "Do Not Disturb While Driving" mode that blocks unnecessary notifications as long as the iPhone is hooked up to a vehicle through Bluetooth. Senders will get an auto-reply text message stating that the recipient is unavailable. The ban will not include passengers, however..
iOS 11 & iPad
iOS 11 has several exclusive features for the iPad. A new "Files" app incorporates the files stored on the device, as well as those stored across various cloud services, such as Dropbox, OneDrive, and Google Drive. The app also supports sub-folders and various file-based options. The application dock is now more similar to the design on macOS. Its position on the screen is permanent, thus making opening of the apps in split-screen view an easier process. Files can also be drag-and-dropped across different apps. A new multitasking interface keeps multiple apps on the screen in floating "windows" at the same time.
With iOS 11, a new customizable Dock provides quick access to frequently used apps and documents from any screen, and a redesigned app switcher makes it easier to move between pairs of active apps, used in Split View and now Slide Over. The Files app keeps everything in one place, whether files are stored locally, in iCloud, or across other providers like Dropbox. With Drag and Drop available across the system, moving images and text is easier than ever. Apple Pencil is more deeply integrated into iPad, with support for inline drawing. A new Instant Notes feature opens Notes from the Lock Screen by tapping Apple Pencil on the display.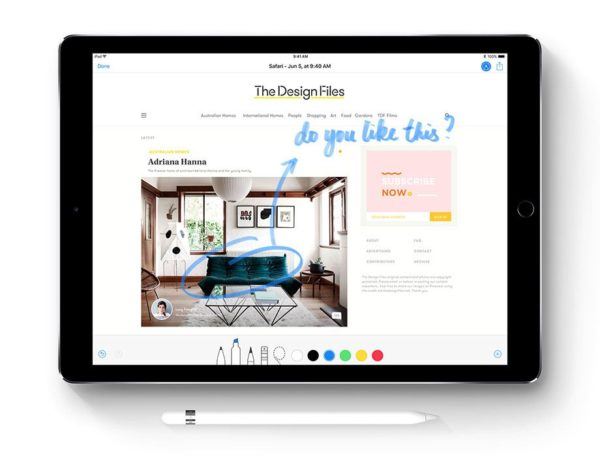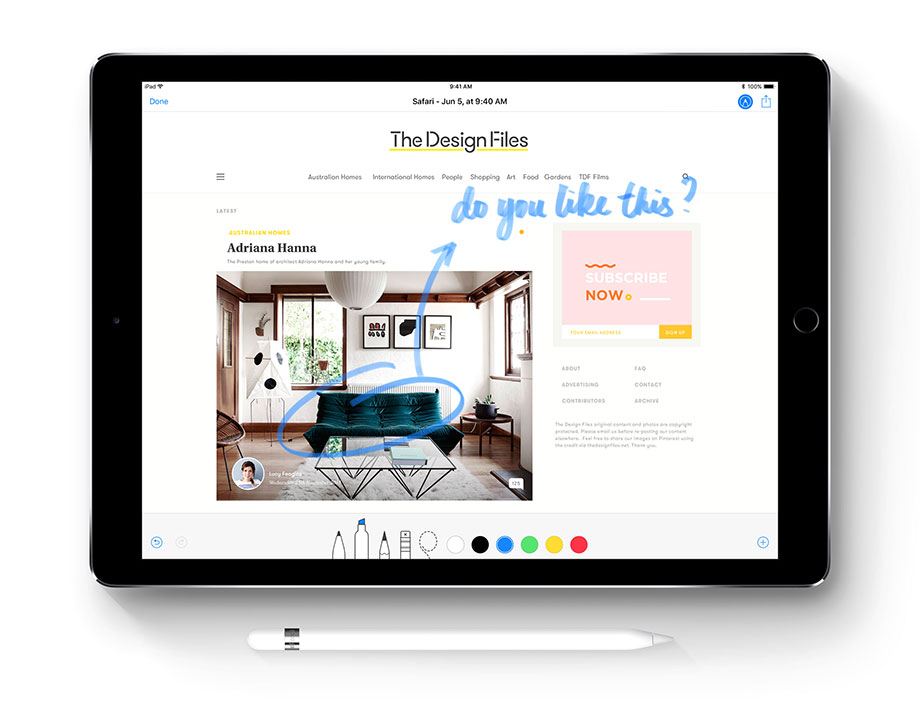 Camera
The iOS 11 camera will now have optical image stabilization, flash photography, and HDR (high dynamic range) for portrait photos.
Live Photos new features include "Loop" and "Bounce" effects. The app uses High Efficiency Image File Format to decrease photo size.
Portrait Mode images can be taken with optical image stabilization, True Tone flash, and HDR.
Note that in Photos, Memory movies are optimized to play in both portrait and landscape orientation, and more memories, such as photos of pets or birthdays, are automatically created. With iOS 11, Apple introduces a new technology called High Efficiency Image video coding compression File Format (HEIF) that guarantees improved quality while also decreasing video reels size by half.
Apple Pay
Apple Pay users can make and receive payments quickly, easily and securely. They can send money and get paid right in Messages, or tell Siri to pay someone, using the credit and debit cards they have in their Wallet. When users get paid, they receive the money in a new Apple Pay Cash account. They can use the money instantly to send to someone, make purchases using Apple Pay in stores, apps and on the Web, or transfer it from Apple Pay Cash to their bank account.
Miscellanea Changes
Native support for QR code scanning.
A one-handed mode for third-party keyboards.
Native screen recording.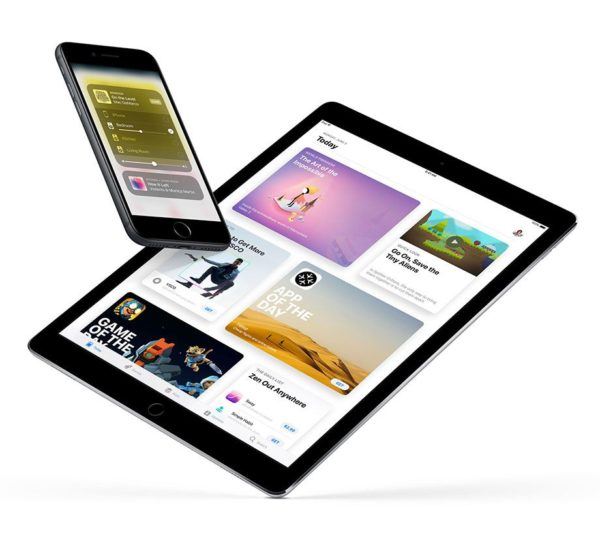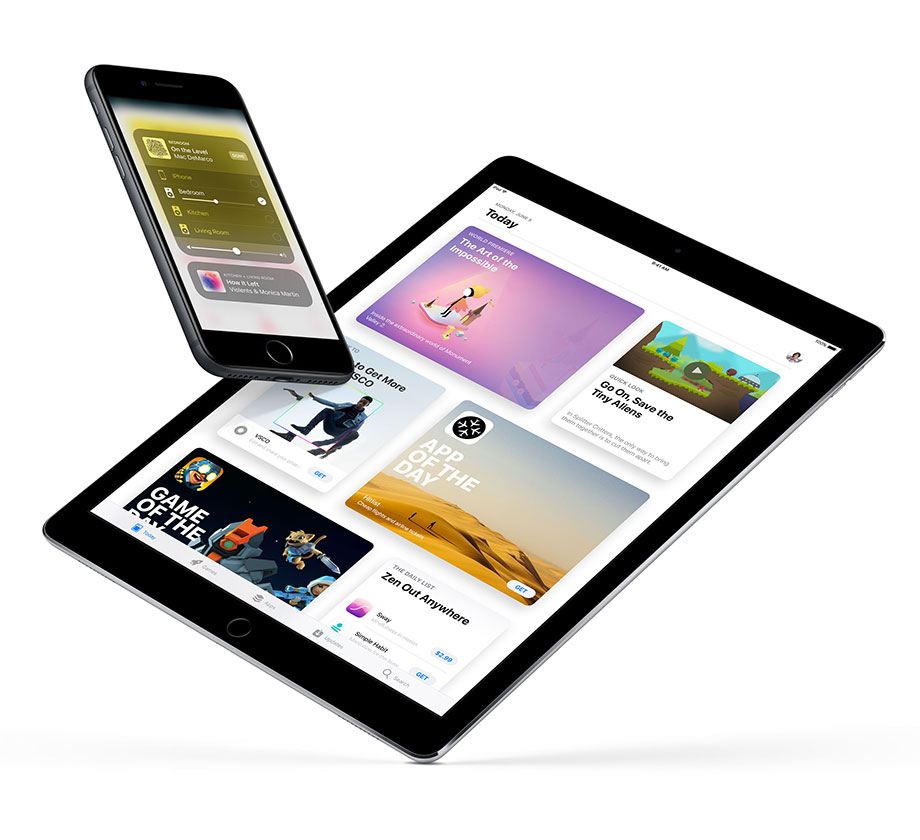 iOS 11 App Features
Messages
The Messages app synchronizes messages across iOS and macOS through iCloud, showing the messages deleted on any of these devices.
Apple Pay supports person-to-person payments through Messages.
A new app drawer for the iMessage app simplifies the use of apps and stickers, while an optimized storage system reduces the backup size of messages.
App Store
The App Store has been redesigned drastically, and now focuses on editorial content such as daily highlights.
Apple Maps
Indoor maps for shopping malls and airports in selected locations. New lane guidance and speed limit features for unfamiliar roads.
AirPlay 2
AirPlay 2 offers multi-room audio, which enables users to easily control speakers using Control Center, the Home app or Siri.
Apple Music
Apple Music offers more ways to discover music with friends. Subscribers can create a profile so their friends can follow them, listen to playlists they have shared and see the music they listen to most.
Apple News
Apple News keeps readers informed with personalized top stories and suggestions from Siri, great stories curated daily by Apple News editors in the Spotlight tab and the best videos of the day in Today View.
One-Handed Keyboard Mode
The one-handed keyboard mode on the iPhone makes typing on the go easier. A QuickType keyboard on the iPad delivers quick access to numbers, symbols, and punctuation..
Developer APIs
A new "ARKit" application programming interface lets third-party developers focus on augmented reality apps employing a device's camera, CPU, GPU, and motion sensors. The new apps will seem to insert virtual objects into reality, such as maps, pictures and video.
A new "Core ML" software framework speeds up app tasks involving artificial intelligence, such as image recognition.
Removed Functionalities
No more 32-bit apps support in iOS 11.
No more native system integration with Twitter, Facebook, Flickr, and Vimeo.
Supported Devices
As the first version of iOS to run exclusively on iOS devices with 64-bit processors, iOS 11 will no longer support devices with a 32-bit processor: the iPhone 5, iPhone 5C, and the fourth-generation iPad..
iPhone
iPhone 7
iPhone 7 Plus
iPhone 6s
iPhone 6s Plus
iPhone 6
iPhone 6 Plus
iPhone SE
iPhone 5s
iPad
12.9-inch iPad Pro (2nd generation)
12.9-inch iPad Pro (1st generation)
10.5-inch iPad Pro
9.7-inch iPad Pro
iPad Air 2
iPad Air
iPad (5th generation)
iPad mini 4
iPad mini 3
iPad mini 2
iPod Touch
iPod Touch (6th generation)
iOS 11 and 10.5-inch iPad Pro first look