iPad Pro (2017) – Full Tablet Information
On June 5, 2017, Apple presented to the world its new iPad Pro (2017), in 10.5-inch and 12.9-inch models, claiming them as the most advanced display and breakthrough performance on our planet.

iPad Pro (2017) – Full Information
Both, the all-new 10.5-inch iPad Pro and a new 12.9-inch iPad Pro are equipped with the new A10X Fusion chip, and feature the world's most advanced display with the new A10X Fusion chip. Both of them will be running iOS 11, a new operating system which will make iPad Pro even more powerful. iPad Pro introduces ProMotion technology, which automatically adjusts the display to the movement of the content and delivers refresh rates of up to 120Hz for fluid scrolling, greater responsiveness and smoother motion content.
The 10.5-inch iPad Pro 2017 model reduces the borders by nearly 40 percent to fit into a compact package that weighs just one pound. Combined with the features offered by iOS 11, like the all-new Files app, customizable Dock, improved multitasking and deeper integration of Apple Pencil, iPad Pro assures more productive and creative results.
The 10.5-inch iPad Pro features a redesigned Retina display that's 20 percent larger than the 9.7-inch iPad Pro.
With ProMotion, Apple Pencil is even more responsive with a 20-millisecond latency for fluid and natural drawing.
As to the Retina display, it's Apple's brightest iPad display yet. It features antireflective coating, making content easier to see indoors and out. True Tone adjusts the white balance of the display to match the light around you for a more natural and accurate viewing experience. A wide color gamut enables the devices to deliver digital cinema-standard colors.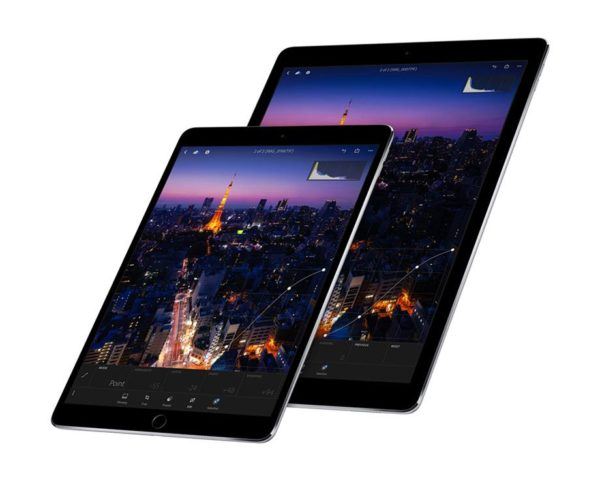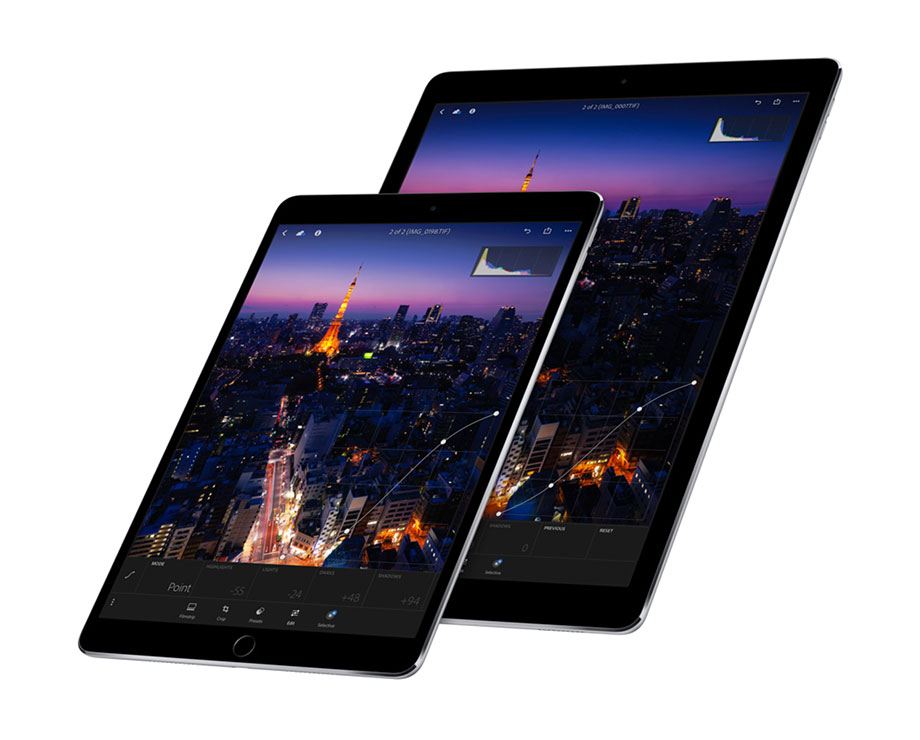 Altogether, the new iPad Pro deliver high performance, connectivity and versatility to tackle the most demanding tasks. The 64-bit A10X Fusion chip can effortlessly edit photos and 4K video, render 3D images or play games. A six-core CPU and 12-core GPU deliver up to 30 percent faster CPU performance and 40 percent faster graphics performance than the industry-leading A9X chip.
Both the 10.5-inch and 12.9-inch iPad Pro have been updated with the same advanced technologies., and both of the can easily shoot, edit and share pro-quality photos and videos. They feature the same advanced front- and back-facing cameras as iPhone 7, including a 12-megapixel camera with optical image stabilization, along with a 7-megapixel FaceTime HD camera. They also feature a four-speaker audio system, providing powerful, clear and rich stereo sound in any orientation. An embedded Apple SIM2 and support for 802.11ac Wi-Fi and LTE Advanced3 make it easier to stay connected when traveling throughout the world.
Touch ID on iPad Pro helps keep personal information private within apps and approve purchases from the App Store, iTunes Store and iBooks Store. With Apple Pay on iPad, paying for physical goods and services within apps or on websites in Safari has never been easier.
On the new iPad Pro, the Apple Pencil and Smart Keyboard are available for purchase separately. Advanced sensors in Apple Pencil measure both pressure and tilt for natural drawing, annotating and note-taking. A new Smart Keyboard has been custom designed for the 10.5-inch iPad Pro, offering a thin yet durable keyboard that never needs to be charged or paired over Bluetooth and is easily foldable into a protective Smart Cover.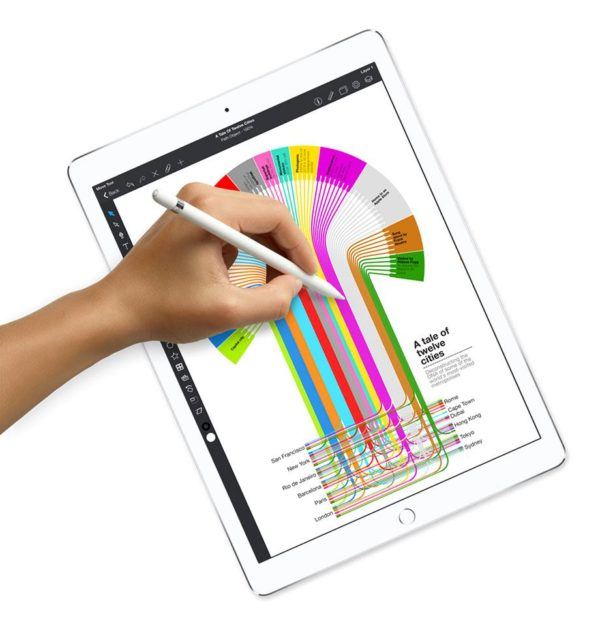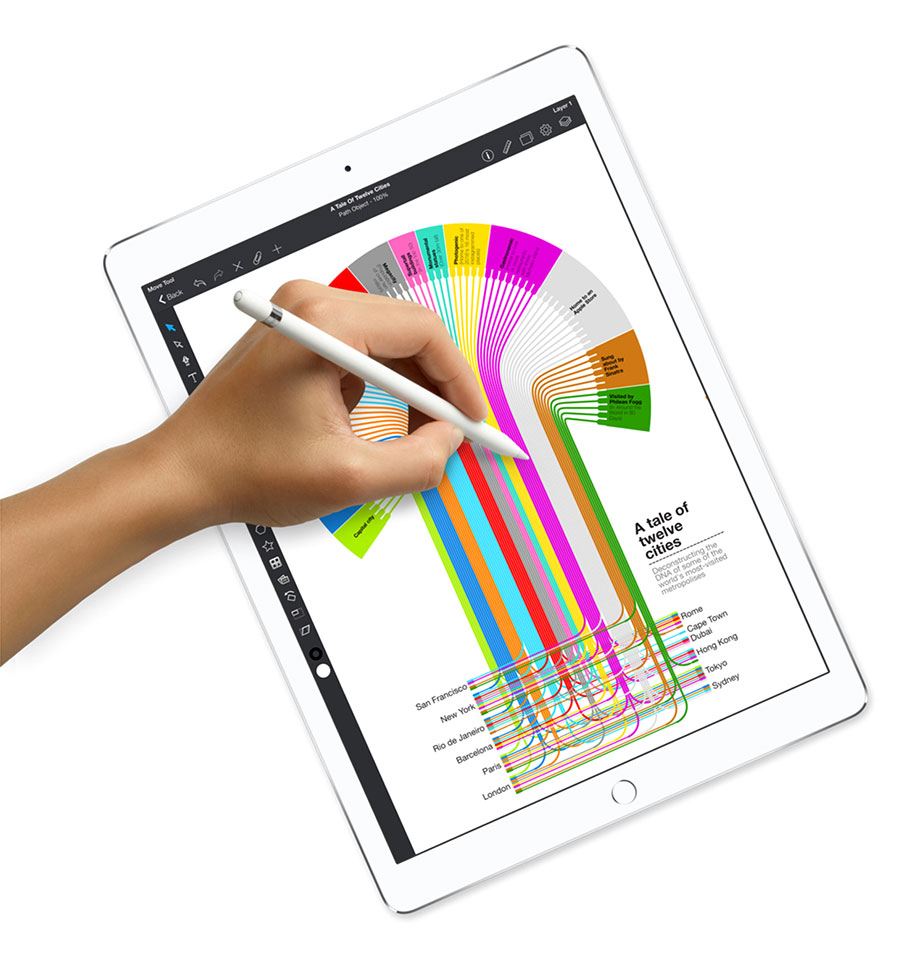 Specifications
Introduced: June 5, 2017.
Processor: A10X Fusion chip.
Architecture: 64-bit.
Storage: Up to 512GB.
Cores: Six.
Image Signal Processor.
Capacity: 10.5-Inch iPad Pro: 64GB.
Display: Standard LCD dispay, 60Hz. 10.5-Inch: 2224×1668, 12.9-Inch: 2732×2048. Retina display supports 120 Hz refresh rate. Wide P3 colour display. Brightness: 600 nits. Reflectivity 1.8%.
Operating System: iOS 11.
Connectivity: Up to 866 Mbps Wi-Fi. Supports 25 LTE bands. Up to 450 Mbps via Lte.
Cameras: 12MP camera and 7MP FaceTime HD camera. Optical image stabilization and 1.8 aperture.
Touch ID: Fingerprint sensor unlocks iPad instantly and secures private data in apps. 2X faster than previous gen.
Smart Keyboard: 10.5 full-size keyboard.
Battery life: Up to 10-hours.
Colors: 10.5-inch iPad Pro: silver, space gray, gold and rose gold. 12.9-Inch iPad Pro: silver, space gray and gold. Smart Keyboard: Charcoal gray.
Dimensions: iPad Pro 10.5 – 6.1mm thin. Ipad Pro 12.9 – 6.9 mm thin.
Weight: 10.5-inch – 447g. 12.9-Inch -692g.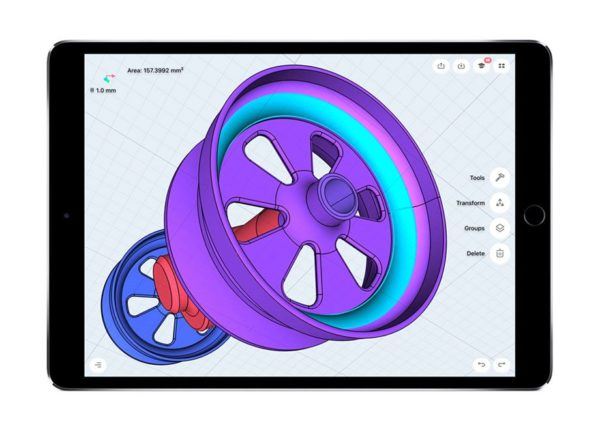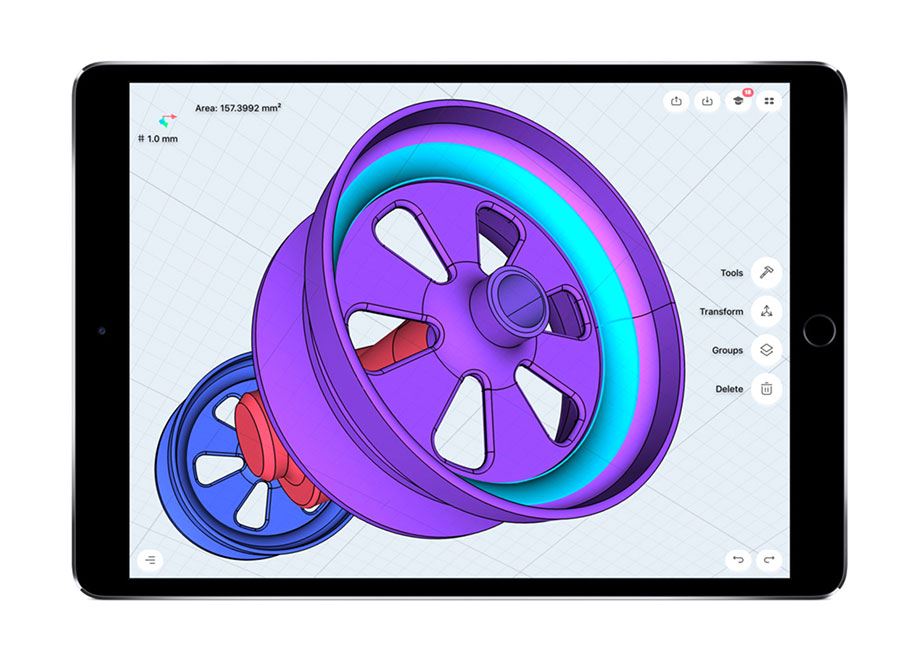 Pricing
The 10.5-inch iPad Pro: Starts at US$649 for the 64GB with Wi-Fi model and $779 for the 64GB Wi-Fi + Cellular model. The 12.9-inch iPad Pro: Starts at $799 for the 64GB Wi-Fi model and $929 for the 64GB Wi-Fi + Cellular model.
Apple Pencil: $99.
Smart Keyboard: $159 for the 10.5-inch iPad Pro and $169 for the 12.9-inch iPad Pro.
Apple Pencil Case: $29.
iPad Pro Smart Covers: (available in polyurethane and leather in a variety of colors for $49 and $69 for the 10.5-inch iPad Pro and for $59 and $79 for the 12.9-inch iPad Pro
Leather Sleeve: 10.5-inch and 12.9-inch iPad Pro for $129 and $149, respectively.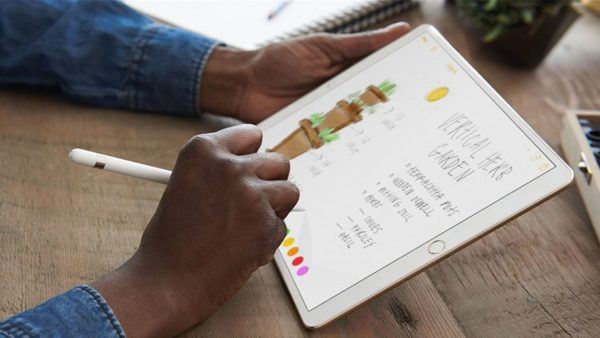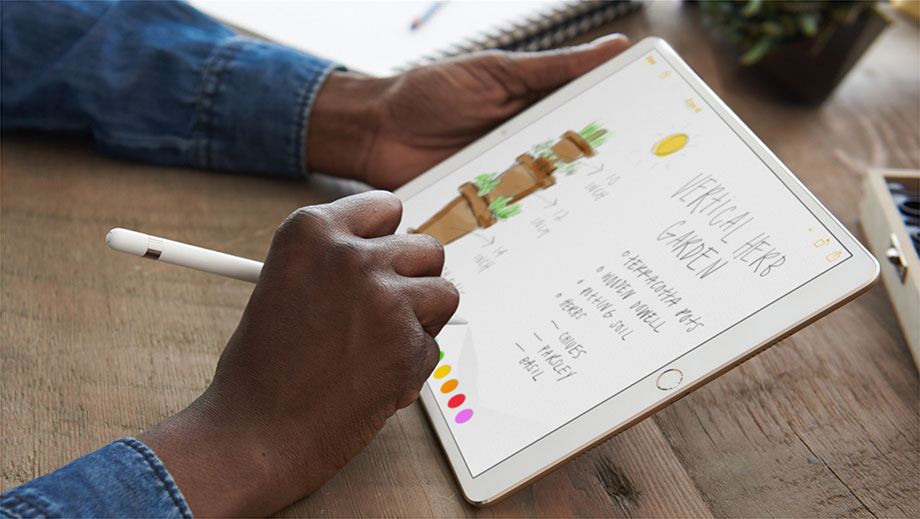 Miscellanea
CPU speed in a new iPad Pro is 30% faster than in previous generation of iPad Pro.
Graphics speed in the new iPad Pro is 40% faster than in iPad Pro 2016.
The Smart Keyboard has layouts for over thirty languages, including simplified Chinese, French, German, Japanese and Spanish.
According to Apple, every customer who buys iPad Pro from Apple will be offered free Personal Setup, in-store or online, to help them customize their iPad Pro by setting up email, showing them new apps from the App Store and more. Besides, anyone who wants to start with the basics or go further with their new iPad Pro can sign up for free sessions at apple.com/today.
Before you buy a new iPad, sell the old online for the highest price cash: Sell secondhand iPad online today!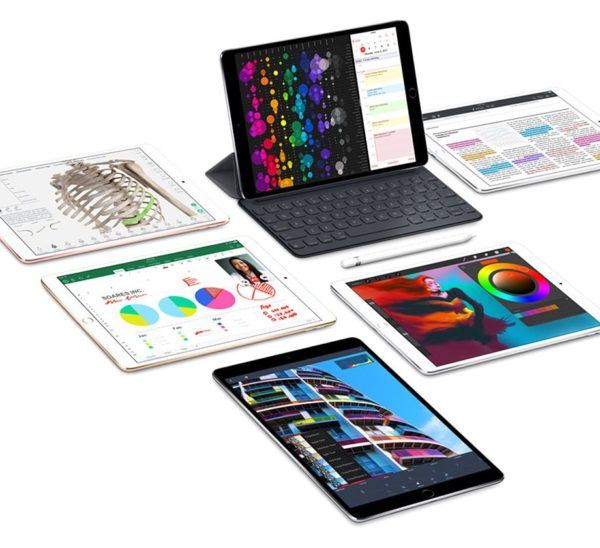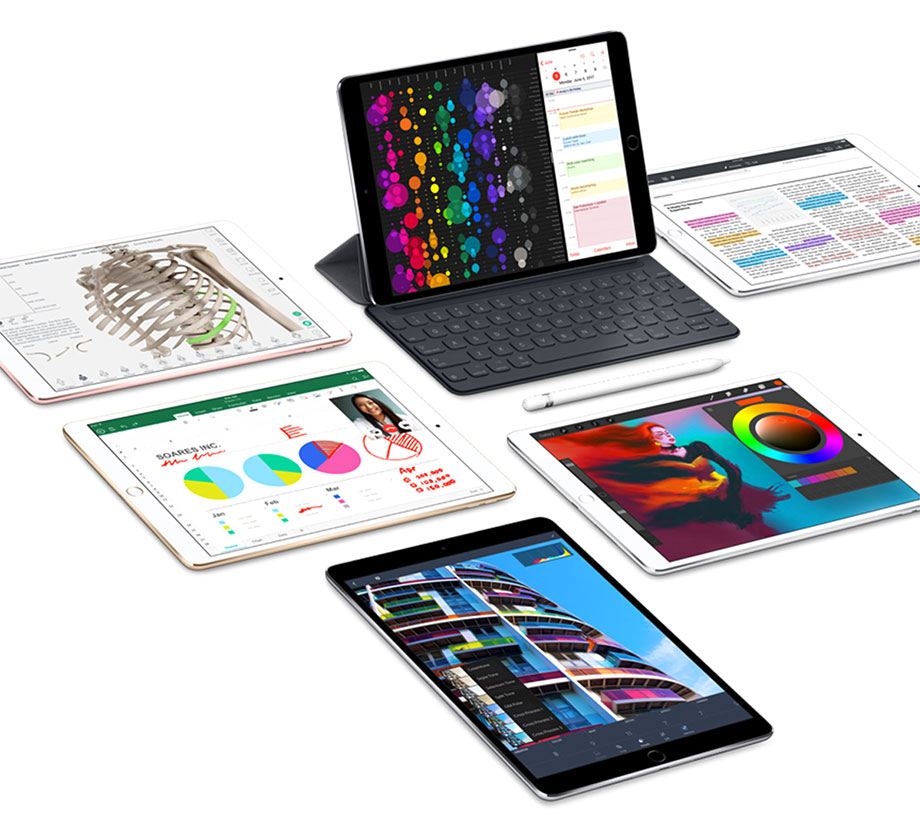 2018 iPad vs 2017 10.5″ iPad Pro – Ultimate Comparison [Video]
Video published by AppleInsider on April 4, 2018