iPhone 5 – Full Phone Information, Tech Specs
The iPhone 5 is the sixth generation of the Apple smartphone. This version has introduced great design changes, including a lighter body and a taller screen. The iPhone 5 introduced features that were not presented on the iPhone's previous generations, for instance, LTE support, Lightning and a new, more compact, version of the dock connector.
Apple iPhone 5 Full Information
Note that the iPhone 5 CDMA/LTE model, Sprint/Verizon/KDDI, which is compatible with LTE bands 1, 3, 5 and 12, was meant for CDMA carriers – Sprint and Verizon in the US and KDDI in Japan.
Release Date
Introduced on September 12, 2012.
Released on September 21, 2012.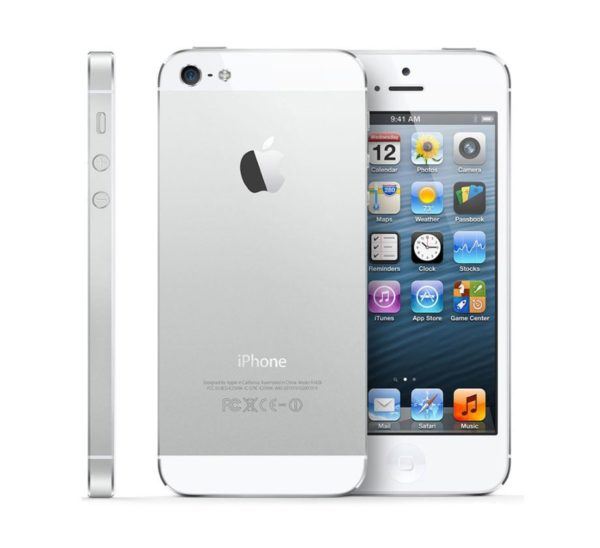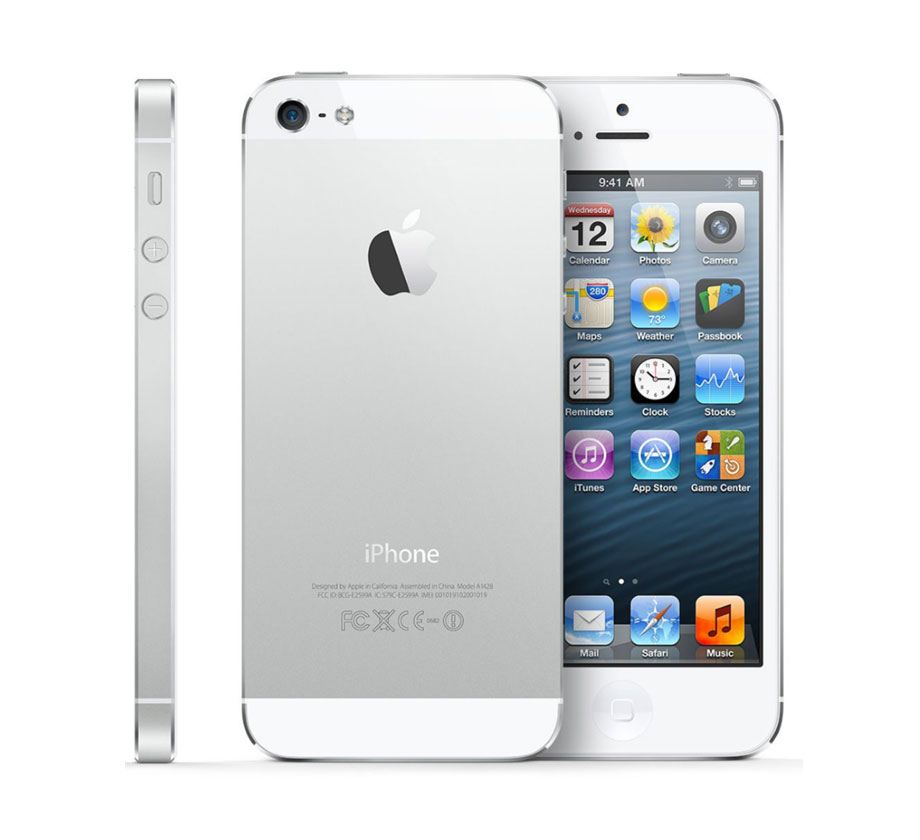 Specifications
Processors: Apple A6.
Storage capacity: 16 GB, 32 GB and 64 GB.
OS: Pre-installed iOS 6.0. Maximum OS: Current.
Display: 4 (100 mm) display with 1136 x 640 resolution at 326 ppi.
Connectivity: Built-in support for Wi-Fi (802.11 a/b/g/n), Bluetooth 4.0, USB dock and headphone ports.
Usage Time: Standby time – 225 Hours. Up to 40 hours of audio playback, 8 hours of talk time on 3G, 8 hours of Internet use on 3G, 8 hours of Internet use on 4G/LTE, 10 hours of Internet use on Wi-Fi, 10 hours of video playback.
Audio Support: Apple reports that the iPhone 5 supports AAC (8 to 320 Kbps), Protected AAC (from iTunes Store), HE-AAC, MP3 (8 to 320 Kbps), MP3 VBR, Audible (formats 2, 3, 4, Audible Enhanced Audio, AAX, and AAX+), Apple Lossless, AIFF, and WAV.
Video Support: H.264 video up to 1080p, 30 frames per second, High Profile level 4.1 with AAC-LC audio up to 160 Kbps, 48kHz, stereo audio in .m4v, .mp4, and .mov file formats; MPEG-4 video up to 2.5 Mbps, 640 by 480 pixels, 30 frames per second, Simple Profile with AAC-LC audio up to 160 Kbps per channel, 48kHz, stereo audio in .m4v, .mp4, and .mov file formats; [and] Motion JPEG (M-JPEG) up to 35 Mbps, 1280 by 720 pixels, 30 frames per second, audio in ulaw, PCM stereo audio in .avi file format.
Rear camera: Sony Exmor R IMX145.
Front camera: 1.2 MP.
Battery: 1440 mAh lithium ion battery.
Color: Black (dark gray "slate" matte back and a glossy black front) and white (silver matte back and a glossy white front).
Dimensions: 4.87 in height, 2.31 in width, 0.30 in depth.
Average weight: 3.95 oz.
Detailed Information
Model Number
A1428, A1429, A1442
(engraved on the back cover)
Released
September 2012
Display Size
4 inches
Dimensions
123.8 x 58.6 x 7.6 mm (4.87 x 2.31 x 0.30 in)
Weight
112 g (3.95 oz)
Capacity
16/32/64GB, 1GB RAM
Colors
Black, White
Front Panel
Flat and made of glass
Back Panel
Flat and made of anodized aluminum
SIM tray
On the right side that holds a "fourth form factor" (4FF) or nano-SIM card
Serial Number
You will find it in the Settings menu
IMEI/MEID
+ Etched on the back cover. The MEID is the first 14 digits of the IMEI
+ You can use the IMEI/MEID instead of the serial number
See also
Sell used iPhone 5 online now
Apple Orders, Discontinuation, Price
Apple Order: MD634LL/A.
Discontinued: September 10, 2013 when Apple announced its successors, the iPhone 5S and the iPhone 5C.
Original price:
US$199 – iPhone 5 16GB
US$299 – iPhone 5 32GB
US$399 – iPhone 5 64GB
Note: In the US, the CDMA version of the iPhone was available locked to Sprint with a two-year contract or unlocked, but still bound to a two-year contract on Verizon.
Features
Shipped with Apple EarPods with Remote and Mic, Lightning to USB cable, a USB power adapter.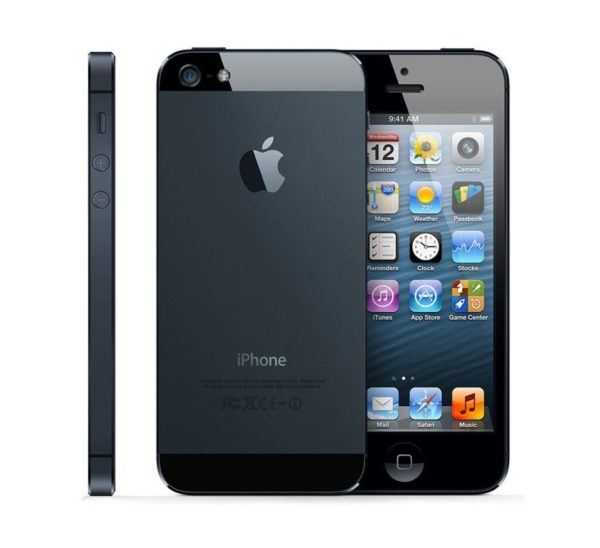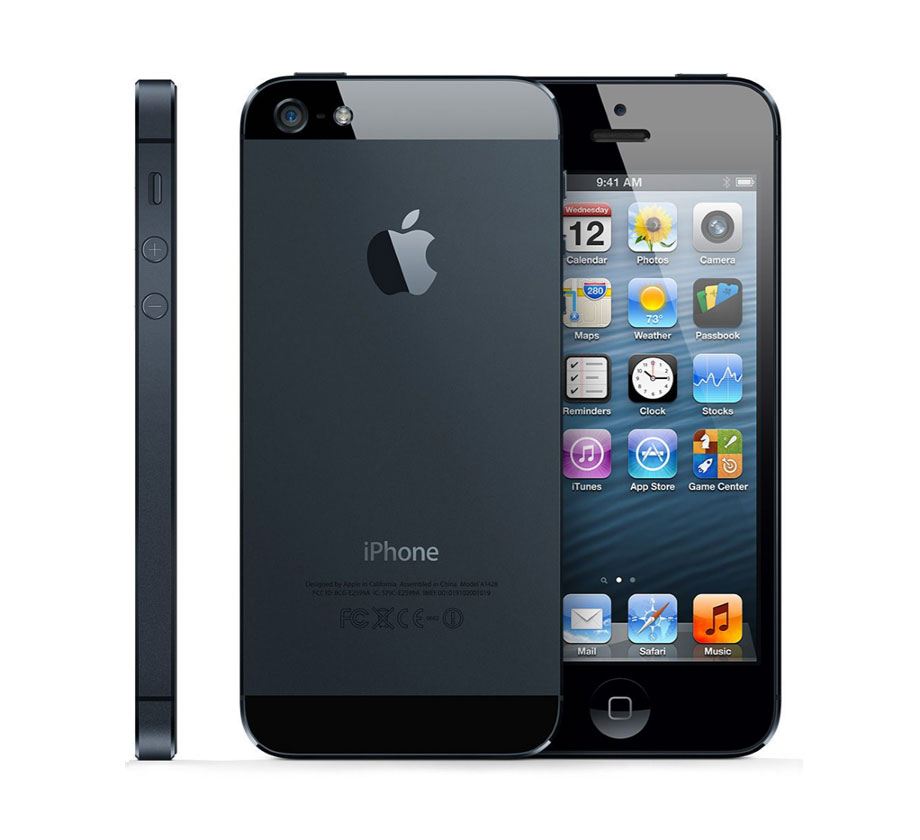 Miscellanea
When releasing its iPhone 5, Apple emphasized the improved build quality of the new model at its press event. Apple stated that the frame used in previous versions was redesigned to use an aluminum composite frame (The iPhone 4 and iPhone 4S used stainless steel instead of aluminium due to Steve Jobs' preference for the metal which he thought, "looks beautiful when it wears"). Indeed, the iPhone 5 is 18% thinner, 20% lighter, and has 12% less overall volume than its predecessor, the iPhone 4S. The phone's aluminum body is 0.30 in (7.6 mm) thick. At the September 2012 conference Apple claimed it was the thinnest smartphone in the world at 7.6 mm, though that claim was disputed as the Chinese Oppo Finder was thinner and some other smartphones could be considered to be thinner, depending upon where thickness is measured. The Oppo Finder measured 6.65 mm (0.262 in) at its thinnest point and 7.1 mm (0.28 in) at its thickest point making it overall thinner than the iPhone.
The demand for the new iPhone 5 broke the record set by the iPhone 4S by selling over 5 million units in just the first three days.
According to J.P. Morgan's Michael Feroli, iPhone 5's sales could boost US' annualized GDP growth by $3.2 billion.
Following the release of the iPhone 5, Samsung published a statement announcing that it was filing a lawsuit against Apple for infringing eight of its patents. The case was scheduled to begin in 2014. According to Samsung, the company had (and we quote) "little choice but to take the steps necessary to protect our innovations and intellectual property rights". Litigation between the two involving patent infringement has been ongoing and is being fought in several court cases around the world.
Like the iPhone 4S, the iPhone 5 has Siri, that allows the user to operate the iPhone by spoken commands.
The iOS 6 included the ability to make restaurant reservations, launch apps, dictate Facebook or Twitter updates, retrieve movie reviews and detailed sports statistics.
On the iPhone 5, texting can be aided by the voice assistant, which converts speech to text.In addition to regular texting, messaging on the iPhone 5 supports iMessage. This instant messaging program and service allows unlimited texting to other Apple devices running iOS 5 or later. The feature supports the inclusion of content such as images and sound in text messages, integration with the device's voice-controlled software assistant, and read acknowledgements for sent messages. Input to the device comes from a keyboard displayed on the multi-touch screen or by voice-to text by speaking into the microphone. Entered text is supported by predictive and suggestion software. A multi-language spell-checker recognizes many regional accents of different languages.
Apple EarPods (earphones) are included with the iPhone 5 and other devices announced at the Apple media event on September 12, 2012. They superseded earphones that were included with previous generation iPhones and iPods. According to technology commentators, the redesign of the earphones is aimed to improve sound quality by allowing air to travel in and out more freely. According to Apple that the redesign of their earphones allows it to "rival high-end headphones that cost hundreds of dollars more".
The iPhone 5, as well as the iPod Touch (5th generation), iPod Nano (7th generation), iPad (4th generation), and iPad Mini feature a new dock connector named Lightning, which replaces the 30-pin Apple Dock connector introduced in 2003 by Apple on the iPod (3rd generation). The Lightning connector has eight pins and all signaling is digital. This new connector is smaller than the previous one, helping the iPhone 5 to be slimmer than its predecessors. Apple Lightning cables have duplicate pins on two sides of each plug, so it can be inserted either way round. Various accessories will be available to convert the Apple Lightning connector to the older 30-pin Apple Dock connector or USB, although not all old accessories will work, as not all signals are available, in particular video output and the iPod Out feature for BMW automobiles.
The iPhone 5 received mainly positive reviews from commentators and reviewers who praised the new model for its high resolution screen surpassing that of the iPhone 4S. Many critics considered the iPhone 5 to be one of the best phone screens available on the market, even though many were critical of the new connector, which is incompatible with devices and cables that use the superseded 30-pin connector (although the LA Times reported that this was a change necessary to make the device smaller than its predecessor).
iPhone 5, dropped on the ocean floor and rescued, survived and recorded the whole adventure.
Links
Apple iPhone 5 Review [Video]