iPhone 4 – Full Phone Information, Tech Specs
The iPhone 4 is the 4th generation of Apple's famous smartphone. It is described as having introduced the most changes since the release of the original iPhone. Just as its predecessors, it combines the functions of a mobile phone, an iPod, Internet communications and many others. Compared to the iPhone's previous generations, the 4th generation is presented with a sleeker, more angular design. Besides the differences in the iPhone's external characteristics, it introduces new features, such as an additional front-facing VGA camera, additional DRAM supports – due to which an increased performance and multi-tasking are possible, and an Apple A4 processor, just to mention a few.
Apple iPhone 4 Full Information
The iPhone 4 CDMA Verizon Sprint was mostly similar to the first version of iPhone 4, but it introduced a few changes to the hardware – mainly, support for CDMA. Other than that, the CDMA Verizon Sprint version of the iPhone 4 offered a revised antenna and button placement and the new function of a Personal Hotspot allowing the iPhone to connect to other devices using their Wi-Fi connectivity.
It is important to outline that an iPhone 4 GSM (Revision A) version was introduced after the discontinuation of the original iPhone 4. The new model offered more of a lower-end take on the iPhone 4 with a memory of 8 GB. Being very similar to the original model, the iPhone 4 Revision A still offered some unique identifiers.
Release Dates
Introduced on June 7, 2010.
Released on June 24, 2010.
iPhone 4 CDMA Verizon Sprint – introduced on January 11, 2011.
iPhone 4 GSM (Revision A) – introduced on October 4, 2011.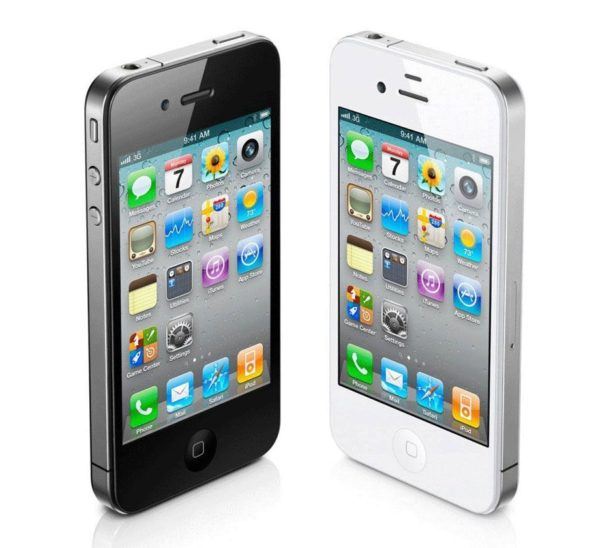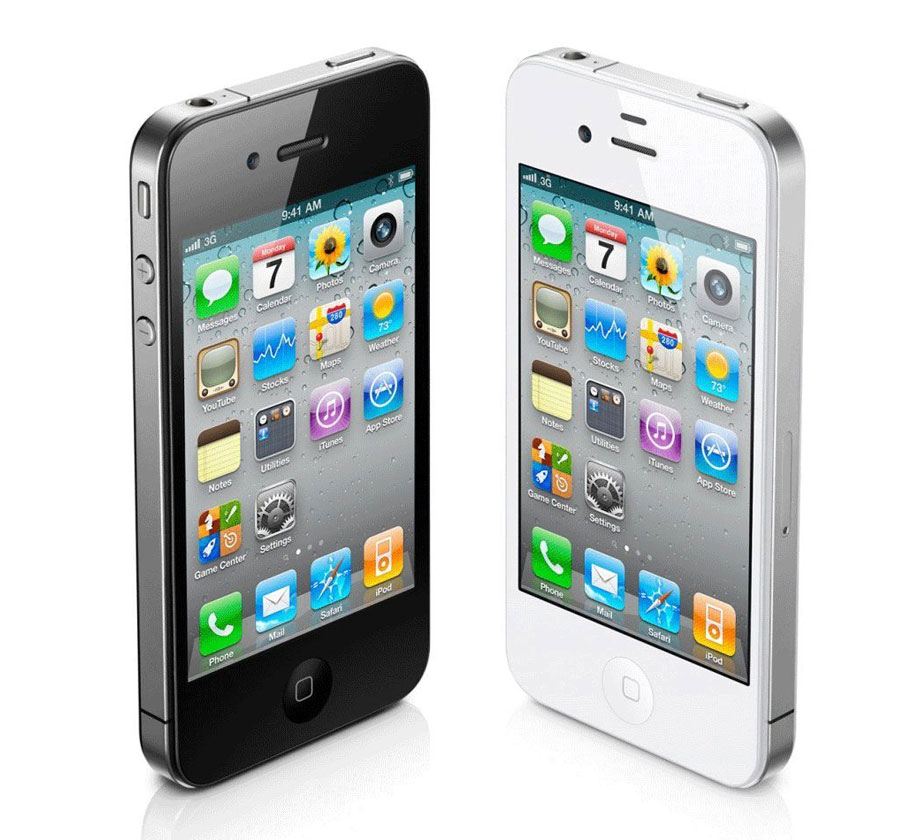 Specifications
Processor: Apple A4 chip. The system-on-a-chip is composed of an ARM Cortex-A8 CPU integrated with a PowerVR SGX 535 GPU.Processor Speed: 1.0 GHz.
Storage capacity: 8GB, 16GB and 32GB of flash memory.
Onboard RAM: 512 MB.
OS: Pre-Installed OS – iOS 4.0 (8A293). Preinstalled iOS 4.2.6 running on iPhone 4 CDMA model. Maximum iOS 7.1.2 (not available anymore as of June 20, 2016).
Usage Time:

Standby Time – 300 Hours. Up to 40 hours of audio playback. 14 hours of talk time on 2G. 7 hours of talk time on 3G. 6 hours of Internet use on 3G. 10 hours of Internet use on Wi-Fi. 10 hours of video playback.

Display: 3.5-inch (89 mm) display with 960×640 resolution at 326 ppi.
Connectivity: Built-in support for Wi-Fi (802.11 b/g/n). Bluetooth 2.1 EDR, USB dock and headphone ports.
Audio Support: AAC (8 to 320 Kbps), Protected AAC, HE-AAC, MP3 (8 to 320 Kbps), MP3 VBR, Audible (formats 2, 3, 4, Audible Enhanced Audio, AAX, and AAX+), Apple Lossless, AIFF, and WAV.
Rear Camera: 5 megapixel HD video/still megapixel camera (720p at 30 FPS) with a 5X digital zoom, a 3.85 mm f/2.8 lens and a LED flash. The camera has a 5x digital zoom and is capable of recording HD video in 720p.
Front camera: Front-facing VGA quality video/still camera. Just as the rear-facing camera, the front-facing camera's focus operates at the "tap toPhoto Support: The Safari web browser supports JPG, GIF, and TIFF images.
Video Support: H.264 video up to 720p, 30 frames per second, Main Profile level 3.1 with AAC-LC audio up to 160 Kbps, 48kHz, stereo audio in .m4v, .mp4, and .mov file formats; MPEG-4 video, up to 2.5 Mbps, 640 by 480 pixels, 30 frames per second, Simple Profile with AAC-LC audio up to 160 Kbps per channel, 48kHz, stereo audio in .m4v, .mp4, and .mov file formats; Motion JPEG (M-JPEG) up to 35 Mbps, 1280 by 720 pixels, 30 frames per second, audio in ulaw, PCM stereo audio in .avi file format. focus feature.
Photo Support: The Safari browser supports JPG, GIF, and TIFF images.
Dimensions: 4.5-inches height, 2.3-inches width, 0.3-inches depth.
Average Weight: 4.8 oz.
Battery: Non-removable Li-Po lithium ion 1,420 mAh battery. 3.7 V, 5.3 Wh. Up to 40 hours of music.
Color: Originally both the 16GB and the 32GB models were produced in black. A white version was introduced on June 7, 2010. The same colors were used for the iPhone 4 GSM Revision A.
Accessories: Shipped with Apple Earphones with Remote and Mic, dock connector to USB cable, USB power adapter, and documentation.
Detailed Information
Model Number
A1349, A1332
(on the back)
Released
June 2010
Display Size
3.5 inches
Dimensions
115.2 x 58.6 x 9.3 mm (4.54 x 2.31 x 0.37 in)
Weight
137 g (4.83 oz)
Capacity
8/16/32GB, 512MB RAM
Colors
Black, White
Front Panel
Flat and made of glass
Back Panel
Flat and made of glass, and there's a stainless steel band around the edges
SIM tray
On the right side that holds a "third form factor" (3FF) micro-SIM card. The CDMA model has no SIM tray.
Serial Number
Printed on the SIM tray
IMEI/MEID
+ You will find it in the Settings menu
See also
Sell used iPhone 4 online now
Apple Orders, Discontinuation, Price
Apple Order:
MC318LL/A. (iPhone 4 original)
MC676LL/A (iPhone CDMA model)
MD126LL (iPhone 4 GSM Revision A)
Discontinued: September 2013.
Original price:
US$199 (8GB)
US$299 (16GB)
The iPhone 4 GSM Revision A model was offered at US$99 with a two-year AT&T contract or unlocked and contract-free for US$549. On September 12, 2012, Apple cut the price to US$0 with a two-year contract and started offering it unlocked and contract-free for US$450.
Features
Photos: Load your favorite photos onto iPhone from your computer using iTunes or use the built-in camera to take pictures. Tap Photos to see your pictures. Flick right or left to move between images. Double-tap or pinch to zoom. Tap once to bring up the onscreen controls. Tap the Action button to send a photo in an MMS or email. You can also use a photo as wallpaper, assign it to a contact, or print it wirelessly using an AirPrint-capable printer.
HD video: To record HD video, tap Camera, then set the Camera/Video switch to video. Tap the Record button to start recording. Tap it again to stop recording. "Tap to focus" lets you control focus and exposure by tapping anyone or anything on the screen. You can record in landscape or portrait. You can even turn on the camera light when shooting in low-light conditions.
Video and song controls: Tap the screen to bring up onscreen controls. Tap again to hide them. Double-tapping a movie switches between widescreen and full screen. While listening to music, rotate iPhone to flick through your album art in Cover Flow. Tap any album to see its track list, then tap any track to play it. Tap outside the track list to flip back to the album artwork. When listening to music with the iPhone headset, press the center button once to pause or play, and press it twice quickly to skip to the next song. Tap the AirPlay button to stream your music or video to an Apple TV.
Intelligent keyboard: iPhone automatically corrects and suggests words as you type. So if you tap a wrong letter, just keep typing. To accept the suggested word, tap the space bar. Tap the "x" to dismiss the suggested word and help iPhone learn the word you typed. The keyboard automatically inserts apostrophes into contractions. And if you tap the space bar twice, it adds a period. To switch to the number and symbol keyboard, tap the ".?123" key.
Cut, copy, and paste: Tap the text you want to edit, or touch and hold to bring up the magnifying glass, then slide your finger to move the insertion point. You can select a word by double-tapping it, and select more or less text by dragging the grab points. Then tap to cut, copy, or paste. To copy text from web pages, email, or text messages, touch and hold to select the text. To undo an edit, shake iPhone, then tap the Undo button.
See the web up close: In Safari, double-tap any element on a web page – picture or text – to zoom in. Double-tap again to zoom back out. Tap the Multi-page button to flick between multiple web pages or open a new one. Rotate iPhone to see the web in widescreen.
Find location. Search surroundings: To see where you are on a map, tap the Location button. A blue dot appears at your current position. To see which way you're facing, tap the Location button again to turn on compass view. Find places around you by typing words like "Starbucks" or "pizza" in the search fi eld. Double-tap to zoom in. Tap once with two fingers to zoom out. You can also get directions or tap the Page Curl button for additional map views.
App Store: Tap the App Store icon to wirelessly browse hundreds of thousands of apps in categories like games, business, travel, social networking, and more. Browse by Featured, Categories, or Top 25 or search by name. To purchase and download an app directly to your iPhone, tap Buy Now. Many apps are even free.
iTunes Store: You can access the iTunes Store wirelessly by tapping the iTunes icon. Search the store for music, movies, TV shows, music videos, and more. Browse, purchase, and download from the store directly to your iPhone. Tap any item to hear or see a preview.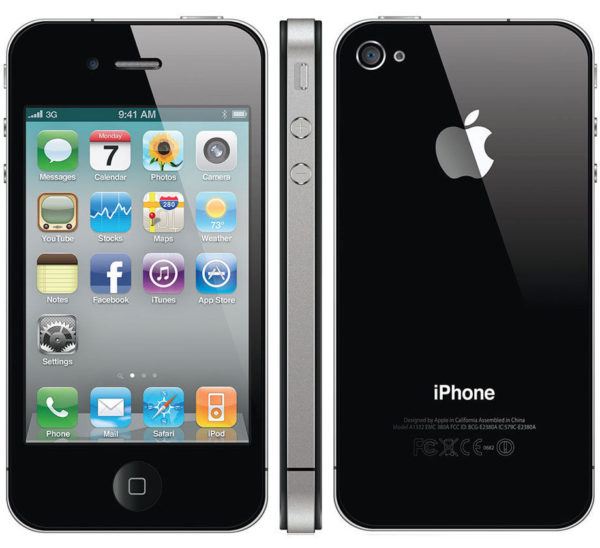 Miscellanea
The iPhone 4 features a front-facing VGA camera, and a backside-illuminated 5 megapixel rear-facing camera with a 3.85 mm f/2.8 lens and an LED flash. The rear-facing camera is capable of recording HD video in 720p at 30 frames per second. Both cameras make use of the tap to focus feature, part of iOS 4, for photo and video recording. The rear-facing camera has a 5× digital zoom.
Before the official unveiling of the iPhone 4 on June 7, 2010, Apple brought two prototypes to the attention of the media, breaching the company's secretive development process. For example, on January 27, 2010, the website Engadget received leaked images of an unreleased iPad, and unbeknownst to the editors and readers these images contained two of the iPhone 4! It was not until the subsequent Gizmodo release (see below) were they aware of the complete contents of the images. It resulted that most of the speculations regarding technical specifications proved accurate.
On April 19, 2010, the website Gizmodo reported that the site had purchased an iPhone prototype for $5000, and furthermore, had conducted a product teardown of the device. The prototype is reported to have been lost by an Apple employee, Gray Powell, in Redwood City, California. Shortly after Gizmodo published detailed information about the prototype, Apple's legal associates formally requested for the device to be returned to Apple. Gizmodo responded immediately with the intent to cooperate. On April 23 2010, officers from the REACT (short for Rapid Enforcement Allied Computer Team) task force of the California HTTAP Program raided the home of Jason Chen, the Gizmodo editor responsible for reviewing the prototype, seizing all of his computers and hard drives. The Electronic Frontier Foundation reacted criticizing the raid as an action which violated journalist source protection laws that forbid the seizure of journalist computers. The foundation expressed the suspicion that Apple had used its influence as a member of the steering committee which is charged with direction and oversight of the California REACT task force to push police into action in a way that would not normally be conducted for this type of incident. Apple had already received the iPhone prototype before the raid when it was returned by Gizmodo. The District Attorney has stated that the investigation has been suspended, and discontinued searching through the Gizmodo editor's belongings as they determine whether the shield laws are applicable, and cautioned that no charges have been issued at this point.
Pictures and video of a second iPhone 4 prototype were published on a Vietnamese website, Taoviet, on May 12, 2010. The second prototype was almost identical to the first. It used an A4 chip manufactured by Apple.[18] Taoviet website purchased the prototype for $4,000. DigiTimes reported that the screen resolution of the new phone was 960-by-640, which was later confirmed by Apple at the iPhone 4's official announcement.
Users praised the revamped design of the iPhone 4, as well as its powerful hardware in comparison to previous models. Over 600,000 pre-orders were placed within 24 hours from the release of this smartphone.
The iPhone 4 received positive reception from many sources, with critics praising its revamped design and more powerful hardware in comparison to previous iPhone's models.
There were reports that abnormalities in antenna design caused the iPhone 4 to lose its cellular signal if held in the most natural way. According to the same reports, most human contact with the phone's outer edge would cause a significant decrease in signal strength.
This model was succeeded as Apple's flagship smartphone in 2011 by the iPhone 4S. However, iPhone 4 continued to be produced until 2013. This smartphone had the longest lifespan of any iPhone ever produced, spanning close to four years and available in some countries until early 2014.
The Revision A model of the iPhone 4 was first introduced at a price of US$99 with a two-year AT&T contract. However, the price was later dropped to US$0 subsidized by a two-year contract.
Links
Apple iPhone 4 Review [Video]
The official video of the brand new Apple iPhone that was revealed on June 7, 2010.