iPhone 5c – Full Phone Information, Tech Specs
The iPhone 5c is one of the models in the iPhone series first introduced in 2012. Introduced together with the more high-end version of the iPhone 5s, 5c lacks many of its newly presented features and uses many hardware features of its predecessor – the iPhone 5.
Unboxing a NEW iPhone 5C in 2022! [Video]
Video uploaded by 91Tech on May 25, 2022.
Apple iPhone 5c Full Information
The CDMA model of the iPhone 5c, which is compatible with LTE bands 1, 2, 3, 4, 5, 8, 13, 17, 19, 20, and 25, was intended for the US market on Verizon, specifically.
Release Date
Announced on September 10, 2013.
Released on September 20, 2013.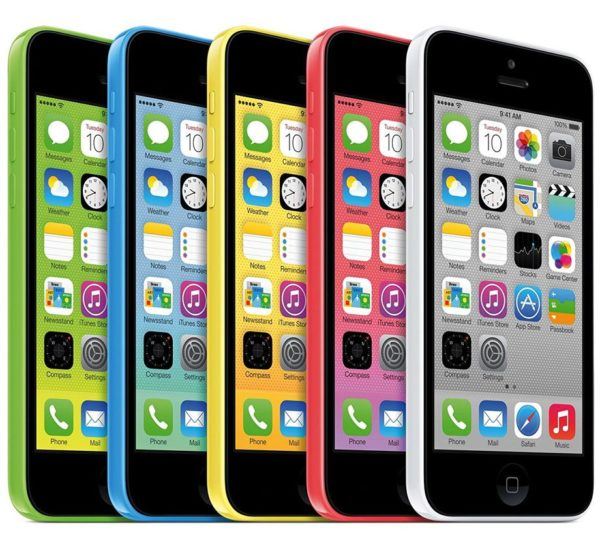 Specifications
Processor: Geekbench 2 (32). Geekbench 3 (32). Geekbench 3 (64).
Processor Type: Apple A6.
Onboard RAM: 1 GB.
Storage Capacity: 8, 16 and 32 GB.
OS: Pre-installed OS: iOS 7.0. Maximum OS: Current.
Usage Time: Standby Time – 250 Hours. Up to 40 hours of audio playback, 10 hours of talk time on 3G, 8 hours of Internet use on 3G, 10 hours of Internet use on 4G/LTE, 10 hours of Internet use on Wi-Fi, 10 hours of video playback.
Display: 4.0-inch display with 640 x 1136 resolution at 326 ppi.
Connectivity: Built-in support for Wi-Fi. USB. Lightning and Headphone ports.
Audio Support: AAC (8 to 320 Kbps), Protected AAC (from iTunes Store), HE-AAC, MP3 (8 to 320 Kbps), MP3 VBR, Audible (formats 2, 3, 4, Audible Enhanced Audio, AAX, and AAX+), Apple Lossless, AIFF, and WAV.
Rear Camera: Sony Exmore R IMX145. 8 MP.
Front Camera: 1.2 MP. HD video.
Video Support: H.264 video up to 1080p, 30 frames per second, High Profile level 4.1 with AAC-LC audio up to 160 Kbps, 48kHz, stereo audio in .m4v, .mp4, and .mov file formats; MPEG-4 video up to 2.5 Mbps, 640 by 480 pixels, 30 frames per second, Simple Profile with AAC-LC audio up to 160 Kbps per channel, 48kHz, stereo audio in .m4v, .mp4, and .mov file formats; Motion JPEG (M-JPEG) up to 35 Mbps, 1280 by 720 pixels, 30 frames per second, audio in ulaw, PCM stereo audio in .avi file format.
Dimensions: 4.90 in height, 2.33 in width, 0.35 in depth.
Average Weight: 4.65 oz.
Battery: Lithium Ion Battery. Non-removable Li-Po 1510 mAh battery.
Color: Blue, Green, Pink, Yellow, White.
Detailed Information
Model Number
A1456, A1507, A1516, A1529, A1532
(engraved on the back cover)
Launch
September 2013
Display Size
4 inches
Dimensions
124.4 x 59.2 x 9 mm (4.90 x 2.33 x 0.35 in)
Weight
132 g (4.66 oz)
Capacity
8/16/32GB, 1GB RAM
Colors
White, Blue, Pink, Green and Yellow
Front Panel
Flat and made of glass
Back Panel
Hard-coated polycarbonate (plastic)
SIM tray
On the right side that holds a 4FF (short for "fourth form factor") or nano-SIM card
Serial Number
You will find it in the Settings menu
IMEI/MEID
+ Etched on the back cover. The MEID is the first 14 digits of the IMEI
+ You can use the IMEI/MEID instead of the serial number
See also
Sell used iPhone 5c online now
Apple Orders, Discontinuation, Price
Apple Order: ME505LL/A.
Discontinuation: September 9, 2015.
Initial Price:
US$99 with 16GB of storage with a two-year contract
US$199 with 32 GB of storage with a two-year contract
Unlocked and contract free available for US$549 with 16GB
Unlocked and contract free available for US$649 with 32GB
The iPhone 5c 8 GB version was originally available free with a two-year contract.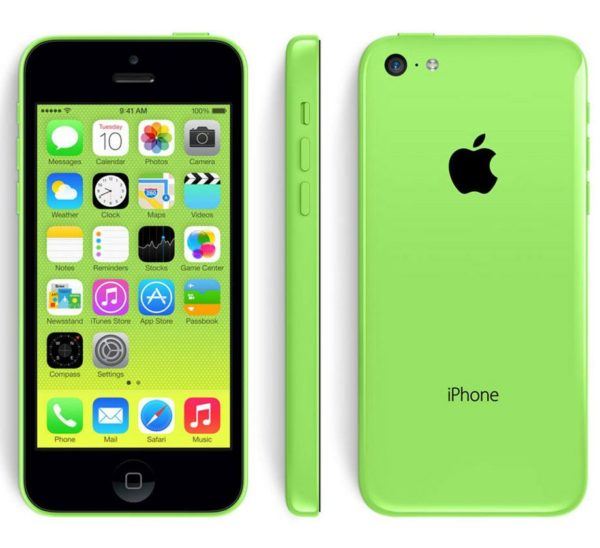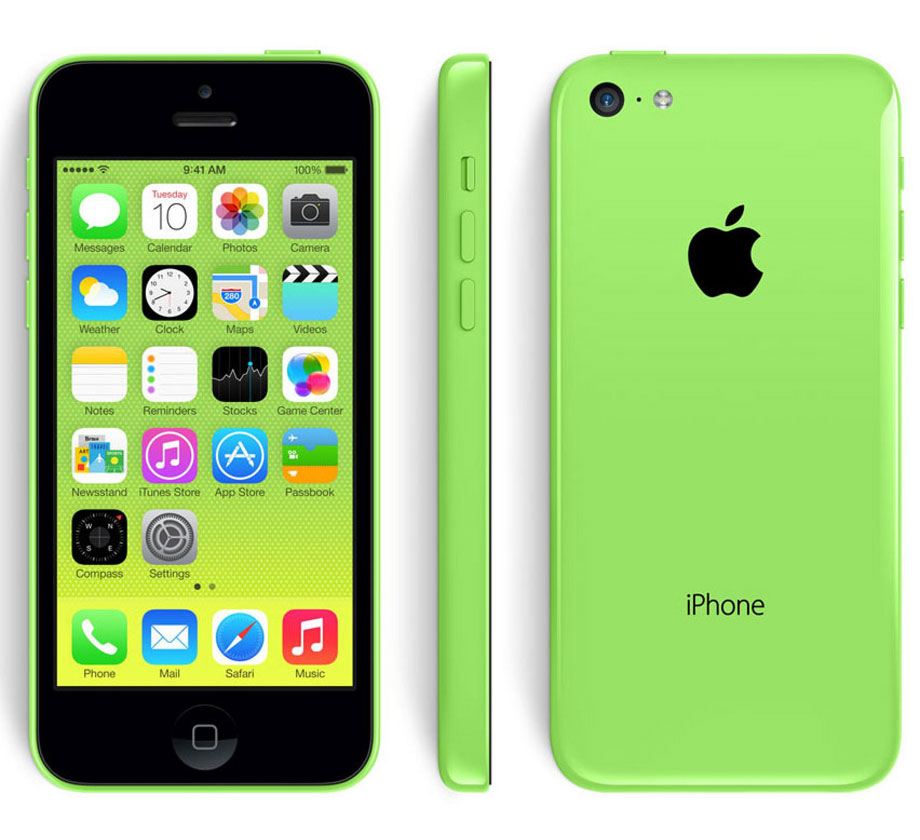 Features
Accessories: Shipped with Apple EarPods with Remote and Mic, Lightning to USB cable, a USB power adapter.
iPhone 5c tips and tricks: Save battery life, when the battery is running low:

When your iPhone battery is running low, turning off the following settings can help make your iPhone last longer. With these off, you can still receive calls, SMS and even go online with EDGE connection:

Settings > Wi-Fi > Off; Settings > Bluetooth > Off; Settings > Privacy > Location Services > Off; Settings > General > Cellular > Enable 3G > Off; Settings > General > Cellular > Enable LTE > Off; Settings > Sounds > Vibrate on Ring & Silent > Off; Settings > Brightness & Wallpaper > Auto-Brightness > Off; Settings > Mail, Contacts, Calendars > Fetch New Data > Off.
Stop the music with a timer:

Do you like to listen to music when getting into bed for the night but often doze off without switching the iPhone off? You can use a timer to help you shut down the music. To do this, tap on

Clock > Timer > When Timer Ends

. Scroll down and tap

Stop Playing

. Then, set a timer (say 30 mins) and tap

Start

. Now you may play any music and it will be turned off after 30 mins.

Delete last digit in Calculator app:

Entered a wrong digit in the Calculator app? Instead of tapping the Clear [C] button, you can just swipe your finger to the left or right of the numbers to clear the last digit. Each swipe will remove the last digit until the number becomes zero.

Set an alphanumeric passcode:

Add an extra layer of protection to your iPhone with an alphanumeric passcode. To activate it, go to

Settings > General > Passcode Lock

. Turn off

Simple Passcode

and you will be prompted to enter your alphanumeric password.

Use headphone cord to take photo:

Shaky hands not getting you good photos? Well you can trigger a snapshot using the volume up or down buttons on your headphone.

Switch shooting directions in panorama:

Tap the arrow in

Panorama

mode to switch the shooting direction so you can take a panorama picture from left to right or right to left.

Find word or phrase within a Web page:

In Safari, type in the word in the search bar on the top right and tap

Search

. In the results page, scroll all the way down and you will see how many words were found on the web pages. Tap on the searched word/phrase and you will be directed back to the web page with the searched word/phrase highlighted in yellow.

Undo typing to delete typed message:

If you hate getting carpal tunnel on your fingers from clearing your written SMS? Try this simple trick: Shake your iPhone and tap

Undo Typing

to delete your message. If you change your mind, shake your iPhone again and tap on

Redo Typing

to retrieve your original message.

Type Emoji with shortcuts:

If you like to use Emoji in messaging but don't like to switch the virtual keyboards repeatedly, try this trick to type Emoji with alphabets shortcuts:

Go to Settings > General > Keyboard > Keyboards > Add New Keyboard > Emoji. Go to Settings > General > Keyboard > Add New Shortcut. Insert a frequently used Emoji in Phrase. Insert a text in Shortcut which will be used to convert to Emoji.
Miscellanea
The iPhone 5c was the first Apple device to ship with iOS 7, the OS that introduced several changes to the visual appearance and other new features.
The last iPhone model to have included the "squircle" icon on the Home button.
Links