iPod Classic 5th Generation (2005) – Full information
The iPod Classic 5th Generation (2005) with 30 Gb or 60 Gb hard drive onboard was in many ways the first of its kind. First, though positioned as a portable audio player it featured the video playback on the internal display. It can play MP4 (up to 2.5 Mbit/s) and H.264 (up to 768 kbit/s). Which, considering that the device can be connected to any external display via the proprietary Apple TV cable, was certainly a breakthrough back then. Second, the iPod Classic 5th Generation (2005) was being offered in two color schemes for non-special edition, its usual white color and the alternative black. The white edition got the smaller Click Wheel as compared to the previous model. The black edition case had also undergone drastic changes. The iPod Classic 5th Generation (2005) Black was completely redesigned. Its proportions were changed, the rear casing became more rounded, while the front one – more flat. The 4-pin remote port was removed as well, thus causing troubles with backward compatibility of certain accessories.
Apple iPod (5th Generation): Unboxing [Video]
Video uploaded by DetroitBORG on October 5, 2010.
iPod Classic 5th Generation (2005)
Introduced on October 12, 2005.
Specifications
Processor Speed: 80 MHz (x2)
Processor Type: PP5021C
Onboard RAM: 32 MB, 64 MB
Storage capacity: 30 GB (7500 songs in 128-Kbps AAC format) and 60 GB (15000 songs in 128-Kbps AAC format).
Photo capacity: 25000
Connectivity: USB, video, audio, dock, headphones.
Mac support: Mac 10.3.9.
Audio: A high output amplifier (60-mW), a standard 3.5-mm headphone jack. This model supports for the first time Audible format.
Drive: 1.8" hard drive.
Dimensions: 4.1 x 2.4 x 0.43. Average weight: 4.8 oz.
Navigation: Click wheel
Format: MP3
Battery Type: lithium ion battery provides 14 hours of music playback for the 30 GB model and up to 20 hours for the 60 GB model.
Display: The iPod classic (5G) models 2.5-inch (diagonal) QVGA transflective over 260,000 color LCD display (320×240, .156-mm dot pitch) with a "white LED" backlight..
Colors: black, white.
Accessories: earbud headphones, USB 2.0 from the box. The Apple Remote (US$29), iPod Camera Connector (US$29), the universal dock (US$39) can be purchased separately.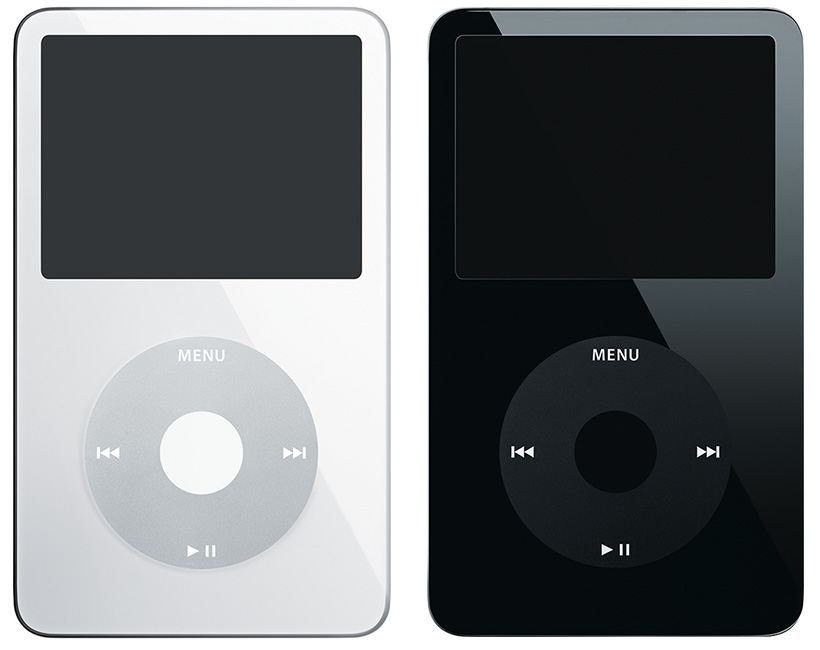 Apple Orders, Discontinuation, Price
Apple Order: MA002LL/A for the 30Gb model in white, MA146LL/A for the 30Gb model in black, MA003LL/A for the 60 Gb model in white, MA147LL/A for the 60Gb model in black.
Apple Model No: A1136 (EMC 2065).
Discontinued: September 12, 2006.
Price: US $299 for 20Gb model, US $399 for 40Gb model.
Miscellanea
The device supports the Apple Remote and iPod Camera Connector to display photos immediately from the digital cam and is provided with the universal dock (optional).
The iPod classic 5th Gen has been revised shortly after hitting the market. For further details look up the iPod classic 5th Gen Enhanced.
Links