Endemic among the the Mac-using minority is a condition known as Apple Obsession Syndrome (AOS for short). Whole some AOS symptoms are serious, other symptoms are entertaining, from gratuitous Mac modifications to ridiculous software. You can gram your iHymn sheet and join us to pay homage at the high altar of Macdom.
Mac Madness
iBook Picture Frames
Bored of using your iBook or PowerBook as a laptop computer? Why not turn it into an all-singing, all-dancing wall-mountable digital picture frame? A surprising number of people have done just this, and posted instructions online. Grab your glue gun and screwdriver, and head for: The obscure, the unusual, the exceptional.
HollowScreen Project
The HollowScreen Project in the loosest sense. Take a digital photograph of your Mac's immediate environment and set it as the desktop background on your MacBook, iBook or PowerBook. Then cunningly position your laptop in such a way that the screen appears to be transparent. Disarmingly funny: https://hollowscreen.com
SlashNOT: Humor for Nerds, Satire That Matters
SlashNot is a pasquinade of the computing supersite: https://slashdot.org, which, by the way, bubbles over with Mac news and discussions and is well worth a visit.
When you reach the site, dig your way through to the Mac news. There you'll bet the lowdown on everything from the iToaster to Apple's attempt to sue Gwyneth Paltrow for naming her Daughter Apple Martin, and not forgetting the rumours that Apple is in fact owned by Microsoft.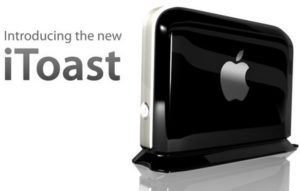 iToaster photo : http://www.csmonitor.com/Photo-Galleries/In-Pictures/What-will-Apple-think-of-next-Five-ridiculous-predictions
If you hark back for the days when Macs came in such delicate hues as tangerine, consider handing your Mac over to a re-skinning service, such as http://www.colorware.com. However, you'll have more fun doing it yourself. Get inspiration from a number of sites, and maybe even enter the annual Great MacMod Challenge: http://hackaday.com.
Mini vMac Emulator
OS X may be slick and powerful, but can it match the retro charm of the OS featured on the Macintosh Plus, one of the first Mac computers to hit the market? Grab the Mini vMac emulator and decide for yourself: http://www.gryphel.com/c/minivmac.
Terminal has a GSOH
So, you thought Terminal utility was strictly for the serious Mac-head looking to squeeze that little bit extra out of his or her machine via the use of the command line interface? Well, this techie-looking tool actually has a sensitive side. Open Terminal from Applications – Utilities and type :
cat/usr/shore/misc/flowers
Links
We are just eager to buy your old Apple computer, Apple TV, Apple iPhone, iPad from you if you feel like exploring next generation of products and pool money for them: Sell Mac online for the highest price.