Apple's 'Get a Mac' advertising campaign
"Hello, I'm a Mac and I'm a PC"… With this "Get a Mac" advertising campaign, the debate about whether it is better to use a Mac or a PC has been made a little more entertaining. The ad features actors representing Mac and PC machines. Obviously, Mac was faster, more secure, and more clever. Microsoft was swift to respond with its "I'm a PC" series of ads, in an attempt to rebut the PC's image, as presented in the Apple ad.
Get a Mac
Complete 66 Mac vs PC ads + Mac & PC WWDC Intro + Siri Intro [Video]
Video uploaded by Angus Lo on December 9, 2012.
Tutorial on How to Create Your Own South Park Video
The following video is a parody of the Mac vs. PC commercials, with the characters from South Park. It was created as the final project for a multimedia production class by students at California State University Northridge. This amazing parody using South Park-ified versions of the original ad has racked up a whopping 20 million YouTube views..
Get a Mac Campaign
The famous Get a Mac campaign was a widely broadcast television advertising campaign, launched by Apple Computer Inc. (The company later changed its name to just Apple, Inc.) The ad ran for three years, from 2006 to 2009. The ads were created by TBWA\Media Arts Lab, which was the company's advertising agency. The ads were shown in the United States, Canada, Australia, New Zealand, the United Kingdom, and Japan.
The advertisements used in the campaign have become very easily recognizable by the public, because each advertisement followed a standard simple template. A young, smart-looking, casually dressed man introduced himself as a Mac with the words, "Hello, I'm a Mac!" Another man, dressed in a suit, replied that he was a Windows personal computer by saying, "And I'm a PC." Both stood against a minimalist all-white background. The PC actor had a look that vaguely resembled Bill Gates (for the American market).
Both actors then briefly discussed the capabilities and attributes of Mac and PC. The PC was presented as very formal and polite, but uninteresting and overly concerned with work, and even being frustrated by the more laid-back Mac's abilities.
The earlier commercials involved a general comparison of Macs and PCs, whereas Apple decided to focus the later ones mainly on Windows Vista and, later still, Windows 7.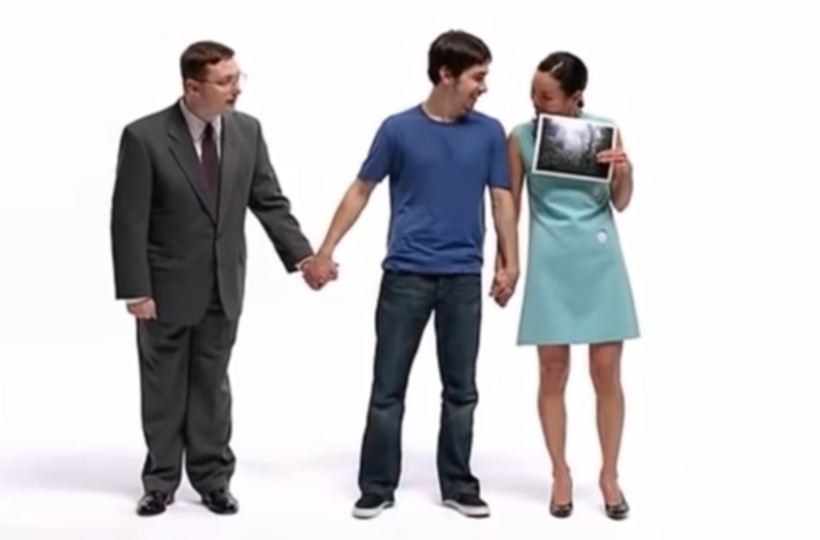 The original advertisements star a young actor, Justin Long, as the Mac, while the PC was played by author and humorist, John Hodgman. Phil Morrison directed the original ads. The American advertisements also aired in Canada, Australia, and New Zealand. At least two dozen of them were dubbed into Italian, Spanish, French, and German.
In the UK, the campaign stars comedic duo Robert Webb as Mac, and David Mitchell as PC. The Japanese campaign featured the comedic duo Rahmens. Although a few of the British and Japanese advertisements originated in the American campaign, they are slightly altered to suit local sensibilities and traditions. Both the British and Japanese campaigns also featured several original ads, which have neither be shown nor imitated in the American campaign.
The Get a Mac campaign is the successor to the Switch ads that were first broadcast in 2002. Apple's former CEO, Steve Jobs, introduced the campaign during a shareholders' meeting the week before the campaign started. The campaign also coincided with a change of signage and employee apparel at Apple retail stores, detailing reasons to switch to Macs.
The Get a Mac campaign received the Grand Effie Award in 2007. The song in the commercial is titled "Having Trouble Sneezing", which was composed by Mark Mothersbaugh.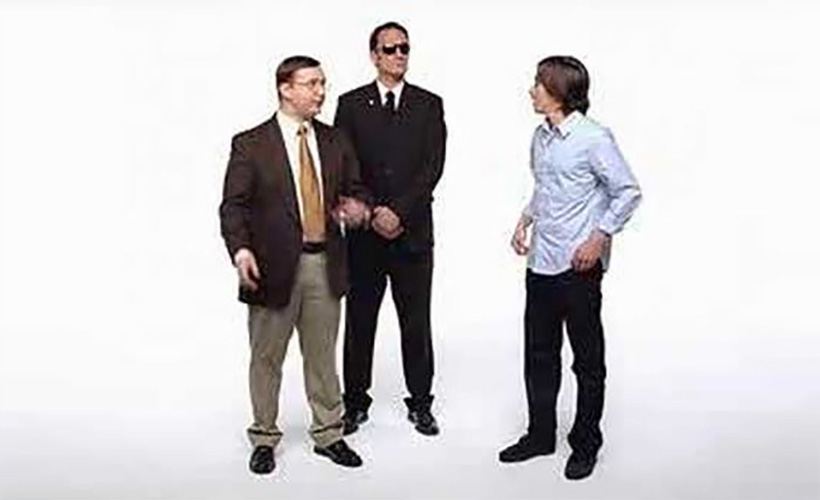 Full List of the North American Ads for the Campaign
Accident – safety of Mac's cords;
Angel/Devil — Mac gives PC an iPhoto book to view;
Bake Sale- Mac questions PC regarding a bake sale he has set up;
Bean Counter – PC is trying to balance his budget;
Better-Mac praises PC's ability with spreadsheets but explains that he is better with life-related activities;
Better Results – PC and Mac discuss making home movies;
Biohazard Suit – PC appears wearing a biohazard suit to protect himself from PC viruses;
Boxer – PC is introduced by a ring announcer as if he were in a Boxing match;
Breakthrough – Mac and PC's therapist (played by Corinne Bohrer) suggest that PC's problems are a result of software and hardware;
Broken Promises – PC tells Mac how excited he is about the launch of Windows 7;
Calming Teas – PC announces calming teas and bath salts to make Vista's annoyances easier to live with;
Choose a Vista – Confusion about six versions of Windows Vista;
Computer Cart – PC says that he gets an error with a Windows Media Player Dynamic-link library file;
Counselor – PC and Mac visit a psychotherapist (played by Corinne Bohrer);
Customer Care – Mac is seen with a Mac Genius from an Apple Retail Store's Genius Bar;
Elimination – PC attempts to find Megan, a new laptop hunter, the perfect PC;
Flashback – Mac asks PC if he would like to see the website and home movie that he made;
Genius – Mac introduces PC to one of the Mac Geniuses from the Apple Retail Store's Genius Bar;
Gift Exchange – Mac and PC exchange gifts for Christmas;
Goodwill – Mac and PC agree to put aside their differences because of the Christmas season;
Group – PC is at a support group for PCs living with Vista;
iLife – PC listens to an iPod and praises iTunes;
I Can Do Anything- Animated commercial designed for the holiday season;
Legal Copy – Every time PC says something positive about himself, the legal copy that appears on the screen bottom increases;
Meant for Work – PC, looking haggard and covered in stickers, complains about the children who use him and their activities;
Misprint- PC is on the phone with PC World, attempting to report a misprint;
Network – Mac and PC are holding hands to demonstrate their ability to network with each other;
Now What – PC begins by showing off his new, long book, I Want to Buy a Computer – Now What?;
Office Stress – Mac's new Microsoft Office 2008 has just been released. In the box that PC gives Mac is a stress toy for him to use when he gets overwhelmed from doing lots more work;
Off the Air – Mac and PC appear with a Mac Genius;
Out of the Box – Mac (in a white box) and PC (in a brown box doing some exercises) are discussing what they will do when they are unpacked;
PC Choice Chat – PC has his own radio talk show called PC Choice Chat, and people begin to call in asking for advice on which computer to get;
PC Innovations Lab – PC has wrapped another PC in bubble wrap;
PC News – PC is sitting at a news desk and turns it over to a correspondent at what seems to be a launch party for Windows 7;
Pep Rally- PC is introduced by a cheer-leading squad;
Party is Over- PC unhappily throws a party celebrating the release of Windows Vista;
Pizza Box – PC tries to attract college students by posing as a free box of pizza;
Podium – PC, in the style of a political candidate, is standing at a podium making declarations about Windows Vista;
PR Lady – Mac and PC are joined by a public relations representative (played by Mary Chris Wall);
Referee – A referee is present, according to PC, to make sure that Mac doesn't go on saying that Leopard is better and faster than Vista;
Restarting – Mac and PC explain how they both have a lot in common;
Sabotage – PC is present, but a different actor appears in Mac's place, obviously reciting poorly memorized lines to flatter PC;
Sad Song – PC sings a short country-and-Western-style song to express his grievances about people leaving PCs for Macs;
Sales Pitch – Although Mac introduces himself as usual, PC says, "And buy a PC.";
Santa Claus – Another animated Get a Mac commercial, featuring Santa Claus and Christmas caroling by both PC and Mac. PC spoils the group's singing of "Santa Claus is Coming to Town" by inserting "Buy a PC and not a Mac this holiday season or any other time for goodness sake," and claims, "That's how I learned it." The animation style is similar to the Rankin/Bass television specials Rudolph the Red-Nosed Reindeer and Santa Claus Is Comin' to Town;
Security – In a reference to criticisms of Windows Vista's security features, PC is a joined by a tall United States Secret Service-style bodyguard;
Self-Pity – Mac, for once, is wearing a suit. He explains that he "does work stuff, too," and has been running Microsoft Office for years;
Stuffed – PC enters slowly with a ballooned torso, explaining that all the trial software is slowing him down;
Stacks – PC is searching through all of his pictures, trying to find a photograph of his friend;
Surgery – PC appears in the garb of a patient awaiting surgery;
Surprise – Mac appears alongside a customer (Andree Vermeulen) with PC notably absent;
Tech Support – A technician is present to install a webcam on PC (using masking tape to attach it to his head);
Teeter Tottering – A woman who had a PC has a box of things that were in her PC and says she's switching to Mac;
Throne – PC appears in a king's robe and on a throne;
Time Machine – In the typical introduction of Mac and PC, instead of there being one Mac, there is a line of 10;
Time Traveler – PC uses a time machine to travel to the year 2150 to see if any major issues such as freezing and crashing have been removed from the PC;
Top of the Line – PC and Mac appear with a customer who is looking for a new computer;
Touché – Right after PC introduces himself, Mac replies, "And I'm a PC, too."
Trainer – The commercial starts off traditionally, but PC is doing sit-ups with a trainer in a striped shirt (Robert Loggia);
Tree Trimming – another animated Get a Mac commercial for the holiday season;
Trust Mac – PC, in an attempt to hide from spyware, is wearing a trench coat;
V Word – PC declares that people should to stop referring to his operating system (Vista) by name;
Viruses – PC has caught a new virus;
Work vs. Home -Mac describes how he enjoys doing fun activities;
Wall Street Journal – Mac is reading a favorable review of himself by Walt Mossberg in The Wall Street Journal (This ad is not available on the Apple website but can be found on YouTube);
Yoga – Mac is watching PC have a yoga session in which the yoga instructor (Judy Greer) is coaching PC in expelling bad Vista energy.
Links
South Park Mac vs. PC [Video]
Video uploaded by South Park Mac vs. PC on April 30, 2007.