We have already posted about the iPad as a second display for a MacBook. The contraption is interesting and reduet-displayliable but cumbersome and requires an iPad in addition to the MacBook. Besides, working with two displays is a skill to learn and you risk to developing a divergent squint in the process. But tethering a tablet is not the only option. Really, I do not know why Apple is so touchy about touch screens, but their reluctance leaves the door open for other innovating companies.
AirBar Touchdown
An engineer from the Neonode company stood in for Apple and introduced what they call the AirBar, which will change your MacBook experience forever.
It's time to get a little techie. It won't hurt, we promise. The touchscreen is literally an electromagnetic field, generated by a metal grid placed beneath the screen. When we enter the field with our finger, we disturb it; the way a fly disturbs a spider's web. A special detector which is also housed beneath the screen, catches the disturbances and responds to the action: zoom, or swipe, or whatever. That is why touch screens are also called sensor screens, because they "sense" the touch.
There is only one condition in order to get the sensor to work: the user or object must conduct electricity. Human flesh can conduct electricity and so can specially designed styluses with conductors in them.
More advanced screens though, feature infrared heat sensitive sensors rimming the display. If your smartphone has such a technology, you can work with your gloves on. Besides, from the point of view of engineering, it is easier to recreate in other environments. The "web" is formed not by metal wires, but by infrared invisible rays. When interrupted by an object, let's say your finger, the sensors bring out the software or function: press the icon, zoom the window and so on. Infrared sensors allow you to control the system with gestures. It is a step up in touch technologies.
Now, you cannot tear down your MacBook Air to insert these sensors. But, if you cannot go under- go beyond. Neonode did just that. Neonode's zForce AIR™ technology is based upon projecting infrared light over the screen. The task is performed by AlwaysOn™ sensors. It takes only a nice housing for the infrared light source to crack the problem. Something slim, reliable and with a good grip to stay in place during the work.
The solution is as simple as it is elegant.
AirBar looks like a bar of black matte finished plastic, really, a slim strip magnetically attached at the bottom of a PC's display, with a USB power cable. The manual is very simple: remove the protection film from the magnets at the back of the AirBar and attach it at the bottom of the screen. Then plug it into a free powered USB socket. Remember, the AirBar needs no drivers or software, no installation, tuning or tweaking. The only issue that might take place, is the absence of a USB socket on the right side of your laptop, since for the USB wire protrudes from the right end of the AirBar.
In such cases, having a USB extending cable will help. Once attached and plugged into the USB port, the sensor is activated and starts to emit infrared light to detect the user's touch and gestures. The lAirBar reacts to any disturbance or other words – your touch or gesture.
AirBar supports Windows 8 and 10 gestures, as well as all other touch actions: swiping, pinching, tapping, zooming. The fact that you can do it with a gloved hand, a paintbrush, or anything else makes it that much more convenient. Apple announced that MacOS does not fully support the new device, but the only way to find out is to plug and try.
There are only two problems with using an AirBar. The AirBar is slim; but, unfortunately not slim enough to allow you to close your laptop while the device is on. This of course, causes you to have to rip it off every time you close your notebook. With iMacs this is irrelevant, of course. Second, your PC has to have enough space for the bar below the screen. For now, AirBar fits Macbook Air perfectly, though.
To ensure the flawless performance, the AirBar has to fit the screen size perfectly for the infrared grid to cover the whole screen. If the AirBar is shorter than the horizontal rim of the display, the performance is lousy at best. This brings up an interesting question. Let's suppose that your laptop screen has a wide enough vertical rim, like my Asusdoes; will then the AirBar work when placed vertically? It might. I cannot see any reason why it wouldn't.
For now, the company offers AirBars for 13.3",14" and 15.6" screens, and this shrinks the list of compatible devices down to laptops; especially MacBooks. You cannot use the AirBar on a widescreen desktop display. On the other hand, an AirBar that would fit a wide screen would in turn require more power than a USB socket can provide.
My opinion is, this device is very handy. In an era, when even TVs are controlled with gestures, PCs with ordinary screens will fall behind. Of course, the plain screens will not leave the scene any time soon, simply because too many people are still very partial to the feeling of keys being pressed. However, a touch or two can come in very helpful, indeed.
AirBar is available for pre-order, with its price being about $100. I'm thinking about buying this gimmick myself.
Specifications
Display Size Supported: 13.3",14", 15.6", with an aspect ratio of 16:9.
Width: 5 mm.
Length: 373 mm (AirBar 15.6").
Height: 17 mm (requires 20 mm mounting surface for 3 mm between AirBar and display).
Cable length: 243 mm.
Weight: 55 g.
Links
If your eyes are on faster tablets and you look for good hands to adopt your old computer, contact us, and we'll give you the best price for your device: Sell used computer online now!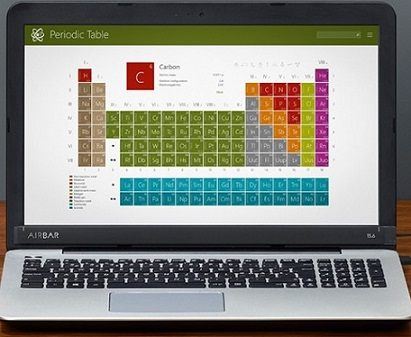 Neonode AirBar. Source of the photograph: www.air.bar