Apple AirPods 1- Full Information, Tech Specs
The Apple AirPods 1 (1st generation), the first wireless earbuds to have been introduced by Apple, were initially released on December 13, 2016. The first generation AirPods are configured with a built-in microphone capable of filtering out any background noise, commences phone calls and interactions with Siri. Externally, the AirPods appear identical to the standard Apple wired EarPods – of course, sans the wire itself – the distinctive difference being a thicker arm noticeable on the AirPods explained by the necessity to fit both the device's battery and microphone inside it.
AirPods Unboxing & Review! [Video]
Video published by EverythingApplePro on December 19, 2016
Apple AirPods (1st generation)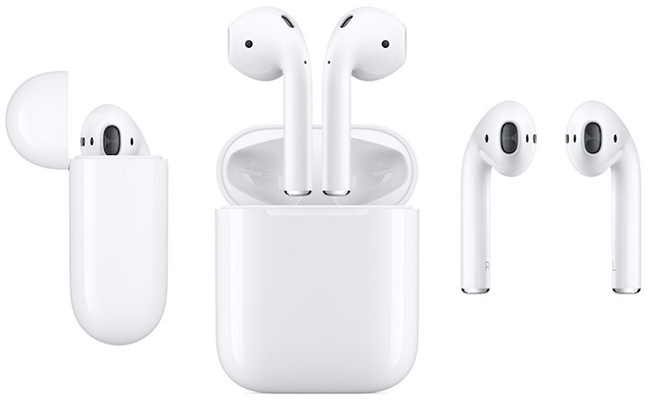 The original model of the AirPods is configured with an Apple custom designed W1 chip, claimed to optimize battery use and smooth the Bluetooth connection between the AirPods and the device of the user's choice.
Made possible by the AirPods' inner accelerometers and sensors, the earbuds may determine when they have been inserted or removed by the user, this way pausing or re-starting any sound form playing at the time.
The AirPods have proven to have impressively smooth connectivity features, the earphones' connection to their home device enabled simply by opening their charging case.
Specifications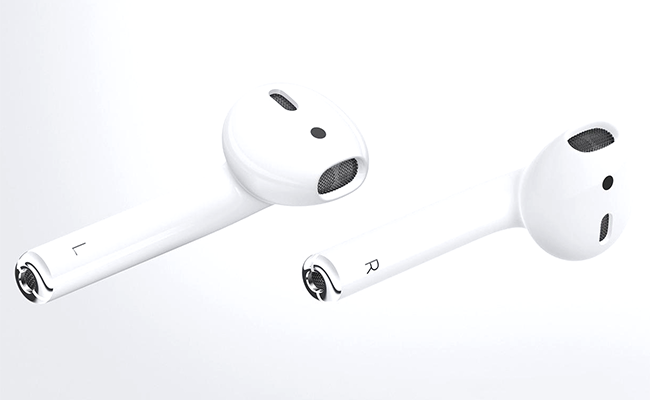 About
Manufacturer
Apple
Official Name
Apple AirPods 1, Apple AirPods (1st generation)
Type
Wireless Headphones
Form-factor
Earbuds
Launch
Introduced
September 7, 2016
Released
December 13, 2016
Body
Dimensions
AirPods (each): 0.65 x 0.71 x 1.59 inches (16.5 x 18.0 x 40.5 mm)
Charging Case: 1.74 x 0.84 x 2.11 inches (44.3 x 21.3 x 53.5 mm)
Weight
AirPods (each): 0.14 ounce (4 g)
Charging Case: 1.34 ounces (38 g)
Resistance
No waterproof
Features
– Automatically on, automatically connected
– One-tap setup for all your Apple devices
– Quick access to Siri with a double-tap
– More than 24-hour battery life with Charging Case
– Charges quickly in the case
– Rich, high-quality audio and voice
– Seamless switching between devices
System
iOS
10 or later
watchOS
3 or later
macOS
macOS Sierra 10.12 or later
Apple TV
Not supported
Sound
Type
Rich, high-quality audio and voice
Features
Active noise cancellation with dedicated mic
Comms
AirPods
Bluetooth 4.0
Case
Lightning connector
Features
Power
– Non-removable Li-Ion battery
– AirPods with Charging Case: More than 24 hours listening time, up to 11 hours talk time
– AirPods (single charge): Up to 5 hours listening time, up to 2 hours talk time
– 15 minutes in the case equals 3 hours listening time or over an hour of talk time
Sensors
– Dual beamforming microphones
– Dual optical sensors
– Motion – detecting accelerometer
– Speech – detecting accelerometer
Misc
Chip
Apple W1
Price
$159
Special Features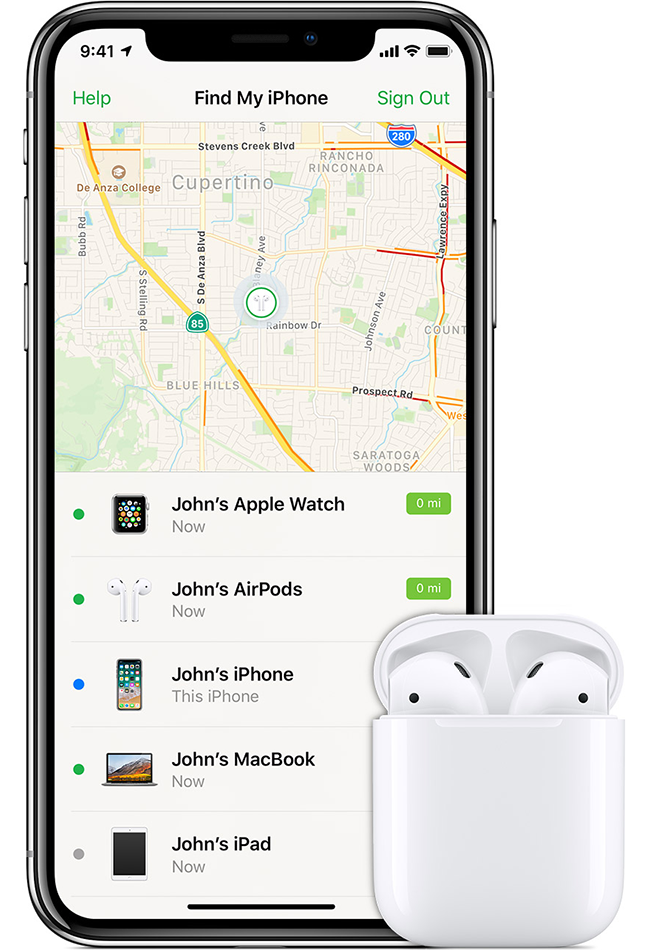 As mentioned previously, the AirPods are configured with support for Siri which can be enabled by a simple tap on the outside of either of the AirPods. Siri may assist the user with tasks along the lines of setting alarms, calling specific contacts saved on the phone, accepting calls, etc.
The first generation AirPods appear compatible with all devices featuring support for Bluetooth 4.0 and above, also including Android devices with a limited access to specific features (i.e, switching between devices).
The original AirPods have been praised for their trustworthy battery life, Apple's claims of up to five hours' battery life proved to be accurate. The charging case is to be charged through its Lightning port.
Miscellanea
The AirPods were welcomed by their users with majorly positive reviews, the advantages of the earphones including their immensely smooth connectivity, improved sound quality and strong battery life. Among one of the only negative features of the AirPods, the relatively high price of the device appears across the vast majority of their reviews.
Links