Apple AirPods 2 – Full Information, Tech Specs
Apple AirPods 2, the 2nd generation AirPods, were announced on March 20, 2019. The first ever update on the previously originally introduced in 2016 AirPods includes the hands-free "Hey Siri" feature without the previous requirement of a tap on the AirPods for the activation, a H1 chip configured with Bluetooth 5.0 support in replacement of the predecessor's W1 chip, and more connectivity improvements.
AirPods 2: Literally Everything New! [Video]
Video uploaded by Marques Brownlee on March 26, 2019.
Apple AirPods 2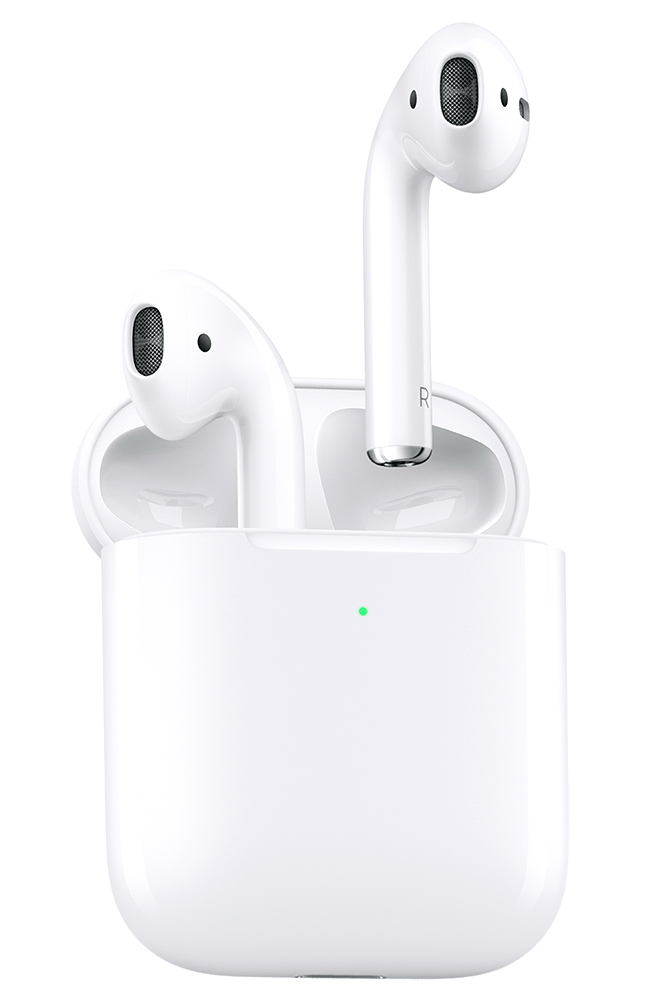 The newly introduced to the AirPods 2 H1 chip allows for a swift switch between the configurable devices, those including iPhone, iPad, iPod Touch, Apple Watch, Apple TV and Mac.
Despite the lack of design changes to the 2nd generation of the AirPods, the newer edition of the device lacks the cord, making them entirely wire-free. The 2019 AirPods are offered with a Wireless Charging Case, enabling Qi-based wireless charging.
The three purchasing options for the AirPods 2 include AirPods with Wireless Charging Case at $199, AirPods with Standard Charging Case at $159, and the standalone Wireless Charging Case at $79.
Specifications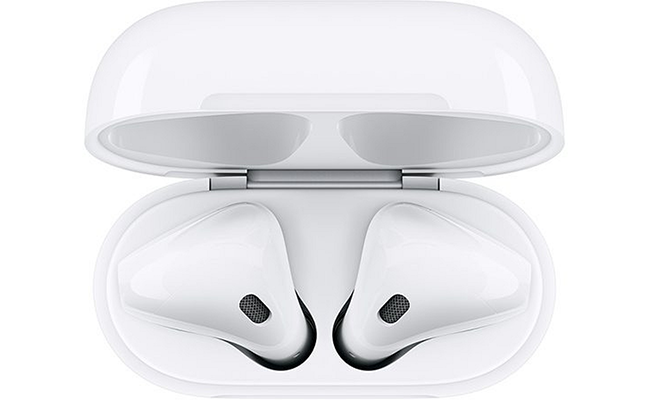 About
Manufacturer
Apple
Official Name
Apple AirPods 2
Type
Wireless Headphones
Form-factor
Earbuds
Launch
Introduced
March 20, 2019
Released
March 26, 2019
Body
Dimensions
AirPods (each): 0.65 x 0.71 x 1.59 inches (16.5 x 18.0 x 40.5 mm)
Charging Case: 1.74 x 0.84 x 2.11 inches (44.3 x 21.3 x 53.5 mm)
Weight
AirPods (each): 0.14 ounce (4 g)
Charging Case: 1.34 ounces (38 g)
Resistance
No waterproof
Features
– Automatically on, automatically connected
– Quick access to Siri by saying "Hey Siri" or setting up double-tap
– Double-tap to play or skip forward
– Charges quickly in the case
– Case can be charged with a Lightning connector
– Seamless switching between devices
System
iOS
12.2 or later
watchOS
5.2 or later
macOS
10.14.4 or later
Apple TV
Supported
Sound
Type
Rich, high-quality audio and voice
Features
Active noise cancellation with dedicated mic
Comms
AirPods
Bluetooth 5.0
Case
Lightning connector
Features
Power
– Non-removable Li-Ion battery
– AirPods with Charging Case: More than 24 hours listening time, up to 18 hours talk time
– AirPods (single charge): Up to 5 hours listening time, up to 3 hours talk time
– 15 minutes in the case equals up to 3 hours listening time or up to 2 hours talk time
Sensors
Dual beamforming microphones, Dual optical sensors, Motion-detecting accelerometer, Speech-detecting accelerometer
Misc
Chip
Apple H1
Price
$159 – AirPods 2 with Charging Case
$199 – AirPods 2 with Wireless Charging Case
Special Features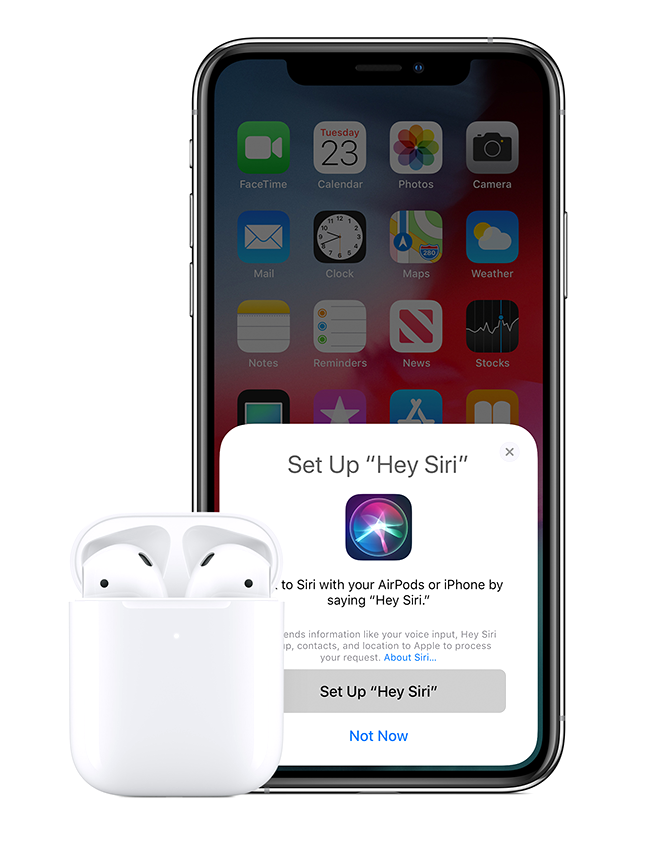 Regarding the technical advances to the newer edition of the AirPods, such include additional 24 hours of battery life provided by the wireless case and the upgrade of talk time from two to three hours. The second generation of the AirPods continues to offer up to five hours of battery life music playing time.
The now included dual optical sensors inforce tap gestures for the enabling of the device ad ear detention, signifying to the AirPods that they have been placed in the ear and when they've been taken out, this way dictating whether to play music or pause it.
AirPods 2 additionally now offer the upscale quality AAC audio guaranteeing an upgrade in all sound.
As briefly mentioned previously, the AirPods 2 also feature the activation of Siri with a "Hey Siri" command replacing the slightly old-fashioned tap on the device.
Miscellanea
AirPods are configured to work with all iPhones to have been introduced since 2012.
Links