Apple Mac Pro 5,1 (Mid 2010 Server) – Full Information, Specs
The Apple Mac Pro 5,1 (Mid 2010 Server), introduced in July 2010, features a single 2.8GHz Quad Core 45nm Xeon W3530 processor. Because it was originally configured with 8GB of DDR3 ECC SDRAM at a processing speed of 1066MHz, its four memory slots are able to support up to 48GB. Soon after its launch, when various benchmarking tests were conducted, the comparative advantage of Xeon's multiple cores became apparent. While designed for professionals, the 2010 model's components are easy to reach, and an everyday user can upgrade or replace them, if desired. Among the Mac Pro's major advances are its improved optical drive speed and an impressive graphics card.

Apple Mac Pro 5,1 (Mid 2010 Server)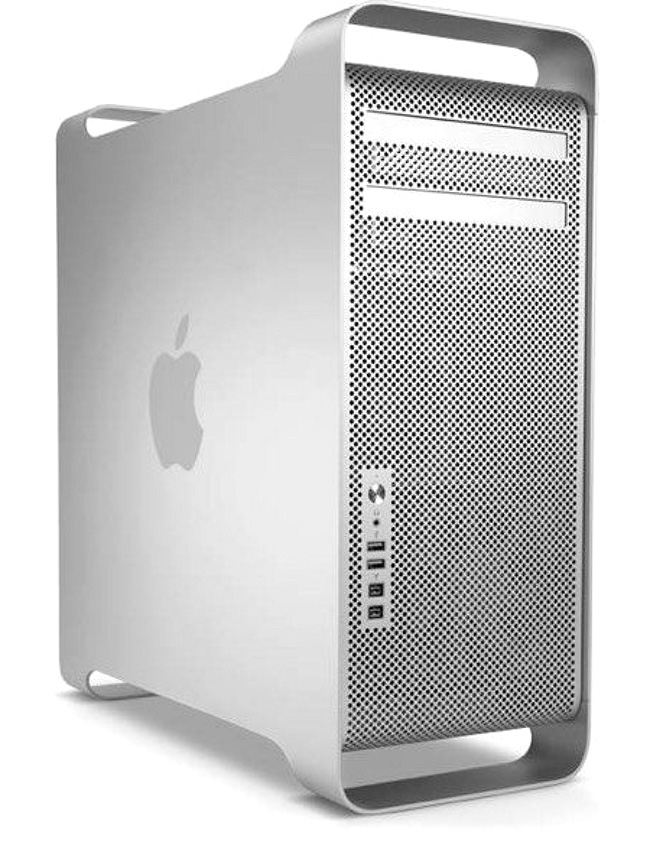 This model was introduced as a substitute "high-end" server configuration for the discontinued rack-mountable Xserve line. TheMac Pro Server could be classified as a throwback to the days of the Mac Server G4 series where Apple shipped a server version of an otherwise identical Power Mac G4. It was often configured with more RAM and/or a larger hard drive. This model came with pre-installed server software.
Likewise, the Apple Mac Pro 5,1 (Mid 2010 Server) is identical to the Apple Mac Pro 5,1 (Mid 2010). However it was shipped with more RAM, two hard drives, and a pre-installed copy of Mac OS X 10.6 Server.
The six Mac Pro models introduced in Mid 2010 have several common characteristics. For example, all sex feature two 1TB SATA hard drive running at 7200 rpm, an ATI Radeon HD graphics card with 1GB of GDDR5 memory, two Mini DisplayPort outputs, and a single dual-link DVI video output. All three models also have an 18x dual layer-compatible SuperDrive for optical discs, and their connectivity attributes are identical.
While the Mid 2010 Server models are almost visually identical to their Early 2009 Server predecessors, they're equipped with faster graphics. Their higher-end Westmere equivalents exhibit even faster processors; through custom configuration, as many as twelve cores can be achieved.
The 2010 system supports the last version of OS X 10.8 "Mountain Lion" and OS X 10.9 "Mavericks," as well as the last version of OS X 10.10 "Yosemite" and OS X 10.11 "El Capitan." When equipped with the certified Metal-capable GPU, the model is also compatible with the 10.14 version of macOS Mojave.
Specifications
About
Manufacturer
Apple
Official Name
Mac Pro
Type
Desktop Computer
Form-factor
Tower Desktop Computer
Launch
Released
July 27, 2010
Discounted
June 11, 2012
Body
Dimensions
51.1 x 20.6 x 47.5 cm (20.1 x 8.1 x 18.7 in)
Weight
39.9 lbs. (18.1 kg)
Platform
OS
Mac OS
Chipset
Apple Compatible Platform
CPU
Dual, Quatro, Six Core Intel Xeon Processors
GPU
ATI Radeon HD 5770
Memory
RAM
From 8GB
Storage
From 2x 1TB HDD
Comms
LAN
Two independent 10/100/1000 BASE-T [Gigabit] Ethernet (RJ-45) interfaces with support for jumbo frames
USB
5x USB 2.0
WLAN
802.11 a/b/g/n
Bluetooth
2.1 + EDR
Display
Up to 6 Displays
4 (800) Firewire Ports
Misc
Colors
Silver Aluminum
Price
Starting at $2.999
Models
Mac Pro (2.8GHz Intel Quad Core, Mid 2010 Server)
Mac Pro (3.2GHz Intel Quad Core, Mid 2010 Server)
Mac Pro (3.33GHz Intel Six Core, Mid 2010 Server)
Mac Pro (2.4GHz Intel Eight Core, Mid 2010 Server)
Mac Pro (2.66GHz Intel Twelve Core, Mid 2010 Server)
Mac Pro (2.93GHz Intel Twelve Core, Mid 2010 Server)
Special Features
By default, this Apple Mac Pro 5,1 (Mid 2010 Server) was configured with 8GB of 1066MHz DDR3 ECC SDRAM, this maximum could be increased to 48GB of RAM.
The 2.8GHz model's entry-level Xeon processor is equipped with the Hyper Threading feature. This enables the processor's four cores to concurrently run two threads, producing a total of eight virtual cores.
Another feature presented in the 2010 model is Turbo Boost, which allows idle cores to shut down, thereby boosting the clock speed for those that remain active.
Miscellaneous
While Apple claims that this system is capable of supporting as many as six displays, it points out that the connection of more than three requires the installation of two ATI Radeon HD 5770 video cards. The default ATI Radeon HD 5770 video card can support three 30-inch displays.
The general response to the Apple Mac Pro 5,1 (Mid 2010 Server) model has been positive: critics praise the model's powerful new processors, largely capable graphics card, good bundled software, and noticeably quiet operation. Among the model's disadvantages are its single optical drive and the unrealized potential of more RAM.
Links
I built the most powerful 5,1 Mac Pro in the world [Video]
Video uploaded by Luke Miani on June 20, 2019.