MacBook Air 8,1 (13-Inch, Late 2018) – Full Information, Specs
The upgraded MacBook Air 8,1 (13-inch, Late 2018) was the centerpiece of the Apple October event. Amazing as it is, the laptop is hard to place among others Mac computers. Previous MacBooks Air 13-inch were cheap and featured outdated displays, but sported a full stack of ports. When it came to higher performance and sharper screens, the compact MacBooks with the Type-C and the Retina matrix was everyone's favorite. But this year upgrade of the Air lineup pulled the plug on them.

MacBook Air 8,1 (13-Inch, Late 2018)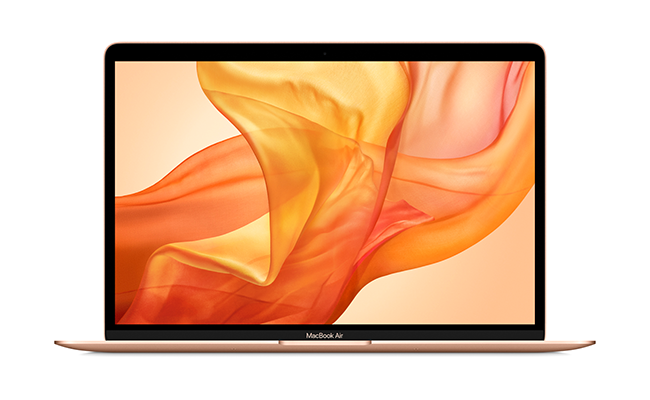 The MacBook Air 8,1 (13-inch, Late 2018) has the following advantages: Retina display with thinner bezels, more powerful Intel Core i5, faster operating memory LPDDR3 2133 MHz, better Intel UHD Graphics 617, greater SSD storage (128GB and 512GB), two Thunderbolt 3 (Type-C) ports with up to 10Gb/s data transfer rate, HD FaceTime 720p camera, touch ID fingerprint scanner, the "butterfly" keyboard of the 3rd generation, the price starting $799 for minimal configuration.
Actually, this is the cheapest Retina-featured product by Apple. Also, this is the first Mac with the Touch ID. The biometric authentication for laptops was introduced by Microsoft for the top Windows laptops several years ago, but this feature failed to appeal to the public. Probably, because simply installing the fingerprint scanner into the keyboard is not enough. Apple did a great job implementing the Touch ID into the iOS-macOS ecosystem. Now it works as a login tool not only for the device but for the passworded apps as well as for Apple Pay. Left-handers, unfortunately, will have some troubles using the scanner as it lives in the right upper corner.
Specifications
About
Manufacturer
Apple
Official Name
MacBook Air (13-inch, 2018)
Type
Subnotebook computer
Form-factor
Laptop
Launch
Introduced
October 30, 2018
Released
November 7, 2018
Body
Dimensions
11.97 x 8.36 x 0.16-0.61 inch (299 x 209 x 4-15 mm)
Weight
2.75 lbs (1.25 kg)
Build
Aluminum
Physical buttons
Power, Touch ID
Keyboard
Backlit Keyboard
Trackpad
Force Touch trackpad for precise cursor control and pressure-sensing capabilities
Display
Type
LED-backlit Retina display with IPS technology
Size
13.3 inches
Resolution
2560 x 1600 pixels
Aspect ratio
16:10
Pixel Density
~ 227 ppi
Multitouch
No
Platform
OS
macOS
Architecture
Intel's Coffee Lake architecture
CPU
1.6GHz dual-core Intel Core i5, Turbo Boost up to 3.6GHz, with 4MB L3 cache
GPU
Intel UHD Graphics 617
Memory
Memory
8 / 16 GB RAM
Storage
128 / 256 / 512 GB, or 1.5 TB SSD
Camera
Front
720p FaceTime HD camera
Back
N/A
Sound
Loudspeaker
Stereo speakers
Microphone
Three microphones
Comms
USB
2 x USB-C 3.1 Gen 2
WLAN
IEEE 802.11 a / b / g / n / ac
Bluetooth
4.2
3.5 mm jack
3.5 mm headphone jack
Card reader
No
DisplayPort
Yes (via USB-C)
Thunderbolt
Yes (via USB-C)
Two Thunderbolt 3 (USB-C) ports with support for:
– Charging
– DisplayPort
– Thunderbolt (up to 40 Gbps)
– USB-C 3.1 Gen 2 (up to 10 Gbps)
Features
Battery
Built-in 50.3‑watt‑hour lithium‑polymer battery
– Integrated Touch ID sensor
– Apple T2 Security Chip
– Quickly unlock your Mac without typing a password
– Securely make online purchases with Apple Pay
– Instantly authenticate password-protected documents
Misc
Colors
Space Gray, Silver, Gold
Price
Starting at $1199
MacBook Air 8,1 Models
MacBook Air (13-inch, 1.6Ghz Intel Core i5, Late 2018, Gold)
MacBook Air (13-inch, 1.6Ghz Intel Core i5, Late 2018, Silver)
MacBook Air (13-inch, 1.6Ghz Intel Core i5, Late 2018, Space Gray)
MacBook Air (13-inch, 1.6Ghz Intel Core i5, Late 2018, Gold)
MacBook Air (13-inch, 1.6Ghz Intel Core i5, Late 2018, Silver)
MacBook Air (13-inch, 1.6Ghz Intel Core i5, Late 2018, Space Gray)
Special Features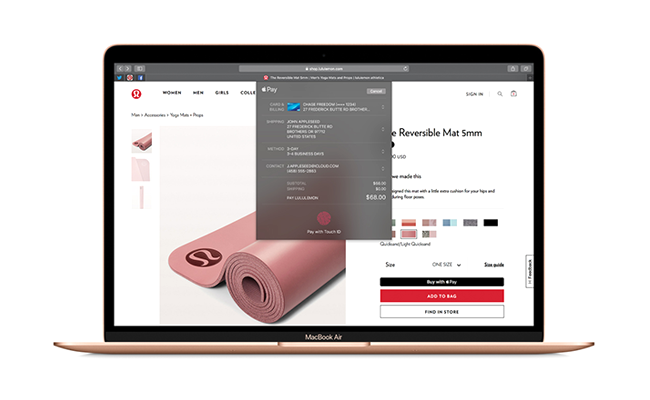 The MacBook Air 8,1 (13-inch, Late 2018) is the most secure Mac along with the iMac Pro (2017) as it features the Apple T2 security chip. In a nutshell, Apple T2 manages the disk, the video and audio drivers and thus controls the access to the most vulnerable parts of the system, starting with the system boot-up. It also prevents an unauthorized access to the webcam, the microphone and the speakers. The T2 manual, though, warns against unexpected crashes fo pr iMacs Pro, but we believe, Apple has solved the trouble for MacBooks Air.
Apple has always been notorious for proprietary ports asking for rather costly proprietary cables. This year the company gave this principle up, at least for the new MacBook Air. The Thunderbolt 3 ports are the same USB-C ones, and they both work as charging ports as well! It's a very wise move! A lot of users are reluctant to switch to Macs because the accessories price tag scares them away. With the MacBook Air 8,1 (13-inch, Late 2018) any standard USB-C cable will do.
Miscellanea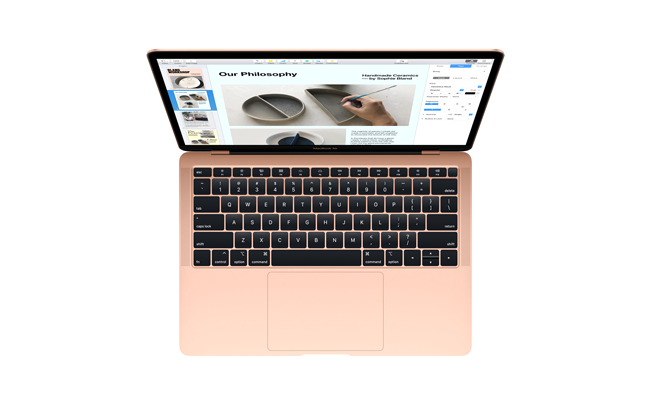 The only thing that can kill the enthusiasm is the keyboard with the "butterfly" mechanism. Apple had to confess that the same keyboard on MacBooks Pro is far from being reliable but didn't drop the idea altogether and brought it to much thinner MacBook Air. After all, the "butterfly" mechanism allows to make the thinnest keyboard ever and with the MacBook Air this feature is the key.
According to the CNET.com (and we quote here): "If anything, the new Air looks and feels like a half-step between the 12-inch MacBook and the 13-inch MacBook Pro…Picking one up, it immediately feels lighter and smaller than the current Air, which I'm intimately familiar with. At 2.7 pounds and about 15 millimeters thick."
This Air includes a much bigger touchpad, of the same Force Touch style as on other MacBooks. It doesn't have a diving-board hinge on the back, and instead uses four corner sensors to register clicks.
Links
Video uploaded by The Verge on November 6, 2018.