iPhone SE – Full Phone Information, Tech Specs
The iPhone SE (Special Edition) is a model of the iPhone marketed as serving as a lower-cost replacement for the iPhone 5s, which was previously discontinued. This model has many hardware similarities with the iPhone 6s and it looks like Phone 5c.
iPhone SE Review [Video]
Video uploaded by Marques Brownlee on April 4, 2016.
Apple iPhone SE Full Information
Apple has given its adepts a good choice with the iPhone SE. The compact body was extremely rare back in 2016, but even though this smartphone is small it packs a mighty punch, as the model is powerful and capable. It can boast the same top-notch internals as the iPhone 6S and support for Apple Pay.
Release Dates
Announced on March 21, 2016.
Released on March 31, 2016.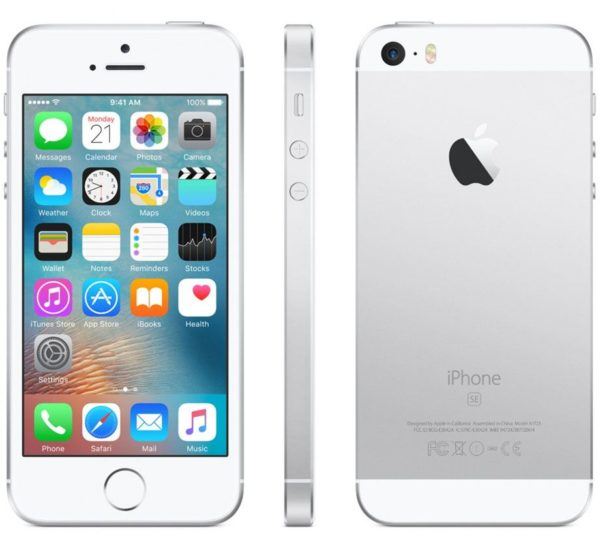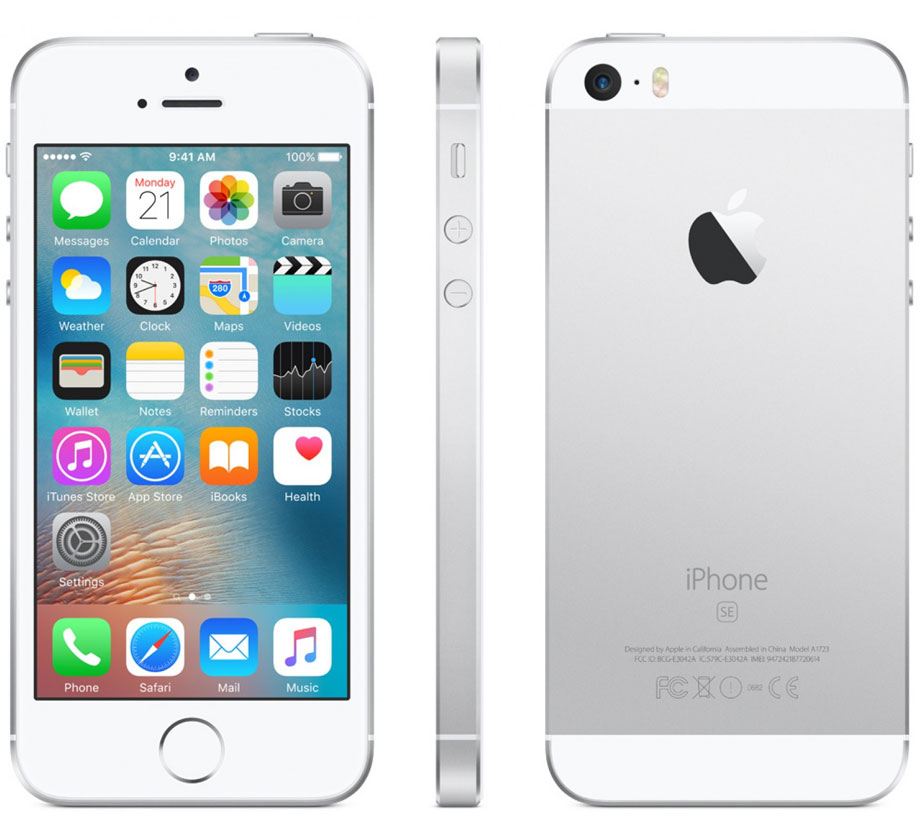 Specifications
Processor Type: Apple A9.
Onboard RAM: 2 GB.
Storage Capacity: 16, 64 GB.
OS: Pre-installed OS: iOS 9.3. Maximum OS: Current.
Usage Time: Up to 50 hours of audio playback, 14 hours of talk time on 3G, 12 hours of Internet use on 3G, 13 hours of Internet use on 4G/LTE, 13 hours of Internet use on Wi-Fi, 13 hours of video playback and 10 days of standby time.
Display: 4-inch display with 540×1136 resolution at 326 ppi.
Connectivity: Built-in support for Wi-Fi. USB. Lightning and Headphone ports.
Audio Support: AAC (8 to 320 Kbps), Protected AAC (from iTunes Store), HE-AAC, MP3 (8 to 320 Kbps), MP3 VBR, Audible (formats 2, 3, 4, Audible Enhanced Audio, AAX, and AAX+), Apple Lossless, AIFF, and WAV.
Rear Camera: Backlit Sony Exmor RS. 12 MP.
Front Camera: 1.2 MP.
Video Support: H.264 video up to 4K, 30 frames per second, High Profile level 4.2 with AAC-LC audio up to 160 Kbps, 48kHz, stereo audio in .m4v, .mp4, and .mov file formats; MPEG-4 video up to 2.5 Mbps, 640 by 480 pixels, 30 frames per second, Simple Profile with AAC-LC audio up to 160 Kbps per channel, 48kHz, stereo audio in .m4v, .mp4, and .mov file formats; Motion JPEG (MJPEG) up to 35 Mbps, 1280 by 720 pixels, 30 frames per second, audio in ulaw, PCM stereo audio in .avi file format.
Dimensions: 4.87 in height, 2.31 in width, 0.30 in depth.
Average Weight: 3.99 oz.
Battery: Lithium Ion battery. Non-removable Li-Po 1624 mAh battery (6.21 Wh).
Color: Silver, Space-gray, Gold, Rose-gold.
Detailed Information
Model Number
A1723, A1662, A1724
(engraved on the back cover)
Launch
March 2016
Display Size
4 inches
Dimensions
123.8 x 58.6 x 7.6 mm (4.87 x 2.31 x 0.30 in)
Weight
113 g (3.99 oz)
Capacity
16/32/64/128GB, 1GB RAM
Colors
Space gray, silver, gold, rose gold
Front Panel
Flat and made of glass
Back Panel
Anodized aluminum with matte chamfered edges and a stainless steel inset logo
SIM tray
On the right side that holds a 4FF (short for "fourth form factor") or nano-SIM card
Serial Number
You will find it in the Settings menu
IMEI/MEID
+ Etched on the back cover. The MEID is the first 14 digits of the IMEI
+ You can use the IMEI/MEID instead of the serial number
See also
Sell used iPhone SE online now
Apple Orders, Discontinuation, Price
Apple Order: MLLX2LL/A.
Discontinuation: Still available.
Initial Price:
US$399 (16GB)
US$499 (64 GB).
Features
At the core of the Apple iPhone SE is the A9, the same advanced chip that's in iPhone 6s. With 64‑bit desktop-class architecture, this chip brings speed and responsiveness. And with console-class graphics performance, your favorite games and apps are rich and immersive. Making it a mighty chip for maximum performance. Super-efficient M9 motion coprocessor is embedded directly into the A9 chip. It connects to the accelerometer, compass and gyroscope for a range of fitness tracking capabilities, such as measuring your steps and distance. It also makes it easy to activate Siri by simply saying "Hey Siri," without having to pick up your iPhone SE.
Touch ID makes unlocking the iPhone SE simple and secure. After all, user's fingerprint is the perfect password – no two are alike, and users always has it with them. Touch ID isn't just for unlocking your phone. It also lets you use Apple Pay at over two million stores and within apps. In stores, just hold your iPhone near the reader with your finger on Touch ID and you're done. Because your card details are never shared – or even stored on the iPhone – Apple Pay is a safer, more private way to pay.
Accessories: The iPhone SE is shipped with Apple EarPods with Remote and Mic, Lightning to USB cable, USB power adapter.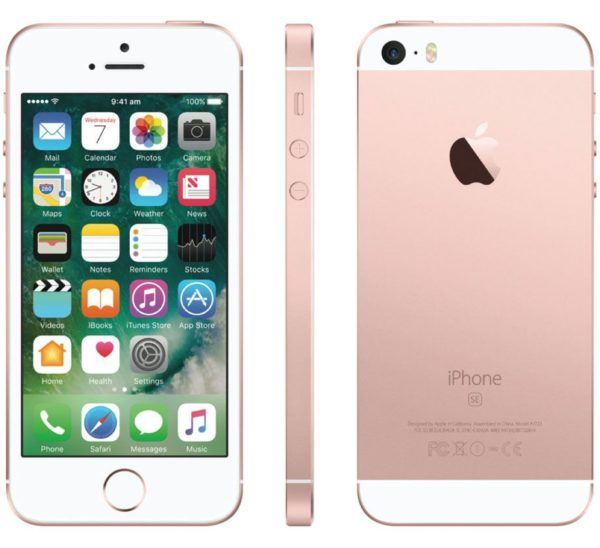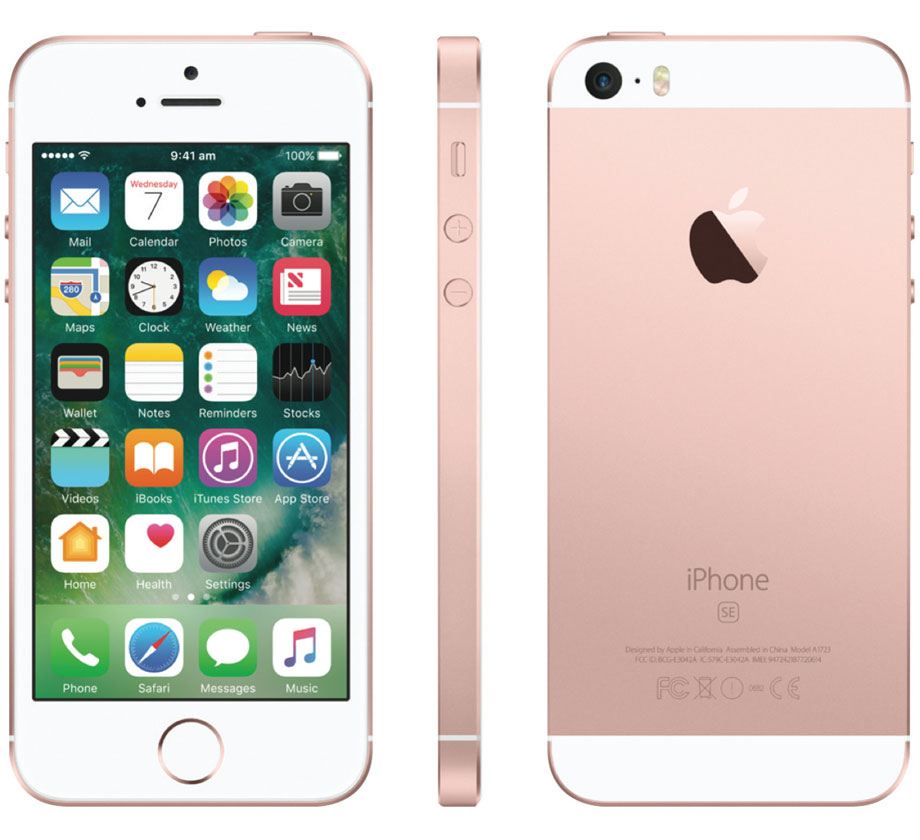 Miscellanea
iPhone SE is faster than iPhone 5s, besides this light and compact, four-inch iPhone with Retina display has more features than the 5s. Indeed, it includes Siri and the camera software, such as Live Photos and more. With an easy-to-use interface and security at its core, iOS 9 has been designed to work on this iPhone, so even the simplest tasks are more fun. iPhone SE takes is crafted from bead-blasted aluminum for a satin-like finish. It has been designed to fit comfortably in user's hand. Games and apps are incredibly immersive and rich.
The new model was introduced due to a large number of customers preferring the 4" screen to the 4.7/5.5-inch of the new iPhone 6 and 6 Plus.
The iPhone SE's updated hardware and latest iOS resulted in improved processing speed and increased battery life along with a better quality camera and allowed the comfort of faster functioning hardware in combination with the iPhone 5s' 4-inch screen.
Live Photos feature brings still photos to life with sound and movement. To use Live Photos, the user can simply touch and hold anywhere on the 12-megapixel still and experience the moments just before and after it was taken, so the photos turn into living memories.
FaceTime HD camera with Retina Flash allows the user to get beautiful selfies. The Retina display isn't just a place to see your content – it's a flash for the FaceTime HD camera. Powered by a custom display chip that allows the display to flash three times brighter than usual, the Retina Flash helps illuminate your selfies in low light and at night. And a True Tone flash matches the ambient light for more true-to-life colors and natural-looking skin tones.
iCloud Photo Library stores every photo and video you take and keeps them up to date on all your devices. Any edits you make are automatically updated everywhere, so you can view a photo from last week or last year no matter where you are.
Users can browse the web, download apps and games, and stream video over 802.11ac Wi-Fi and LTE. And more LTE bands make iPhone SE better for worldwide roaming. iPhone SE also supports Voice over LTE and Wi-Fi calling for high-quality wideband calls. With Bluetooth technology, you can stay connected to your Apple Watch, external speakers and other devices.
Te iPhone SE comes with a collection of essential apps right out of the box. Messages lets you send texts with photos, videos, links and more. Music makes it easy to access the entire Apple Music library along with your personal collection. With FaceTime you can make video calls from your iPhone to someone else's iPhone, iPad or Mac. And Maps keeps you headed in the right direction with spoken turn-by-turn navigation, real-time traffic updates and a helpful Transit view.
Fingerprints as the perfect password – Touch ID makes unlocking the iPhone SE secure and simple. Indeed, a fingerprint is the perfect password as no two fingerprints are alike. Touch ID also lets users use Apple Pay everywhere American Express contactless payments are accepted. Just hold the iPhone near the reader with a finger on Touch ID, and the transaction is done. The card details are never shared, They are not even stored on iPhone. That's why Apple Pay is a safer way to pay.
The new Apple iPhone 7 was introduced on September 7, 2016. It has new amazing features, updated software, and iOS 10, all of which resulted in improved processing speed and increased battery life along with a better quality cameras.
Links