Steve Jobs: A History of Genius
Steve Jobs is best known for his role as co-founder of Apple Inc. (with Steve Wozniak). His full name is Steven Paul Jobs and he was born on February 24, 1955 and died on October 5, 2011. He was also the CEO and major shareholder of Pixar Animation Studios and founder, chairman and CEO of NeXT Inc. He and his Apple co-founder Steve Wozniak are credited with the creative genius that started many revolutions in the technological world.
Steve Jobs
Jobs pioneered the digital revolution and his vision is behind one of the most acclaimed companies in the world, Apple. Apple is known for iPhones (which is by far the most popular phone to judge by the number of people who have it), MacBooks, iPads, iPods and so on. The software applications included with purchases of the hardware include such useful apps as iTunes and iBooks, apps that let you download and store music, videos and e-books.
Even though Steve Jobs was the co-founder of Apple, he has not always been with the company. In late December 1996, Apple made an industry-shattering announcement that it would be acquiring NeXT, and that Steve Jobs would be returning to the fold. The merger was brought about in order to acquire NeXT, which was to become the basis for Apple's next-generation OS, Rhapsody, which was slated for a 1998 release.
In July 1998, Jobs announced that Apple had profited for the 3rd consecutive quarter – to the tune of $101 million. This helped to push Apple's stock to several 52-week highs in just a few days. The iMac was the best-selling computer in the nation for most of the fall, and it drove Apple sales well beyond most predictions. In the fall, Jobs announced another profitable quarter, making a full year of profitability. In January 1999, Jobs announced a 5th consecutive profitable quarter, with year-over-year growth, and a sleek new PowerMac G3.
On the personal side, Steve Jobs was adopted at birth. His mother gave him up for adoption due to difficult circumstances. Steve Jobs often said that his adoptive parents were his real parents and did not like it when people used the word adoptive when referring to them.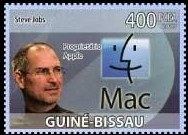 In school he was a loner. First, he was a troublemaker, but then a particular teacher inspired him and made him interested in learning. He eventually enrolled in Reed College, but dropped out because he felt that his parents could not afford it and were spending their life savings on his higher education. Jobs met the later co-founder of Apple in 1971, while he was still in high school. Wozniak, an engineering student, later recounted that a mutual friend introduced them saying that Wozniak would like Jobs because the latter was interested in electronics and enjoyed playing pranks.
Back to the business side of his life, Jobs' presence was known almost as quickly as NeXT was acquired. The degree of Jobs' "expanded role" soon became quite clear. With no CEO and Apple Stock lower than it had been in 5 years, there were many decisions to be made, and not much time to make them. Jobs began to make striking changes in the structure of Apple, including the cancelling of the Newton spin-off. (The Newton was discontinued several months later.) The time and place for the most ground breaking announcements, however, would be MacWorld Boston in August 1997.
Jobs, who by now was being referred to as "interim CEO," made the keynote speech, and spoke of the company's upcoming aggressive advertising campaign, upcoming new Macs, and Rhapsody. He also announced an almost entirely new Board of Directors, including Larry Ellison, CEO of Oracle. But he saved the best for last. In a ground breaking decision, Jobs announced an alliance with Microsoft. In exchange for $150 million in Apple Stock, Microsoft and Apple would have a 5-year patent cross-license and, more importantly, a final settlement in the ongoing GUI argument. Microsoft agreed to pay an unreleased sum of additional funds to quiet the allegations that it had stolen Apple's intellectual property in designing its Windows OS. Microsoft also announced that Office '98, its popular office package, would be available for the Mac by year's end.
Tragically, Jobs was diagnosed with cancer in 2003. He had a cancerous tumor in his pancreas. He resisted doctors and tried to fight the disease by natural means. Many believe that it was Jobs' faith in alternative medicine that cost him his life. During his absence due to health complications, Tim Cook, the present CEO of Apple, ran the company. August 24, 2011: Steve Jobs resigns as CEO of Apple.
Steve Jobs had four children: Lisa Brennan, Reed Jobs, Erin Jobs and Eve Jobs. His adoptive parents were Paul and Clara Jobs, while his biological mother and father were Joanne Schieble Simpson and Abdulfattah Jandali, respectively.
Thus, Apple revolutionized personal technology with the introduction of the Macintosh in 1984. Today, Apple leads the world in innovation with iPhone, iPad, Mac, Apple Watch and Apple TV. Apple's four software platforms — iOS, OS X, watchOS and tvOS — provide seamless experiences across all Apple devices and empower people with breakthrough services including the App Store, Apple Music, Apple Pay and iCloud. Apple's 100,000 employees are dedicated to making the best products on earth, and to leaving the world better than we found it.
Links
History of Steve Jobs (Full Documentary) [Video]
Video uploaded by Apple Explained on March 17, 2021.