Apple's MacOS Mojave (Available in October 2018)
The macOS Mojave is the fifteenth major release of macOS run by Apple Mac desktop computers. It was unveiled in June, 2018 at WWDC, but became available for the public only in October, 2018. The critical upgrade of the macOS Mojave relates to the graphics framework. Apple ceased supporting OpenGL and OpenCL and switched to Metal API instead. Metal libraries are more efficient when it comes to sharing the workload between a CPU and GPU. Since almost all Mac devices now feature the integrated GPU and support an external GPU, Metal seems to be an obvious choice. Although, it cut off the Macs back from 2011 and earlier.
macOS Mojave: Top Features and Changes! [Video]
Video published by 9to5Mac on September 24, 2018
MacOS Mojave: Dark Mode, Stacks, New Apps, a Redesigned Mac App Store and More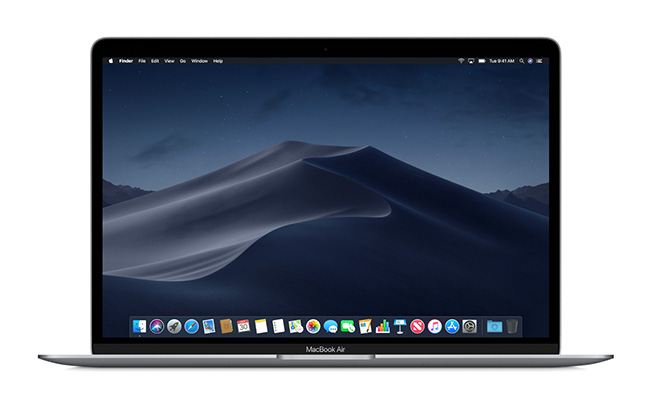 Apple paid attention to users safety. The Safari browser prevents "Like" or "Share" buttons and comment widgets from tracking users behavior by default. Users should give a permission if they don't mind being tracked. The browser itself doesn't reveal much of the system information to web servers either. On the other hand, Safari can create, autofill and flag reused password to make the web surfing easier, but we don't think that flagging used passwords is wise.
The integration with iOS devices is also in focus with the macOS Mojave. Continuity Camera allows to automatically import the pictures taken by any iOS device to a Mac provided that both share the same Apple ID and WiFi network. Continuity Camera works with the following Mojave bundled apps: Notes, TextEdit, Mail, Pages and Keynote.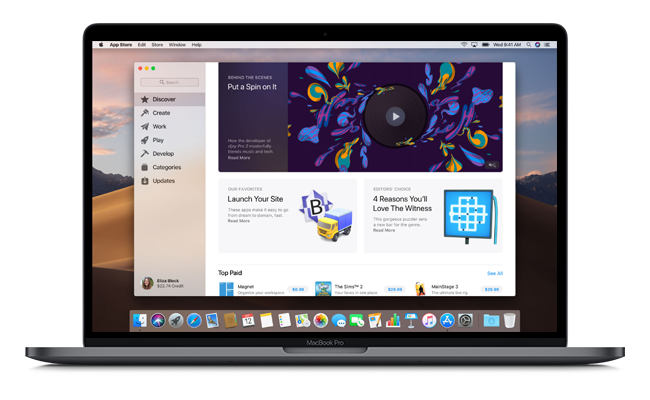 Several iOS apps found their way to the macOS Mojave. These are Siri, News, Stocks, Home and Voice Memos. They run both on iOS and macOS and give an access to news, financial reports, smart home appliances and memos from all Apple devices.
Apple did a great job to make an everyday work faster, too. Screenshots have new tools, Finder features a new Gallery View, Quick Look and Quick Actions. With Quick Look one can edit and change properties of images and videos without opening Preview or QuickTime. Quick Actions assign various task to buttons (the Windows assigned hotkeys analogue).
Stacks help to group desktop icons by any property: size, type, time or tag.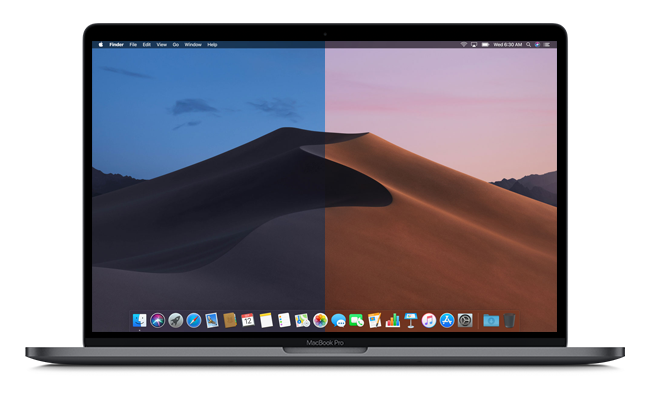 The most spectacular changes are Dark Mode and Dynamic Desktop. With the macOS Mojave the Dock and the menu bar can turn black. The switch toggle can be found in System Preferences -> General.
Dynamic Desktop is about changing the wallpapers appearance to match the time of the day at a user's location. In Dark Mode the colors will look darker than normally.
Specifications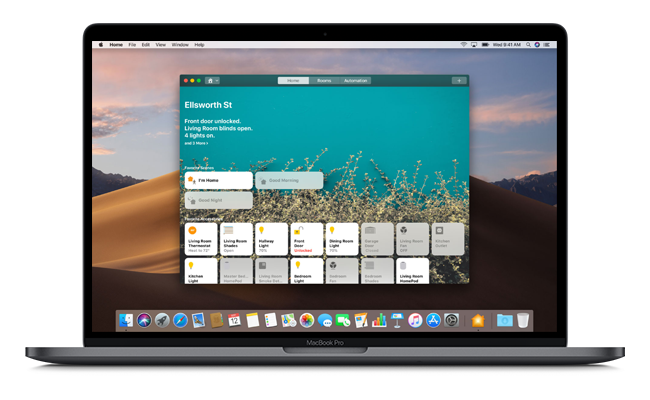 Introduced on
June 4, 2018
Available on
September 24, 2018
Software
Desktop operating system for Macs
Name
Mojave
Version
10.14

Previous OS
High Sierra 10.13
Update method
Software Update from App Store (no flash drive)
Devices supported
– All MacBooks with Retina Display
– MacBook Air (Mid 2012) or newer
– MacBook Pro (Mid 2012) or newer
– Mac mini (Late 2012) or newer
– iMac (Late 2012) or newer
– iMac Pro (Late 2017) or newer
– Mac Pro (Late 2013) or newer
– Mac Pro (Mid 2010 and Mid 2012) with Metal-capable GPU
System Requirements
Metal-compatible graphics, 2GB of memory and 12.5GB of available storage space if upgrading from macOS High Sierra; 2GB of memory and up to 18.5GB of storage space when upgrading from OS X Yosemite or earlier
System changes
OpenGL and OpenCL are dropped
Interface changes and new features
– Dark Mode
– Dynamic Desktop
– Stacks
– Quick Actions with Previews in Finder
– FaceTime
– Siri
– Continuity Camera
– AppStore
– Four new apps: News, Stocks, Voice Memos, Home
– Tracking Prevention in Safari
– Secured access to the camera and microphone (user permission is needed)
Links