In 2018, Apple still leads the world in innovation and provides seamless experiences across its devices and empowers users with its breaktrough services including Apple Music, iCloud, App Store, Apple Pay and more.
History of the Apple Computer 2018
January 4, 2018
App Store kicks off 2018 with record-breaking holiday season: New Year's day sets record with $300 million in purchase. During the week starting on Christmas Eve, a record number of customers made purchases or downloaded apps from the App Store, spending over $890 million in that seven-day period. Pokémon GO went back to the top of the App Store charts on December 21 with the introduction of new augmented reality features, built on Apple's ARKit framework for more detailed and realistic gameplay. Customers can enjoy close to 2,000 ARKit-enabled apps spanning every category on the App Store. Among the most popular AR titles are games such as CSR Racing 2, Stack AR and Kings of Pool; shopping apps like Amazon and Wayfair; education apps including Night Sky and Thomas & Friends Minis; and social media apps including Pitu and Snapchat. The Today tab on the new App Store makes it easier to discover new apps and games including App of the Day and Game of Day Animal Crossing: Pocket Camp, Monument Valley 2, King of Glory, Calm and Affinity Photo. Fan favourites Clash of Clans, Candy Crush Saga, Enlight Videoleap, 1Password and Hulu also remained popular throughout the year.
January 17, 2018
Apple announces a new set of investments to build on its commitment to support the American economy and its workforce, concentrated in three areas where Apple has had the greatest impact on job creation: direct employment by Apple, spending and investment with Apple's domestic suppliers and manufacturers, and fuelling the fast-growing app economy. Apple is responsible for creating and supporting over 2 million jobs across the United States. Combining new investments and Apple's current pace of spending with domestic suppliers and manufacturers — an estimated $55 billion for 2018 — Apple's contribution to the US economy will be more than $350 billion over the next five years, not including Apple's ongoing tax payments, the tax revenues generated from employees' wages and the sale of Apple products. Planned capital expenditures in the US, investments in American manufacturing over five years and a record tax payment upon repatriation of overseas profits will account for approximately $75 billion of Apple's direct contribution. Apple, already the largest US taxpayer, anticipates repatriation tax payments of approximately $38 billion as required by recent changes to the tax law. Apple expects to invest over $30 billion in capital expenditures in the US over the next five years and create over 20,000 new jobs through hiring at existing campuses and opening a new one. Apple already employs 84,000 people in all 50 states.
January 18, 2018
Leading European technical colleges adopt Apple's Everyone Can Code initiative Students at Harlow College in the UK are learning to build apps using the Everyone Can Code curriculum, and 70 colleges and universities in Europe have adopted Everyone Can Code, a comprehensive program designed by Apple to help everyone learn to build mobile apps. These colleges and universities are adopting Apple's App Development with Swift curriculum, helping to create opportunities for all students and equipping them with the skills they need to pursue careers in the booming app economy. Education institutions in the UK, Germany, France, Italy, Spain, the Netherlands, Sweden, Denmark, Norway, Austria, Belgium, the Czech Republic, Ireland, Luxembourg, Poland and Portugal will offer App Development with Swift. The full-year course was designed by Apple engineers and educators to teach coding and app design to students of all levels and backgrounds. Everyone Can Code is designed to teach students how to build their own apps using Swift, Apple's popular and easy-to-use programming language. Popular apps including Airbnb, KAYAK, TripAdvisor, Venmo and Yelp are all created with Swift.
January 22, 2018
Apple teams with Malala Fund to support girls' education. Apple CEO Tim Cook and Nobel Peace Prize Laureate Malala Yousafzai visit with Lebanese and Syrian students in Beirut, Lebanon. With Apple's support, Malala Fund expects to double the number of grants awarded by its Gulmakai Network and extend funding programs to India and Latin America with the initial goal of extending secondary education opportunities to more than 100,000 girls.
January 24, 2018
Apple Garosugil will open in Seoul on Saturday, bringing Apple's products, in-store programming and services together for South Korean customers to experience for the first time all in one place. South of the Han River, in the heart of the Gangnam area, the store's 25-foot glass facade invites visitors in from the tree-lined street, where interior trees mirror those outside, blurring the lines between the street and store. The store's 140 team members speak a collective 15 languages.
January 26, 2018
Latest update to Logic Pro X features tempo detection technology and a range of new effect plug-ins. Logic Pro X, Apple's professional music production software, featuring a new tempo detection technology and powerful effect plug-ins, giving musicians even more creative control and flexibility with their projects. Smart Tempo is a new advanced tempo detection technology that automatically manages tempo across all the content in a project. Smart Tempo gives users the freedom to record naturally without a metronome or click track, yet still have their performance stay in sync with any other tempo-based content or features in a project. It's also easy to combine recordings from different sources with varying tempos, making it a valuable tool for electronic musicians who create remixes and mashups. The ChromaVerb plug-in adds space and depth to tracks with a colourful, interactive interface. ChromaVerb is a new algorithmic reverb plug-in with a colourful interactive interface that allows users to add space and depth to tracks and simulate a wide range of acoustic spaces, including Rooms, Chambers, Theaters, Halls and more. Vintage EQ features three plug-ins authentically modelled after some of the most sought after hardware EQs from the 1950s to 1970s – Vintage Graphic EQ, Vintage Tube EQ and Vintage Console EQ. Step FX adds rhythmic multi-effect processing using three powerful step sequencers and an X/Y pad. Phat FX is a powerful new multi-effect that adds warmth, punch and presence to synths, guitar, bass and drums. Step FX adds rhythmic movement to any track by arranging filters, effects and independent step sequencers to control treatments over time. Logic Pro X includes a variety of new content, including two Drummers that play roots and jazz-influenced brush styles, two vintage brush kits for the Drum Kit Designer feature, more than 800 additional loops and a new library for Alchemy synths with 150 cinematic presets.
February 1st, 2018
Apple announces financial results for its fiscal 2018 first quarter ended December 30, 2017. The Company posted quarterly revenue of $88.3 billion, an increase of 13 percent from the year-ago quarter and an all-time record, and quarterly earnings per diluted share of $3.89, up 16 percent, also an all-time record. International sales accounted for 65 percent of the quarter's revenue. Cash flow from operations was very strong at $28.3 billion, and Apple returned $14.5 billion to investors through our capital return program. Apple is providing the following guidance for its fiscal 2018 second quarter: revenue between $60 billion and $62 billion; gross margin between 38 percent and 38.5 percent; operating expenses between $7.6 billion and $7.7 billion; other income/(expense) of $300 million; tax rate of approximately 15 percent. Apple's board of directors has declared a cash dividend of $0.63 per share of the Company's common stock.
February 22, 2018
Apple opens its first store in Austria. Apple Kärntner Straße is located on the famous pedestrian shopping street between St. Stephen's Cathedral and the Vienna State Opera. The store's 150 employees will invite visitors to experience the creative sessions and services offered in Apple Stores around the world. The store's 150 employees together speak 44 languages and will welcome the millions of people that visit Vienna's Golden Quarter each year.
February 28, 2018
Starting today, Apple Watch records ski workouts and automatically detects lifts and runs throughout the day. The updated Slopes app tracks speed, vertical, distance, lift vs. trail time and more with a completely redesigned interface. Snoww provides timely notifications, including run stats and milestones, and also finds friends' live locations. Squaw Alpine is a resort-specific app that lists trails and chairlifts ridden that day. Snocru's app update supports tracking entirely from Apple Watch and integrates with the Apple Watch Activity app. Ski Tracks features 17 different snow workouts. Squaw Alpine is a resort-specific app that lists trails and chairlifts ridden that day. Snocru's app update supports tracking entirely from Apple Watch and integrates with the Apple Watch Activity app. Ski Tracks features different snow workouts for credit in the Apple Watch Activity app. Developers are taking advantage of the built-in GPS and altimeter in Apple Watch Series 3 as well as custom workout APIs released in watchOS 4.2 to enable tracking of specialized metrics. App updates for snoww, Slopes, Squaw Alpine, Snocru and Ski Tracks track total vertical descent and horizontal distance; number of runs, average and maximum speeds; total time spent; calories burned and more.
March 12, 2018
Apple signs an agreement to acquire Texture, the digital magazine subscription service by Next Issue Media LLC, which gives users unlimited access to their favourite titles for one monthly subscription fee. Texture brings over 200 of the world's best magazines to life, providing an easy way for users to read high-quality stories and entire issues. With Texture, users enjoy the magazines they know and love, while discovering new content that fits their passions and interests. Since its launch in 2010, Texture has become the leading multi-title subscription service giving users the ability to instantly access some of the most widely read magazines while on the go. In 2016, Texture was chosen by the App Store editorial team for the annual Best Of selections.
March 27, 2018
iWork update brings drawing, book creation and more to Pages, Numbers and Keynote. Apple Pencil Support Enables Greater Creativity in Documents, Spreadsheets and Presentations on iPad. For the first time, users will be able to draw, sketch or write with Apple Pencil directly in the Pages, Numbers and Keynote apps. With Apple Pencil, advanced yet easy-to-use tools allow all users, from students to professionals, to bring their documents to life with drawings, illustrations, diagrams and more. Apple Pencil can also be used to easily and precisely add colour, texture and more to any drawing. iWork is a suite of apps designed for iPhone, iPad and Mac that is used in classrooms around the world. Book creation is possible in Pages for iOS and macOS, making it easy for anyone to create fun, interactive digital books, from short stories to travel books. Users can start a book using a variety of templates, and then customize it with drawings using iWork's new drawing tools or with image galleries and videos from their Photos library. Users can collaborate in real time with their classmates or colleagues to create books together on iPad, iPhone, Mac and iCloud.com. Books can then be shared and will display beautifully in iBooks.
March 27, 2018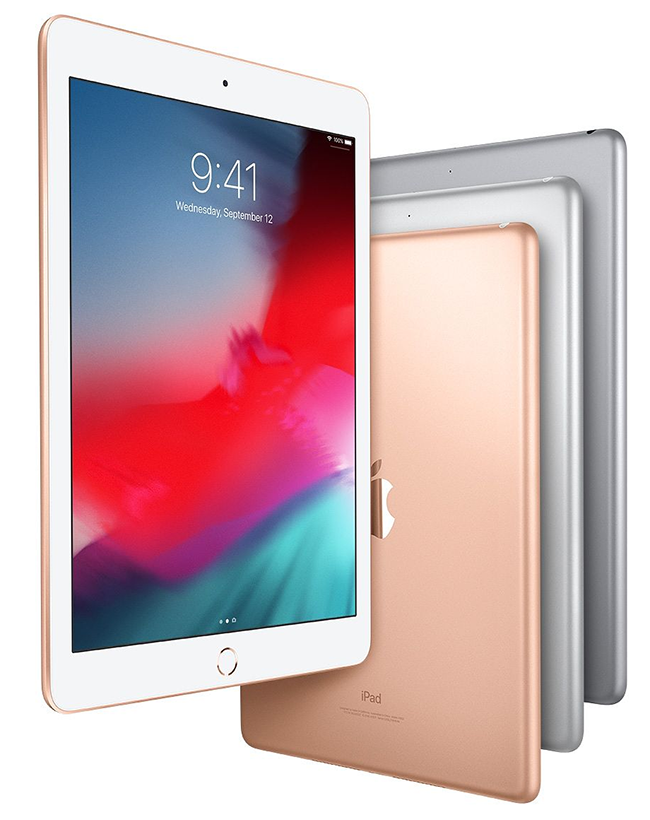 Apple introduces new 9.7-inch iPad with Apple Pencil support, which give users the ability to be even more creative and productive, from sketching ideas and jotting down handwritten notes to marking up screenshots. The new iPad features a large Retina display, the A10 Fusion chip and sensors that help deliver immersive augmented reality, and provides unmatched portability, ease of use and all-day battery life." iPad's palm rejection technology even makes it possible to rest your hand on the screen while you use Apple Pencil.
March 29, 2018
iOS 11.3 is available today. It delivers new immersive augmented reality experiences, new Animoji for iPhone X users and more. This free software update also offers customers more visibility into the battery health and performance of their iPhone. The introduction of ARKit with iOS 11 put augmented reality into the hands of hundreds of millions of iPhone and iPad users, making iOS the world's biggest AR platform. With iOS 11.3, apps can deliver AR experiences that use vertical surfaces like walls and doors, in addition to horizontal surfaces like tables and chairs, and more accurately map to irregularly shaped surfaces like circular tables. Using computer vision techniques to find and recognize the position of 2D images such as signs, posters and artwork, ARKit can integrate these real world images into AR experiences such as filling a museum with interactive exhibits or bringing a movie poster to life. The view of the real world through the camera now has 50 percent greater resolution and supports auto-focus for an even sharper perspective. iPhone X users can enjoy even more Animoji with lion, bear, dragon or skull. Business Chat lets users communicate directly with businesses like Home Depot right within the Messages app. With Apple Pay, users can pay with a touch or a glance without leaving the Messages conversation. Business Chat lets users communicate directly with businesses like Home Depot right within the Messages app. When searching for a business, users will see the option to contact the business using Messages. With Apple Pay, users can pay with a touch or a glance without leaving the Messages conversation. The new Health Records feature helps patients of more than 40 health systems in the US including Duke, NYU Langone, Stanford and Yale view their medical records from multiple institutions right from their iPhone. iOS 11.3 adds new features to show battery health of an iPhone and recommend if a battery needs to be serviced. Commuters in Beijing and Shanghai can begin using Apple Pay on their iPhone and Apple Watch for an easy, fast and secure ride on Metro and bus lines. Apple TV app, a unified place for iPhone, iPad and Apple TV users to discover and start watching the best shows and movies, will launch in Brazil and Mexico. These markets join Apple TV app users in the US, Australia, Canada, France, Germany, Norway, Sweden and the UK.
April 5, 2018
Apple is introducing a new update to Final Cut Pro X, the most popular version of its professional video editing software, with more than 2.5 million seats. Final Cut Pro 10.4.1 introduces a groundbreaking format from Apple, ProRes RAW, which combines the visual and workflow benefits of RAW video with the performance of ProRes. The update also adds advanced closed captioning tools that allow video editors to easily view, edit and deliver captions from right within the app. Apple is also adding complementary new features to Final Cut Pro companion apps, Motion and Compressor.
ProRes RAW. Final Cut Pro editors can work natively with ProRes RAW and ProRes RAW HQ files created by Atomos recorders. The format will be available as a free update for owners of Atomos Sumo 19 and Shogun Inferno devices. The format will also be available as part of a forthcoming upgrade package to users of the DJI Inspire 2 drone and Zenmuse X7 Super 35mm camera system designed for aerial cinematography. Closed Captioning Tools: Captions can be attached to video or audio clips in the timeline, so they automatically move with the clips to which they're connected. As closed captioning becomes increasingly important around the world, Final Cut Pro includes closed captioning tools for professional filmmakers. Users can import closed caption files directly into their project or create them from scratch. Captions appear in the viewer during playback and can be attached to video or audio clips in the timeline, so they automatically move with the clips to which they're connected. A captions inspector makes it simple to adjust caption text, colour, alignment, location and more.
April 9, 2018
Apple introduces iPhone 8 and iPhone 8 Plus (PRODUCT)RED Special Edition. Apple customers can purchase iPhone 8 and iPhone 8 Plus in a red and black finish while contributing to the Global Fund to fight AIDS. Apple also introduced a new (PRODUCT)RED iPhone X Leather Folio. Crafted from specially tanned and finished European leather for a luxurious look and feel, the new folio joins other (PRODUCT)RED devices and accessories. A portion of proceeds for all (PRODUCT)RED purchases go directly to Global Fund HIV/AIDS grants that provide testing, counselling, treatment and prevention programs with a focus on eliminating transmission of the virus from mothers to their babies. Since partnering with (RED) in 2006, Apple has donated more than $160 million to the Global Fund, serving as the organization's largest corporate donor. iPhone 8 and iPhone 8 Plus are a new generation of iPhone featuring a glass and aluminum design made with the most durable glass ever in a smartphone, Retina HD display, A11 Bionic chip and are designed for the ultimate augmented reality experience. iPhone 8 Plus features dual 12-megapixel cameras and introduces Portrait mode with Portrait Lighting, bringing dramatic studio lighting effects to iPhone, allowing customers to capture stunning portraits with a shallow depth of field effect in five different lighting styles.
May 2, 2018
Apple Reports Second Quarter Results. Revenue Grows 16 Percent and EPS Grows 30 Percent to New March Quarter Records. Financial results for its fiscal 2018 second quarter ended March 31, 2018. The Company posted quarterly revenue of $61.1 billion, an increase of 16 percent from the year-ago quarter, and quarterly earnings per diluted share of $2.73, up 30 percent. International sales accounted for 65 percent of the quarter's revenue. From the inception of its capital return program in August 2012 through March 2018, Apple has returned $275 billion to shareholders, including $200 billion in share repurchases. The management team and the Board will continue to review each element of the capital return program regularly.
May 10, 2018
Apple paves the way for carbon-free aluminum smelting method – the world's first aluminum produced through a carbon-free smelting process. Aluminum is a key material in many of Apple's most popular products, and for more than 130 years, it's been produced the same way. But that's about to change. Aluminum giants Alcoa Corporation and Rio Tinto Aluminum today announced a joint venture to commercialize patented technology that eliminates direct greenhouse gas emissions from the traditional smelting process, a key step in aluminum production. This is a revolutionary advancement in the manufacturing of one of the world's most widely used metals. Apple has partnered with both aluminum companies, and the Governments of Canada and Quebec, to collectively invest a combined $188 million to future research and development. Today's announcement in Saguenay, Quebec, which was attended by Canadian Prime Minister Justin Trudeau, Quebec Premier Philippe Couillard and Apple Senior Director Sarah Chandler, involved research and development that has spanned decades. The new aluminum production method releases oxygen, rather than greenhouse gasses, during the smelting process. Aluminum has been mass produced the same way since 1886, when it was pioneered by Alcoa's founder, Charles Hall. The process involves applying a strong electrical current to alumina, which removes oxygen. Both Hall's original experiments and today's largest smelters use a carbon material that burns during the process, producing greenhouse gases.
May 29, 2018
iOS 11.4 brings stereo pairs and multi-room audio with AirPlay 2. HomePod now supports stereo pairs and multi-room audio with a free update to iOS 11.4. HomePod, the wireless speaker from Apple, now delivers an even more immersive listening experience throughout the home with support for HomePod stereo pairs and a new multi-room audio system in iOS 11.4. This free software update introduces the wireless multi-room audio system using AirPlay 2 to play music in any room from any room, move music from one room to another or play the same song everywhere using an iOS device, HomePod, Apple TV or by asking Siri. HomePod is available in the US, UK and Australia and arrives in Canada, France and Germany starting June 18.
June 4, 2018
Apple unveils ARKit 2. LEGO AR City uses ARKit 2 features including shared experiences, persistent AR and 3D object detection to bring LEGO creations and characters to life. The platform allows developers to integrate shared experiences, persistent AR experiences tied to a specific location, object detection and image tracking to make AR apps even more dynamic. Apple is also unveiling the Measure app for iOS, which uses AR to quickly gauge the size of real-world objects, as well as a new open file format with iOS 12, usdz, which is designed to more deeply integrate AR throughout iOS and make AR objects available across the ecosystem of Apple apps.
June 4, 2018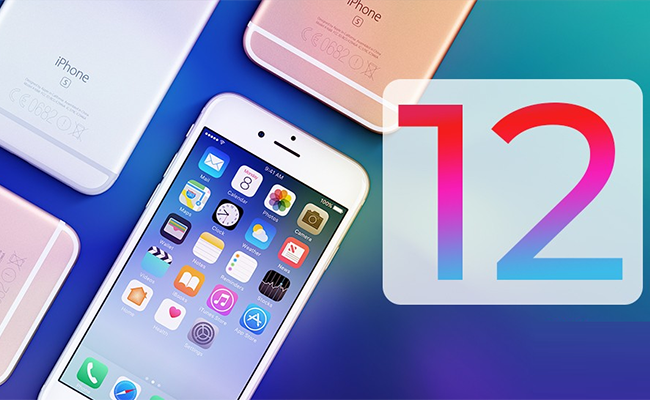 Apple announces iOS 12, designed to make everyday tasks faster and more responsive. iOS 12 changes the way iOS users see the world using AR, makes communications fun and expressive with Memoji and Group FaceTime, and with Screen Time, helps customers understand and take control of the time they spend interacting with their iOS devices. iOS 12 introduces Siri Shortcuts, enabling Siri to work with any app, delivering a much faster way to get things done. Camera launches up to 70 percent faster, the keyboard appears up to 50 percent faster and typing is more responsive. New modes in Do Not Disturb automatically end based on a specified time, location or action, and Do Not Disturb during Bedtime helps people get a better night's sleep by dimming the display and hiding all notifications on the lock screen until prompted in the morning. iOS 12 gives users more options for controlling how notifications are delivered. Grouped notifications make it easier to view and manage multiple notifications at once. Screen Time provides users with detailed information and tools. Daily and weekly Activity Reports show the total time spent in individual apps, usage across categories of apps, how many notifications are received and how often iPhone or iPad are picked up. Enhanced privacy and security remain a top priority in iOS 12. In Safari, enhanced Intelligent Tracking Prevention helps block social media "Like" or "Share" buttons and comment widgets from tracking users without permission. Safari also presents simplified system information when users browse the web, preventing them from being tracked based on their system configuration. Safari now also creates, autofills and stores strong passwords when users create new online accounts and flags reused passwords so users can change them. Many other features are available for the new iOS 12.
Juin 4, 2018
Apple previews watchOS 5, a significant update helping users stay healthy and connected. Apple Watch becomes an even stronger companion for fitness, communication and quick access to information with a host of new features including Activity Sharing competitions, auto-workout detection, advanced running features, Walkie-Talkie, Apple Podcasts and third-party apps on the Siri watch face. Users can listen to their podcasts on the go with Apple Podcasts on Apple Watch and stream any podcast in the catalog by using Siri. Episodes will automatically sync to Apple Watch, and the app will automatically refresh with the latest episode. A new feature for developers allows music, audiobooks and meditation sessions from apps such as Pandora, Audible and 10% Happier to be synced to Apple Watch for playback offline without the user's iPhone nearby.
June 26, 2018
The all-new Schoolwork app empowers teachers to take full advantage of the power and creativity of iPad to create new learning experiences for their students. Schoolwork makes it easy to create and send announcements and assignments with almost any type of content, from web links to PDFs documents and specific activities in apps. Students can use Schoolwork to keep track of the work they need to complete and when they need to hand it in. Popular education apps including Explain Everything, Tynker, GeoGebra and Kahoot! work directly with Schoolwork to bring useful educational content and tools to teachers using iPad. With Schoolwork, teachers can check in on student progress and tailor teaching to each individual. Schoolwork works alongside the Classroom app, which turns iPad — and now Mac — into a versatile teaching assistant. Classroom on iPad helps teachers keep students focused on a specific app or website and lets them view student screens during class, share documents with students, assign shared iPads and even reset a student's password.
July 2018
Apple launches new clean energy fund in China, a new first-of-its-kind investment fund in to connect suppliers with renewable energy sources. As part of Apple's commitment to address climate change and increase the use of renewable energy within its supply chain, 10 initial suppliers and Apple will jointly invest nearly $300 million over the next four years into the China Clean Energy Fund. The fund will invest in and develop clean energy projects totalling more than 1 gigawatt of renewable energy in China, the equivalent of powering nearly 1 million homes. Since launching the clean energy program in 2015, 23 manufacturing partners have committed to 100 percent renewable energy for Apple production. The China Clean Energy Fund will be managed through a third party, DWS Group, which specializes in sustainable investments and will also invest in the fund. Apple is investing in over 485 megawatts of clean energy projects across six provinces in China, to address upstream emissions in our supply chain. The initial suppliers participating in the China Clean Energy Fund include: Catcher Technology; Compal Electronics; Corning Incorporated; Golden Arrow; Jabil; Luxshare-ICT; Pegatron; Solvay; Sunway Communication; Wistron.
August 23, 2018
Apple introduces new ways customers can enjoy and support America's national parks with an Apple Pay donation program and Apple Watch Activity Challenge. From August 24 through 31, Apple is donating $1 to the National Park Foundation for every purchase made with Apple Pay at any Apple Store, on apple.com or through the Apple Store app in the US. Apple Watch users completing a workout of at least 50 minutes achieve a special Apple Watch award on September 1st.
Proceeds will support the National Park Foundation's mission to protect national parks through projects like habitat restoration and historic preservation and engage the next generation of park stewards through programs like Open OutDoors for Kids. The 50-minute fitness challenge complements the Redwood National Park's 50th anniversary celebration. In 2017, Apple reached its sustainable packaging goal: 100 percent of the paper in Apple's packaging was from responsibly managed forests, controlled wood or recycled sources.
September 12, 2018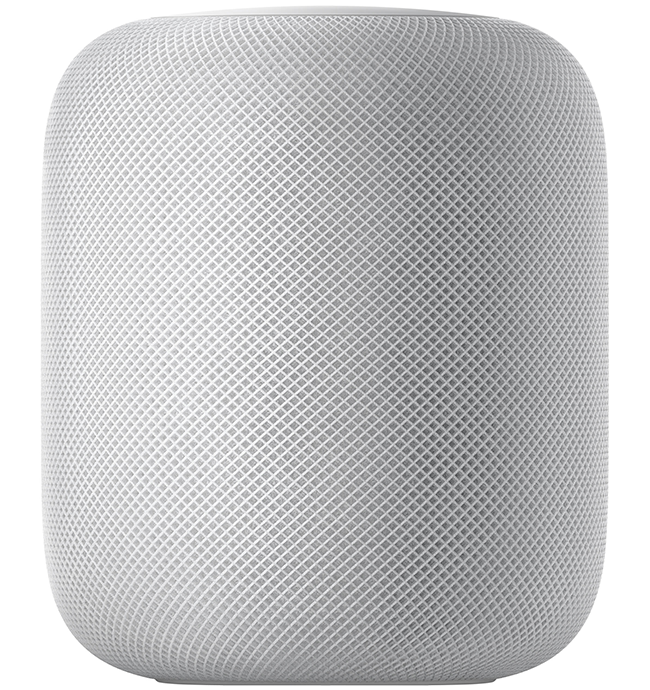 HomePod, the wireless speaker from Apple, is adding new features that let customers do even more with Siri on HomePod, including the ability to search by lyrics, set multiple timers, make and receive phone calls and more. HomePod delivers the highest-fidelity audio quality wherever it is placed in the home, and provides unmatched stereo sound with a stereo pair that offers a wider, more immersive soundstage than traditional stereo speakers. HomePod works together with an Apple Music subscription to stream over 50 million songs directly to HomePod. Siri has a deep knowledge of music and is a convenient way to send messages, check calendar appointments, control HomeKit accessories and more. With a free software update, HomePod adds support for Spanish in the US, Spain and Mexico, and expands support in Canada with Canadian French. On HomePod, users can also ask Siri to: Search by lyrics: In addition to asking Siri to play a particular song, artist or genre, now it's easy to ask Siri to "play the song that goes like this…" or ask Siri to "play the song that goes 'I'm a rebel just for kicks now.' Set multiple timers: HomePod now supports multiple named timers. Set a timer for the cake, another one for lasagna and another one as a reminder to dim the lights — using just your voice. Make and receive phone calls. Conveniently use HomePod to make and receive phone calls for crisp and clear audio quality. Using the audio picker on iPhone, calls can be moved from HomePod to iPhone at any time. Siri Shortcuts opens up a world of apps to work on HomePod. As Siri learns routines and suggests 'shortcuts' on iPhone and iPad, these same shortcuts are now accessible on HomePod. Personalizing shortcuts for HomePod with a series of tasks is easy with a new Shortcuts app. Control Center provides a quick view of what's playing in every room and simple controls to adjust volume and more. HomePod is compatible with iPhone 5s or later, iPad Air or later, iPad mini 2 or later, iPad Pro or iPod touch (6th generation).
September 12, 2018
Apple introduces iPhone XR, featuring A12 Bionic Chip, 6.1-Inch Liquid Retina Display, Aluminum and Glass Design in Six Beautiful Finishes, Face ID and Advanced Camera System. iPhone XR in an all-screen glass and aluminum design with the most advanced LCD in a smartphone featuring a 6.1-inch Liquid Retina display and six finishes: white, black, blue, yellow, coral and (PRODUCT) RED. iPhone XR brings the powerful A12 Bionic chip with next-generation Neural Engine, the TrueDepth camera system, Face ID and a camera system that creates portraits using a single camera lens. The front glass is wrapped in an anodized band made from durable 7000 series aerospace-grade aluminum, and the glass back design enables wireless charging. A seven-layer colour process gives the glass back nuanced hues, and the aluminum band and camera trim are colour matched to give a sophisticated finish. This new design is splash- and water-resistant, with a rating of IP67, and protects against everyday spills including coffee, tea and soda. iPhone XR comes with iOS 12.
September 12, 2018
Apple announces iPhone XS and iPhone XS Max. The 5.8-inch iPhone XS and 6.5-inch iPhone XS Max feature Super Retina displays, a faster and improved dual camera system that offers breakthrough photo and video features, the first 7-nanometer chip in a smartphone — the A12 Bionic chip with next-generation Neural Engine — faster Face ID, wider stereo sound, a gold finish and introduce Dual SIM to iPhone. iPhone XS and iPhone XS Max come in gold, space grey and silver finishes. Advanced Portrait mode comes to iPhone XS and iPhone XS Max.
September 22, 2018
iPhone XS, iPhone XS Max and Apple Watch Series 4 arrive in stores.
September 24, 2018

Apple acquires Shazam, offering more ways to discover and enjoy music. Shazam is one of the world's most popular and highly-rated music apps, used by hundreds of millions of people worldwide. Shazam lets users identify songs simply by listening to the music playing around them. The app will offer its experience ad-free for all users so everyone can enjoy the best of Shazam without interruption. Shazam has been downloaded over 1 billion times around the world, and users identify songs using the Shazam app over 20 million times each day. Shazam helps people discover, interact with and share video, audio or printed content across devices and mediums.
October 1, 2018
Apple announces its Everyone Can Create resources are now available on Apple Books. Designed to help unleash kids' creativity throughout their school day, Everyone Can Create teaches students to develop and communicate ideas through drawing, music, video and photos on iPad. The free project guides give teachers meaningful tools to easily fold these skills into any lesson, assignment and subject. Everyone Can Create joins Apple's successful Everyone Can Code initiative as one-of-a-kind programs for teachers that keep students excited and engaged.
October 26, 2018
The new iPhone XR went on sale around the world. It combines technologies from iPhone Xs in an all-screen glass and aluminum design, featuring a 6.1-inch Liquid Retina display.
October 30, 2018
Apple introduces a new MacBook Air, bringing a 13-inch Retina display with over 4 million pixels of resolution and 48 percent more colour for sharp, details text and images, Touch ID, the latest processors and a more portable design. Delivering the all-day battery life it's known for, the new MacBook Air is available in three finishes – gold, space grey and silver. Each key is individually backlit using low-power LEDs for more accurate illumination. The device also includes the Force Touch trackpad, which delivers pressure-sensing capabilities and haptic feedback, and is 20 percent larger than on the previous generation MacBook Air.
November 1, 2018
Apple announces financial results for its fiscal 2018 fourth quarter ended September 29, 2018. The Company posted quarterly revenue of $62.9 billion, an increase of 20 percent from the year-ago quarter, and quarterly earnings per diluted share of $2.91, up 41 percent. International sales accounted for 61 percent of the quarter's revenue. Services revenue reached an all-time high of $10 billion. Excluding a one-time favourable adjustment of $640 million recognized in the fourth quarter of fiscal 2017, Services revenue grew from $7.9 billion in the fourth quarter of fiscal 2017 to $10 billion in the fourth quarter of fiscal 2018, an increase of 27 percent. The dividend is payable to shareholders on November 15, 2018.
November 26, 2018
Apple launches app development program to support women entrepreneurs which aims to help women-led businesses leverage technology to make a meaningful impact for their customers. The Entrepreneur Camp is an initiative designed to create new opportunities for app-driven businesses owned or led by women through an intensive technology lab, specialized support and ongoing mentoring. To be eligible for the program, applying app-driven businesses must be female-founded, co-founded or led and have at least one woman on the development team – as well as a working app or prototype and desire to leverage Apple technologies to benefit their mission.
Links
September Event 2018 — Apple [Video]
Video published by Apple on September 13, 2018