How to Identify Your Mac mini
All Mac mini models look similar, but it is quite easy to identify your Mac mini. You can locate the serial number of each model, model identifier, and part number in mac OS, on the device's surface and on its packaging, if you still have the box.
Review: Mac mini (2018) – Apple's most versatile Mac! [Video]
Video published by 9to5Mac on November 10, 2018
How to Find Mac mini Serial Number, Model Identifier and Part Number
In the "About This Mac" window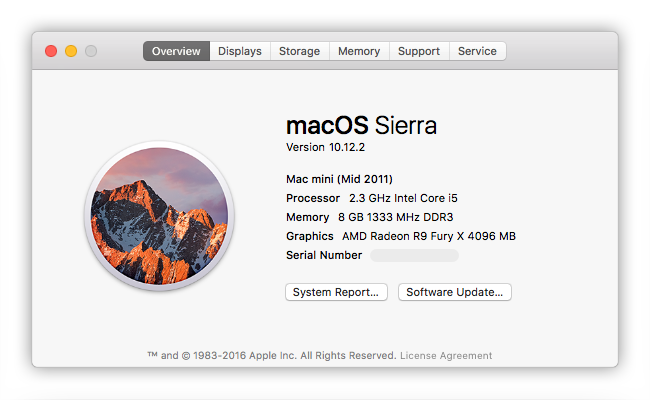 Choose Apple menu and head for About This Mac. The window will list your computer's official model name and its serial number. You can then use this serial number to find tech specs for this specific model or to check support options.
The computer's model identifier allows users to get more information about the device. To find the identifier:
In the About This Mac window, click System Report.
The System Information window will open, where you will be able to find Model Identifier in the Hardware Overview
You can use the identifier to locate your Mac mini in the table below.
On the surface of your Mac mini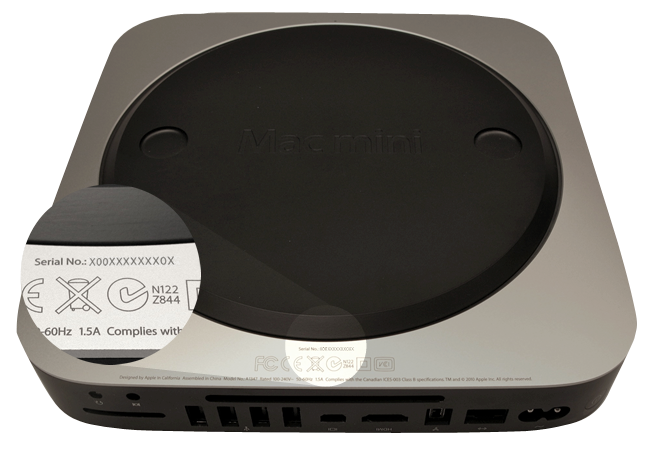 To find the information on the surface of the device, shut down the computer, and unplug all cords and connectors. Now turn the Mac mini over.
On Mac mini models manufactured before 2010, the serial number can be easily found on a label on the edge of the device's underside, between bar codes.
On Mac mini models manufactured from 2010, the serial number will appears on the underside of the computer. You will find it near the regulatory markings.
On the original packaging
If you still have the original packaging for your Mac mini, you can find the serial number on a barcode label on the box. Note that the packaging also lists the Apple part number. You can match that number to the number that appears in the table below to find your Mac mini model.
Note also that in Apple part numbers, the letters "xx" before the slash represent variables which define country or region
On the Receipt or Invoice
Additionally, you can find the serial number, model number, and configuration details of your Mac mini on its receipt or invoice, if you have purchased the computer directly with Apple or its subsidiaries, and if you still have the invoice.
Mac mini Intel Models
Mac mini (3.2GHz Apple M1 chip, 2020)
Model Identifier
Macmini9,1
Model Number
A2348 (EMC 3569)
Part Number
MGNR3LL/A
Family
2020
Released
2020
Dimensions
1.4 x 7.7 x 7.7 in (3.6 x 19.7 x 19.7 mm)
Weight
2.6 pounds (1.2 kg)
Processor
3.2GHz Apple M1 chip
Processor Type
Apple M1 chip
RAM
8GB
Storage
256GB SSD
Optical
None
See also
Sell your Mac mini (3.2GHz M1, 2020) online now
Mac mini (3.2GHz Intel 6-Core i7, Late 2018)
Model Identifier
Macmini8,1
Model Number
A1993 (EMC 3213)
Part Number
BTO/CTO
Family
Late 2018
Released
2018
Dimensions
1.4 x 7.7 x 7.7 in (3.6 x 19.7 x 19.7 mm)
Weight
2.9 pounds (1.3 kg)
Processor
3.2GHz Intel 6-Core i7
Processor Type
Intel 6-Core i7
RAM
8GB
Storage
128GB SSD
Optical
None
See also
Sell your Mac mini (3.2GHz Intel 6-Core i7, Late 2018) online now
Mac mini (3.0GHz Intel 6-Core i5, Late 2018)
Model Identifier
Macmini8,1
Model Number
A1993 (EMC 3213)
Part Number
MRTT2LL/A
Family
Late 2018
Released
2018
Dimensions
1.4 x 7.7 x 7.7 in (3.6 x 19.7 x 19.7 mm)
Weight
2.9 pounds (1.3 kg)
Processor
3.0GHz Intel 6-Core i5
Processor Type
Intel 6-Core i5
RAM
8GB
Storage
256GB SSD
Optical
None
See also
Sell your Mac mini (3.0GHz Intel 6-Core i5, Late 2018) online now
Mac mini (3.6GHz Intel Quad-Core i3, Late 2018)
Model Identifier
Macmini8,1
Model Number
A1993 (EMC 3213)
Part Number
MRTR2LL/A
Family
Late 2018
Released
2018
Dimensions
1.4 x 7.7 x 7.7 in (3.6 x 19.7 x 19.7 mm)
Weight
2.9 pounds (1.3 kg)
Processor
3.6GHz Intel Quad-Core i3
Processor Type
Intel Quad-Core i3
RAM
8GB
Storage
128GB SSD
Optical
None
See also
Sell your Mac mini (3.6GHz Intel Quad-Core i3, Late 2018) online now
Mac mini (3.0GHz Intel Core i7, Late 2014)
Model Identifier
Macmini7,1
Model Number
A1347 (EMC 2840)
Part Number
BTO/CTO
Family
Late 2014
Released
2014
Dimensions
1.4 x 7.7 x 7.7 in
Weight
2.7 pounds
Processor
3.0Ghz Intel Core i7
Processor Type
Intel Core i7
RAM
8GB
Storage
1TB Fusion HD
Optical
None
See also
Sell your Mac mini (3.0Ghz Intel Core i7, Late 2014) online now
Mac mini (2.8GHz Intel Core i5, Late 2014)
Model Identifier
Macmini7,1
Model Number
A1347 (EMC 2840)
Part Number
MGEQ2LL/A
Family
Late 2014
Released
2014
Dimensions
1.4 x 7.7 x 7.7 in
Weight
2.7 pounds
Processor
2.8Ghz Intel Core i5
Processor Type
Intel Core i5
RAM
8GB
Storage
1TB Fusion HD
Optical
None
See also
Sell your Mac mini (2.8Ghz Intel Core i5, Late 2014) online now
Mac mini (2.6GHz Intel Core i5, Late 2014)
Model Identifier
Macmini7,1
Model Number
A1347 (EMC 2840)
Part Number
MGEN2LL/A
Family
Late 2014
Released
2014
Dimensions
1.4 x 7.7 x 7.7 in
Weight
2.7 pounds
Processor
2.6Ghz Intel Core i5
Processor Type
Intel Core i5
RAM
8GB
Storage
1TB HDD
Optical
None
See also
Sell your Mac mini (2.6Ghz Intel Core i5, Late 2014) online now
Mac mini (1.4GHz Intel Core i5, Late 2014)
Model Identifier
Macmini7,1
Model Number
A1347 (EMC 2840)
Part Number
MGEM2LL/A
Family
Late 2014
Released
2014
Dimensions
1.4 x 7.7 x 7.7 in
Weight
2.7 pounds
Processor
1.4Ghz Intel Core i5
Processor Type
Intel Core i5
RAM
4GB
Storage
500GB HDD
Optical
None
See also
Sell your Mac mini (1.4Ghz Intel Core i5, Late 2014) online now
Mac mini (2.6GHz Intel Core i7, Late/Server 2012)
Mac mini (2.3GHz Intel Core i7, Late/Server 2012)
Mac mini (2.6GHz Intel Core i7, Late 2012)
Mac mini (2.3GHz Intel Core i7, Late 2012)
Model Identifier
Macmini6,2
Model Number
A1347 (EMC 2570)
Part Number
MD388LL/A
Family
Late 2012
Released
2012
Dimensions
1.4 x 7.7 x 7.7 in
Weight
2.7 pounds
Processor
2.3Ghz Intel Core i7
Processor Type
Intel Core i7
RAM
4GB
Storage
1TB HDD
Optical
None
See also
Sell your Mac mini (2.3Ghz Intel Core i7, Late 2012) online now
Mac mini (2.5GHz Intel Core i5, Late 2012)
Model Identifier
Macmini6,1
Model Number
A1347 (EMC 2570)
Part Number
MD387LL/A
Family
Late 2012
Released
2012
Dimensions
1.4 x 7.7 x 7.7 in
Weight
2.7 pounds
Processor
2.5Ghz Intel Core i5
Processor Type
Intel Core i5
RAM
4GB
Storage
500GB HDD
Optical
None
See also
Sell your Mac mini (2.5Ghz Intel Core i5, Late 2012) online now
Mac mini (2.0GHz Intel Core i7, Mid/Server 2011)
Mac mini (2.7GHz Intel Core i7, Mid 2011)
Model Identifier
Macmini5,2
Model Number
A1347 (EMC 2442)
Part Number
BTO/CTO
Family
Mid 2011
Released
2011
Dimensions
1.4 x 7.7 x 7.7 in
Weight
2.7 pounds
Processor
2.7Ghz Intel Core i7
Processor Type
Intel Core i7
RAM
4GB
Storage
500GB HDD
Optical
None
See also
Sell your Mac mini (2.7Ghz Intel Core i7, Mid 2011) online now
Mac mini (2.5GHz Intel Core i5, Mid 2011)
Model Identifier
Macmini5,2
Model Number
A1347 (EMC 2442)
Part Number
MC816LL/A
Family
Mid 2011
Released
2011
Dimensions
1.4 x 7.7 x 7.7 in
Weight
2.7 pounds
Processor
2.5Ghz Intel Core i5
Processor Type
Intel Core i5
RAM
4GB
Storage
500GB HDD
Optical
None
See also
Sell your Mac mini (2.5Ghz Intel Core i5, Mid 2011) online now
Mac mini (2.3GHz Intel Core i5, Mid 2011)
Model Identifier
Macmini5,1
Model Number
A1347 (EMC 2442)
Part Number
MC815LL/A
Family
Mid 2011
Released
2011
Dimensions
1.4 x 7.7 x 7.7 in
Weight
2.7 pounds
Processor
2.3Ghz Intel Core i5
Processor Type
Intel Core i5
RAM
2GB
Storage
500GB HDD
Optical
None
See also
Sell your Mac mini (2.3Ghz Intel Core i5, Mid 2011) online now
Mac mini (2.66GHz Intel Core 2 Duo, Mid/Server 2010)
Mac mini (2.66GHz Intel Core 2 Duo, Mid 2010)
Model Identifier
Macmini4,1
Model Number
A1347 (EMC 2364)
Part Number
BTO/CTO
Family
Mid 2010
Released
2010
Dimensions
1.4 x 7.7 x 7.7 in
Weight
3.0 pounds
Processor
2.66Ghz Intel Core 2 Duo
Processor Type
Intel Core 2 Duo
RAM
2GB
Storage
320GB HDD
Optical
8X DL "SuperDrive"
See also
Sell your Mac mini (2.66Ghz Intel Core 2 Duo, Mid 2010) online now
Mac mini (2.4GHz Intel Core 2 Duo, Mid 2010)
Model Identifier
Macmini4,1
Model Number
A1347 (EMC 2364)
Part Number
MC270LL/A
Family
Mid 2010
Released
2010
Dimensions
1.4 x 7.7 x 7.7 in
Weight
3.0 pounds
Processor
2.4Ghz Intel Core 2 Duo
Processor Type
Intel Core 2 Duo
RAM
2GB
Storage
320GB HDD
Optical
8X DL "SuperDrive"
See also
Sell your Mac mini (2.4Ghz Intel Core 2 Duo, Mid 2010) online now
Mac mini (2.53GHz Intel Core 2 Duo, Late/Server 2009)
Mac mini (2.66GHz Intel Core 2 Duo, Late 2009)
Model Identifier
Macmini3,1
Model Number
A1283 (EMC 2336)
Part Number
BTO/CTO
Family
Late 2009
Released
2009
Dimensions
2.0 x 6.5 x 6.5 in
Weight
2.9 pounds
Processor
2.66Ghz Intel Core 2 Duo
Processor Type
Intel Core 2 Duo
RAM
4GB
Storage
320GB HDD
Optical
8X DL "SuperDrive"
See also
Sell your Mac mini (2.66Ghz Intel Core 2 Duo, Late 2009) online now
Mac mini (2.53GHz Intel Core 2 Duo, Late 2009)
Model Identifier
Macmini3,1
Model Number
A1283 (EMC 2336)
Part Number
MC239LL/A
Family
Late 2009
Released
2009
Dimensions
2.0 x 6.5 x 6.5 in
Weight
2.9 pounds
Processor
2.53Ghz Intel Core 2 Duo
Processor Type
Intel Core 2 Duo
RAM
4GB
Storage
320GB HDD
Optical
8X DL "SuperDrive"
See also
Sell your Mac mini (2.53Ghz Intel Core 2 Duo, Late 2009) online now
Mac mini (2.26GHz Intel Core 2 Duo, Late 2009)
Model Identifier
Macmini3,1
Model Number
A1283 (EMC 2336)
Part Number
MC238LL/A
Family
Late 2009
Released
2009
Dimensions
2.0 x 6.5 x 6.5 in
Weight
2.9 pounds
Processor
2.26Ghz Intel Core 2 Duo
Processor Type
Intel Core 2 Duo
RAM
2GB
Storage
160GB HDD
Optical
8X DL "SuperDrive"
See also
Sell your Mac mini (2.26Ghz Intel Core 2 Duo, Late 2009) online now
Mac mini (2.26GHz Intel Core 2 Duo, Early 2009)
Model Identifier
Macmini3,1
Model Number
A1283 (EMC 2264)
Part Number
BTO/CTO
Family
Early 2009
Released
2009
Dimensions
2.0 x 6.5 x 6.5 in
Weight
2.9 pounds
Processor
2.26Ghz Intel Core 2 Duo
Processor Type
Intel Core 2 Duo
RAM
1/2GB
Storage
120/320GB HDD
Optical
8X DL "SuperDrive"
See also
Sell your Mac mini (2.26Ghz Intel Core 2 Duo, Early 2009) online now
Mac mini (2.0GHz Intel Core 2 Duo, Early 2009)
Model Identifier
Macmini3,1
Model Number
A1283 (EMC 2264)
Part Number
MB463LL/A
Family
Early 2009
Released
2009
Dimensions
2.0 x 6.5 x 6.5 in
Weight
2.9 pounds
Processor
2.0Ghz Intel Core 2 Duo
Processor Type
Intel Core 2 Duo
RAM
1/2GB
Storage
120/320GB HDD
Optical
8X DL "SuperDrive"
See also
Sell your Mac mini (2.0Ghz Intel Core 2 Duo, Early 2009) online now
Mac mini (2.0GHz Intel Core 2 Duo, Mid 2007)
Model Identifier
Macmini2,1
Model Number
A1176 (EMC 2108)
Part Number
MB139LL/A
Family
Mid 2007
Released
2007
Dimensions
2.0 x 6.5 x 6.5 in
Weight
2.9 pounds
Processor
2.0Ghz Intel Core 2 Duo
Processor Type
Intel Core 2 Duo
RAM
1GB
Storage
120GB HDD
Optical
2.4X "SuperDrive"
See also
Sell your Mac mini online now
Mac mini (1.83GHz Intel Core 2 Duo, Mid 2007)
Model Identifier
Macmini2,1
Model Number
A1176 (EMC 2108)
Part Number
MB138LL/A
Family
Mid 2007
Released
2007
Dimensions
2.0 x 6.5 x 6.5 in
Weight
2.9 pounds
Processor
1.83Ghz Intel Core 2 Duo
Processor Type
Intel Core 2 Duo
RAM
1GB
Storage
80GB HDD
Optical
8X "Combo Drive"
See also
Sell your Mac mini (1.83Ghz Intel Core 2 Duo, Mid 2007) online now
Mac mini (1.83GHz Intel Core Duo, Late 2006)
Model Identifier
Macmini1,1
Model Number
A1176 (EMC 2108)
Part Number
MA608LL/A
Family
Late 2006
Released
2006
Dimensions
2.0 x 6.5 x 6.5 in
Weight
2.9 pounds
Processor
1.83Ghz Intel Core Duo
Processor Type
Intel Core Duo
RAM
512MB
Storage
80GB HDD
Optical
2.4X "SuperDrive"
See also
Sell your Mac mini (1.83Ghz Intel Core Duo, Late 2006) online now
Mac mini (1.66GHz Intel Core Duo, Early/Late 2006)
Mac mini (1.5GHz Intel Core Solo, Early 2006)
Model Identifier
Macmini1,1
Model Number
A1176 (EMC 2108)
Part Number
MA205LL/A
Family
Early 2006
Released
2006
Dimensions
2.0 x 6.5 x 6.5 in
Weight
2.9 pounds
Processor
1.5Ghz Intel Core Solo
Processor Type
Intel Core Solo
RAM
512MB
Storage
60GB HDD
Optical
8X "Combo Drive"
See also
Sell your Mac mini (1.5Ghz Intel Core Solo, Early 2006) online now
Mac mini G4 Models
Mac mini (1.5GHz G4, Late 2005)
Model Identifier
PowerMac10,2
Model Number
A1103 (EMC 2026)
Part Number
M9687LL/B
Family
Late 2005
Released
2005
Dimensions
2.0 x 6.5 x 6.5 in
Weight
2.9 pounds
Processor
1.5Ghz PowerPC G4
Processor Type
PowerPC G4
RAM
512MB
Storage
80GB HDD
Optical
8X "Combo Drive"
See also
Sell your Mac mini (1.5Ghz PowerPC G4, Late 2005) online now
Mac mini (1.33GHz G4, Late 2005)
Model Identifier
PowerMac10,2
Model Number
A1103 (EMC 2026)
Part Number
M9686LL/B
Family
Late 2005
Released
2005
Dimensions
2.0 x 6.5 x 6.5 in
Weight
2.9 pounds
Processor
1.33Ghz PowerPC G4
Processor Type
PowerPC G4
RAM
512MB
Storage
40GB HDD
Optical
8X "Combo Drive"
See also
Sell your Mac mini (1.33Ghz PowerPC G4, Late 2005) online now
Mac mini (1.42GHz G4, Original 2005)
Model Identifier
PowerMac10,1
Model Number
A1103 (EMC 2026)
Part Number
M9687LL/A
Family
Original 2005
Released
2005
Dimensions
2.0 x 6.5 x 6.5 in
Weight
2.9 pounds
Processor
1.42Ghz PowerPC G4
Processor Type
PowerPC G4
RAM
256/512MB
Storage
80GB HDD
Optical
8X "Combo Drive"
See also
Sell your Mac mini (1.42Ghz PowerPC G4, Original 2005) online now
Mac mini (1.25GHz G4, Original 2005)
Model Identifier
PowerMac10,1
Model Number
A1103 (EMC 2026)
Part Number
M9686LL/A
Family
Original 2005
Released
2005
Dimensions
2.0 x 6.5 x 6.5 in
Weight
2.9 pounds
Processor
1.25Ghz PowerPC G4
Processor Type
PowerPC G4
RAM
256/512MB
Storage
40GB HDD
Optical
8X "Combo Drive"
See also
Sell your Mac mini (1.25Ghz PowerPC G4, Original 2005) online now
Links