iPhone 6 – Full Phone Information, Tech Specs
The iPhone 6 is the successor to Apple's previous smartphone models the iPhone 5c and the iPhone 5s. The new model, which included numerous changes, set several sales records and was extremely successful with the customers. The new generation of Apple's famous smartphone was also offered in a "Plus" version with a 5.5" display.
50+ Tips & Tricks for the iPhone 6 & iPhone 6 Plus! [Video]
Video uploaded by TechSmartt on September 24, 2014.
Apple iPhone 6 Full Information
Apple marketed the iPhone 6 model both locked to Sprint and unlocked and without a SIM in the United States. The company also sold unlocked version on a variety of carriers in the UK, Australia, France, Germany, Japan, Hong Kong, Singapore, and many other markets. The CDMA version of the iPhone 6, which is compatible with LTE bands 1, 2, 3, 4, 5, 7, 8, 13, 17, 18, 19, 20, 25, 26, 28, and 29, is intended for Verizon in the US.
Release Date
Announced on September 9, 2014.
Released on September 19, 2014.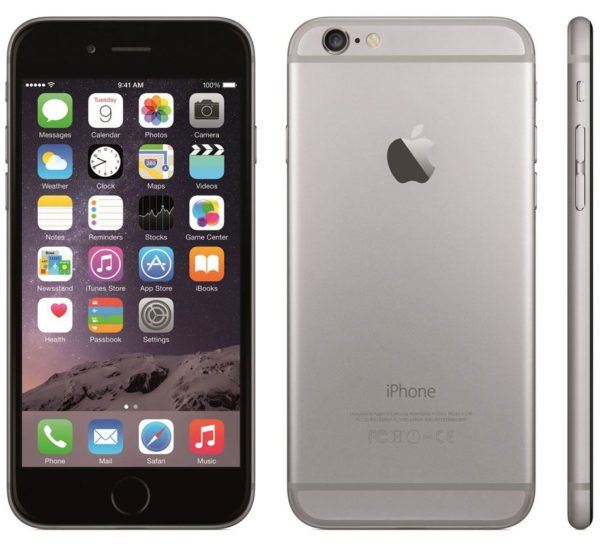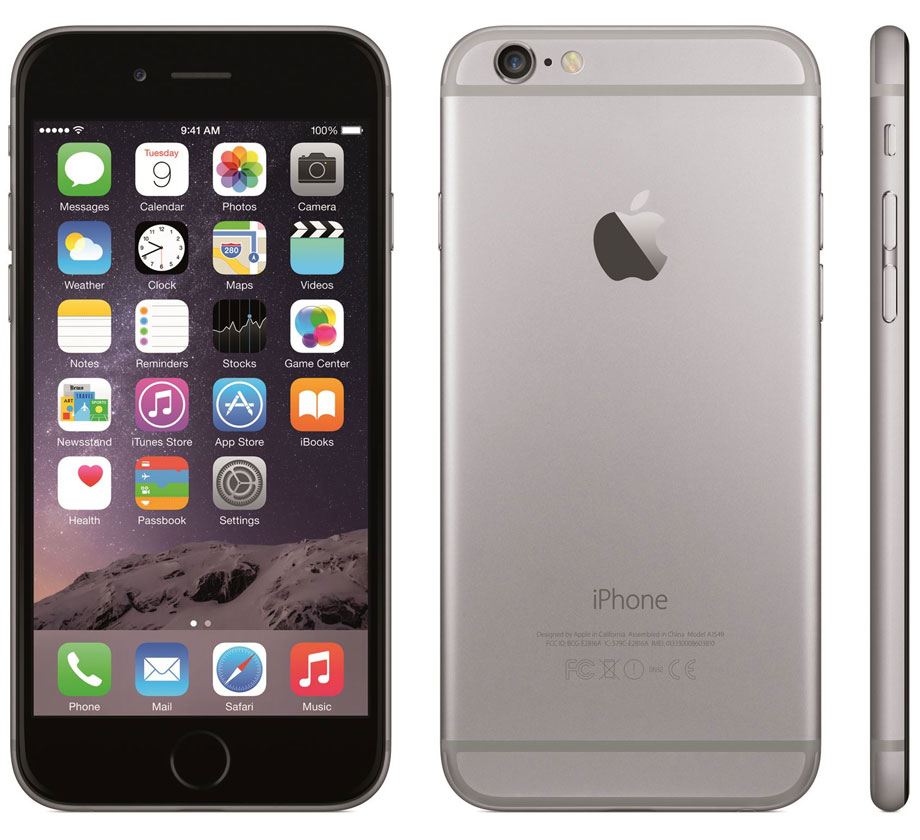 Specifications
Processor: Apple A8.
Onboard RAM: 1 GB.
Storage Capacity: 16, 64, and 128 GB.
OS: Pre-Installed OS: iOS 8.0 (12A365). Maximum OS: Current.
Usage Time: Standby Time – 250 Hours. Up to 50 hours of audio playback. 14 hours of talk time on 3G. 10 hours of Internet use on 3G. 10 hours of Internet use on LTE. 11 hours of Internet use on Wi-Fi. 11 hours of video playback and 250 hours of standby time.
Display: 4.7-inch display with 750 x 1334 resolution at 326 ppi.
Connectivity: Built-in support for Wi-Fi. USB. Dock and headphone ports.
Audio Support: AAC (8 to 320 Kbps). Protected AAC (from iTunes Store), He-AAC, MP3 (8 to 320 Kbps), MP3 VBR, Audible (formats 2,3,4, Audible Enhanced Audio, AAX, and AAX+), Apple Lossless, AIFF, and WAV.
Rear Camera: Sony Exmor RS. 8-MP with 1.5 focus pixels.
Front Camera: 1.2 MP (1280 x 960 px max).
Video Support: H.264 video up to 1080p, 60 frames per second, High Profile level 4.2 with AAC-LC audio up to 160 Kbps, 48kHz, stereo audio in .m4v, .mp4, and .mov file formats; MPEG-4 video up to 2.5 Mbps, 640 by 480 pixels, 30 frames per second, Simple Profile with AAC-LC audio up to 160 Kbps per channel, 48kHz, stereo audio in .m4v, .mp4, and .mov file formats; Motion JPEG (M-JPEG) up to 35 Mbps, 1280 by 720 pixels, 30 frames per second, audio in ulaw, PCM stereo audio in .avi file format.
Dimensions: 5.44 in height, 2.64 in width, 0.27 in depth.
Average Weight: 4.55 oz.
Battery: Lithium Ion battery. Non-removable Li-Po 1810 mAh.
Detailed Information
Model Number
A1549, A1586, A1589
(engraved on the back cover)
Launch
September 2014
Display Size
4.7 inches
Dimensions
138.1 x 67 x 6.9 mm (5.44 x 2.64 x 0.27 in)
Weight
129 g (4.55 oz)
Capacity
16/32/64/128GB, 1GB RAM
Colors
Space gray, silver, gold
Front Panel
Flat and made of glass
Back Panel
Anodized aluminum
SIM tray
On the right side that holds a 4FF (short for "fourth form factor") or nano-SIM card
Serial Number
You will find it in the Settings menu
IMEI/MEID
+ Etched on the back cover. The MEID is the first 14 digits of the IMEI
+ You can use the IMEI/MEID instead of the serial number
See also
Sell used iPhone 6 online now
Apple Orders, Discontinuation, Price
Apple Order: MG4P2LL/A.
Discontinuation: Still available.
Initial Price:
US$199 – 16 GB (unlocked, but with a two-year contract)
US$299 – 64GB (unlocked, but with a two-year contract)
US$399 – 128GB (unlocked, but with a two-year contract).
Features
Apple moved the power button to the side of the smartphone instead of the top in order to accommodate the larger physical size of the iPhone 6 and iPhone 6 Plus. It also improved its accessibility.
When released, the iPhone 6 and iPhone 6 Plus were supplied pre-loaded with iOS 8 (while the iPhone 5S was supplied pre-loaded with iOS 7).
This iPhone 6 model is compatible with FDD-LTE bands 1, 2, 3, 4, 5, 7, 8, 13, 17, 18, 19, 20, 25, 26, 28, 29 and TD-LTE bands 38, 39, 40 and 41 – also with both CDMA EV-DO and GSM connectivity.
Accessories: Shipped with Apple EarPods headphones with Remote and Mic, Lightning to USB cable, and a USB power adapter.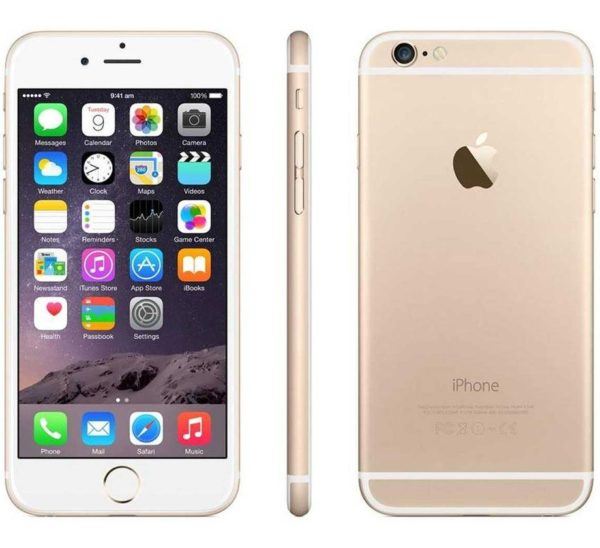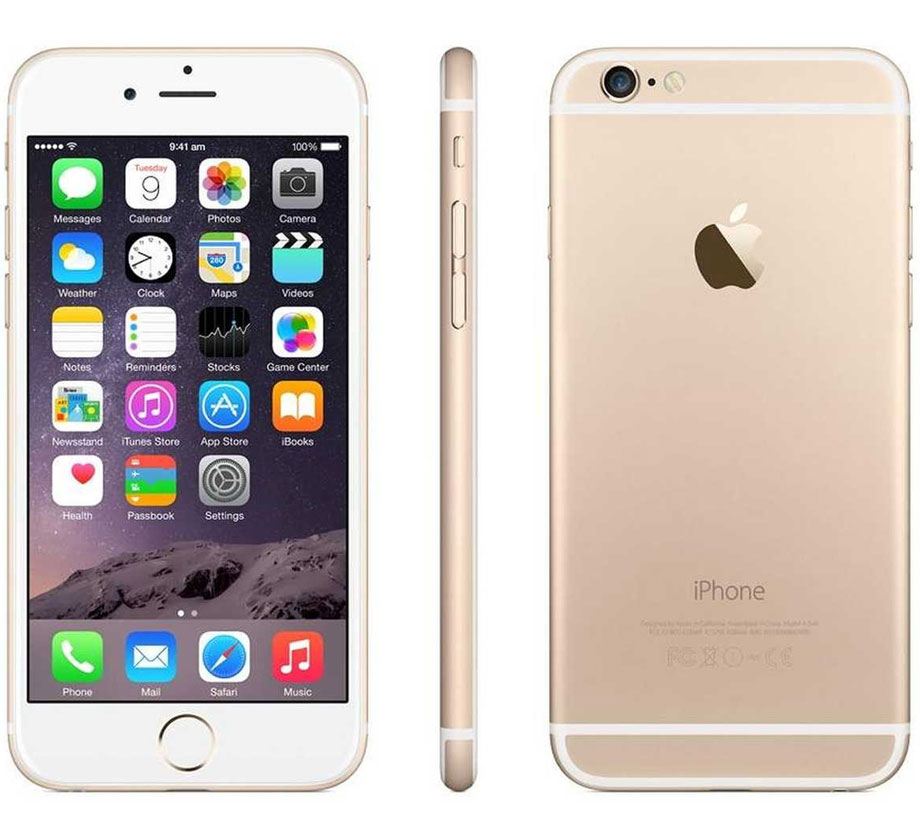 Miscellanea
Following Apple's loss in smartphone market share to companies producing phones with larger displays, Apple decided to launch new iPhone models with larger, 4.7-inch and 5.5-inch displays. Reports prior to its unveiling also speculated that Apple might use a new iPhone model to introduce a mobile payments platform using near-field communications – a technology that has been incorporated into many Android phones, but has experienced a low adoption rate among users. The iPhone 6 was thus officially unveiled during a press event at the Flint Center for Performing Arts in Cupertino, California on September 9, 2014 and released on September 19, 2014. Pre-orders began on September 12, 2014, with the iPhone 6 starting at US$649 without a contract.
Apple unveiled the iPhone 6 at a huge event on September 9, 2014. The iPhone 6 unveiling event was video streamed and many could watch live as Apple showed the world its newest iPhone and a little something more. At that event in San Francisco, California Apple left the lid on what was expected to be one of the most anticipated smartphones of the year, featuring its chief executive Tim Cook, and other senior executives. Viewers could watch the Apple event live online from supported devices, that's with Safari or through Apple TV.
Pre-orders of the iPhone 6 set a record for Apple – the pre-orders exceeded four million within the first 24 hours of its announcement.
Release sales set yet another Apple record by having sold over ten million devices in the first three days of sales.
Apple's representatives said that the design of the iPhone 6 and iPhone 6 Plus models have been influenced by that of the iPad Air with a glass front that is curved around the edges of the display, and an aluminum rear that contains two plastic strips for the antenna. Both models come in gold, silver, and "space gray" finishes.
On this iPhone, apps are able to take advantage of the increased screen size in the models to display more information on-screen; for example, the Mail app uses a dual-pane layout similar to its iPad version when the device is in landscape mode on the iPhone 6 Plus.
Both the iPhone 6 and 6 Plus received positive reviews. Experts regarded improved design, specifications, camera, battery life as being important improvements over previous iPhone models. However, a few aspects of the design were also panned, including plastic strips on the rear of the device for its antenna that disrupted the otherwise metal exterior, and the screen resolution of the standard-sized iPhone 6 being lower than other devices in its class.
After it had been launched, Re/code magazine called this version "the best smartphone you can buy". TechRadar praised the iPhone 6's brilliant design, improved battery life over the previous models, for its iOS 8 for being smarter and more intuitive than ever (according to TechRadar), along with the quality of its camera. However, there were also some negative reports: for example, the plastic antenna strips on the rear of the iPhone 6 were criticized for resulting in poor aesthetics. Its display was also critisized for having lower resolution and pixel density in comparison to other recent smartphones – including those with the same physical screen size as the iPhone 6, such as the HTC One, and for not having a sufficient justification for its significantly higher price in comparison to similar devices running Android or Windows Phone. The Verge magazine considered the iPhone 6 to be simply and cleanly designed in comparison to the 5s phone. According to the Verge, the iPhone 6 still felt usable despite its larger size. Te magazine criticized however the antenna plastic, the protruding camera lens, which prevent the device from sitting flat without a case, the lack of additional optimization in the operating system for the bigger screen and other issues. Experts also noted various improvements in this model, such as performance, battery life, VoLTE support, and other tweaks. In conclusion, the iPhone 6 was defined by some experts as "good, even great, but there's little about it that's truly ambitious or truly moving the needle. It's just a refinement of a lot of existing ideas into a much more pleasant package".
The iPhone 6 and 6 Plus have been the subject of several hardware issues, including most prominently, being susceptible to bending under pressure (a design flaw nicknamed "Bendgate"). A byproduct of this lack of rigidity was also noted, that is, the touchscreen's internal hardware being susceptible to losing its connection to the phone's logic board – this issue was nicknamed "Touch Disease".
On September 9, 2015, with the release of the iPhone 6S, Apple moved these models to the mid-range of the iPhone lineup. Thus Apple discontinued the 128GB versions of the iPhone 6 and iPhone 6 Plus along with the gold version of both phones. However the 16GB and 64GB versions of the iPhone 6 and iPhone 6 Plus in silver and space gray remained available for sale at a reduced price.
In June 2016, Apple faced a potential sales ban in China, as Shenzhen Baili, a Chinese device maker, alleged that the iPhone 6 and iPhone 6 Plus infringed on its design patent.
On October 3, 2014 9to5Mac claimed that certain iPhone 6 and iPhone 6 Plus users complained on social networking sites that the phone ripped off their hair when they held the phone close to their ears when making phone calls. Twitter users claimed that the seam between the glass screen and aluminum back of the iPhone 6 is to blame, with hair becoming caught within it.
Some users also reported that 64 and 128 GB iPhone 6 models had experienced performance issues, and that some 128 GB iPhone 6 Plus models would, in rare cases, randomly crash and reboot. Business Korea reported that the issues were connected to the triple-layer cell NAND storage of the affected models. Triple-layer cells can store three bits of data per cell of flash, and are cheaper than dual-layer cell solutions, but at the cost of performance. Apple had planned to switch the affected model lines back to multi-layer cell flash, and address the performance issues on existing devices in a future iOS update.
iPhone 6 was launched into the stratosphere on the balloon and also brought back magnificent pictures taken high above.
The iPhone 6 was moved to the mid-range spot in Apple's iPhone lineup when the iPhone 6S and 6S Plus were released in September 2015.
A Few Words about CDMA: CDMA is sort for Code division multiple access, and the acronym stands for is a channel access method used by various radio communication technologies. CDMA is an example of multiple access, where several transmitters can send information simultaneously over a single communication channel. This metod allows several users to share a band of frequencies. To permit this without undue interference between the users, CDMA employs spread-spectrum technology and a special coding scheme (where each transmitter is assigned a code). This access method is used in many mobile phone standards. IS-95, also called "cdmaOne", and its 3G evolution CDMA2000, are often simply referred to as "CDMA"', but UMTS, the 3G standard used by GSM carriers, also uses "wideband CDMA", or W-CDMA, as well as TD-CDMA and TD-SCDMA, as its radio technologies. CDMA is a spread-spectrum multiple access technique. A spread spectrum technique spreads the bandwidth of the data uniformly for the same transmitted power. A spreading code is a pseudo-random code that has a narrow ambiguity function, unlike other narrow pulse codes. In CDMA a locally generated code runs at a much higher rate than the data to be transmitted. Data for transmission is combined via bitwise XOR (exclusive OR) with the faster code. Each user in a CDMA system uses a different code to modulate their signal. Choosing the codes used to modulate the signal is very important in the performance of CDMA systems. The best performance will occur when there is good separation between the signal of a desired user and the signals of other users. The separation of the signals is made by correlating the received signal with the locally generated code of the desired user. If the signal matches the desired user's code then the correlation function will be high and the system can extract that signal. If the desired user's code has nothing in common with the signal the correlation should be as close to zero as possible; this is referred to as cross-correlation. If the code is correlated with the signal at any time offset other than zero, the correlation should be as close to zero as possible. This is referred to as auto-correlation and is used to reject multi-path interference. The technology of code division multiple access channels has long been known. In the Soviet Union, the first work devoted to this subject was published in 1935 by professor Dmitriy V. Ageev. It was shown that through the use of linear methods, there are three types of signal separation: frequency, time and compensatory. The technology of CDMA was used in 1957, when a military radio engineer Leonid Kupriyanovich in Moscow, made an experimental model of a wearable automatic mobile phone, called LK-1 by him, with a base station. LK-1 has a weight of 3 kg, 20–30 km operating distance, and 20–30 hours of battery life. The base station could serve several customers. In 1958, Kupriyanovich made the new experimental "pocket" model of mobile phone. This phone weighed 0.5 kg. To serve more customers, Kupriyanovich proposed the device, named by him as correllator. In 1958, the USSR started the development of the "Altai" national civil mobile phone service for cars, based on the Soviet MRT-1327 standard. The phone system weighed 24 lb. It was placed in the trunk of the vehicles of high-ranking officials and used a standard handset in the passenger compartment. The main developers of the Altai system were VNIIS (Voronezh Science Research Institute of Communications) and GSPI (State Specialized Project Institute). In 1963 this service started in Moscow and in 1970 Altai service was used in 30 USSR cities.
Links
Saving money for a new smartphone? Sell your iPhone for the best money. Instant Quote and Fast Payment!: Sell iPhone 6 online now.