iPod Shuffle 1st generation (2005) – Full information
The iPod Shuffle 1st generation is the smallest MP3 flash drive music player and the cheapest among the Apple products. As the moniker Shuffle implies, the player was designed as an easy load-and-go device. It was supported by the "autofill" iTunes feature that picked up songs from a user's collection at random and load as many of them as could fit into the player's storage. There were two iPod shuffle models according to their storage capacity: the 512 Mb model and the 1 Gb model. The latter could store up to 240 songs. The iPod Shuffle 1st generation was designed to plug into a USB 1.1 or USB 2.0 ports but could go with an optional dock as well. It lacked the click wheel, the display, the playlist functions as well as many other: an alarm clock, a calendar and suchlike. It had four buttons on the front to navigate the playlist. The only indicator was the battery level indicator on the reverse.
Evolution of the iPod [2001-2022] [Video]
Video uploaded by Flatlife on February 5, 2022.
iPod Shuffle 1st generation (2005)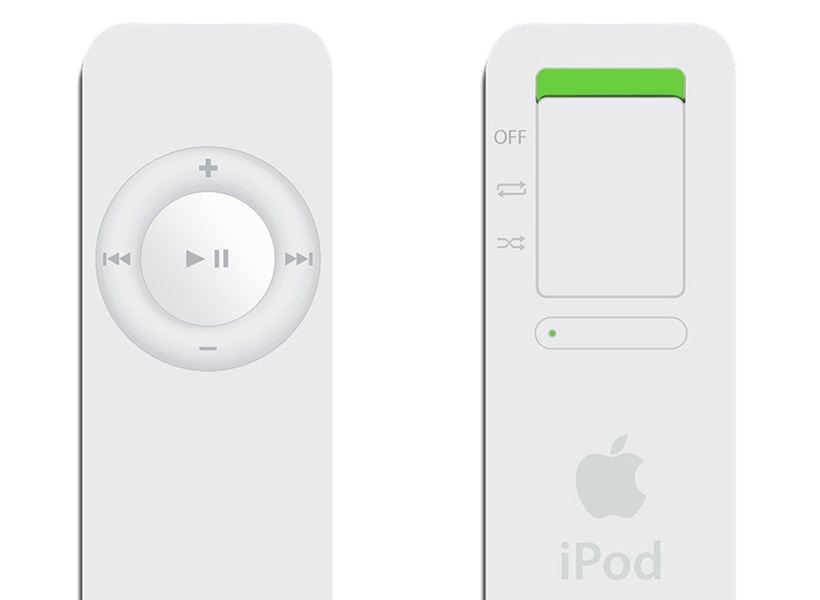 Introduced on January 11, 2005.
Specifications
Processor Speed: 75 MHz.
Processor Type: D-Major SMTP 3550.
Storage capacity: 512 MB, 1 GB.
Connectivity: USB 1.1, USB 2.0.
Mac support: Mac 10.2.8.
Dimensions: 3.3 x 0.98 x 0.33.
Average weight: 0.78oz.
Navigation: Four buttons on the front to navigate the playlist. The battery level indicator on the reverse.
Format: MP3.
Battery Type: Lithium ion battery provides 12 hours of playback.
Colors: White.
Apple Orders, Discontinuation, Price
Apple Model No: A1112 (EMC 2037).
Discontinued: September 12, 2006.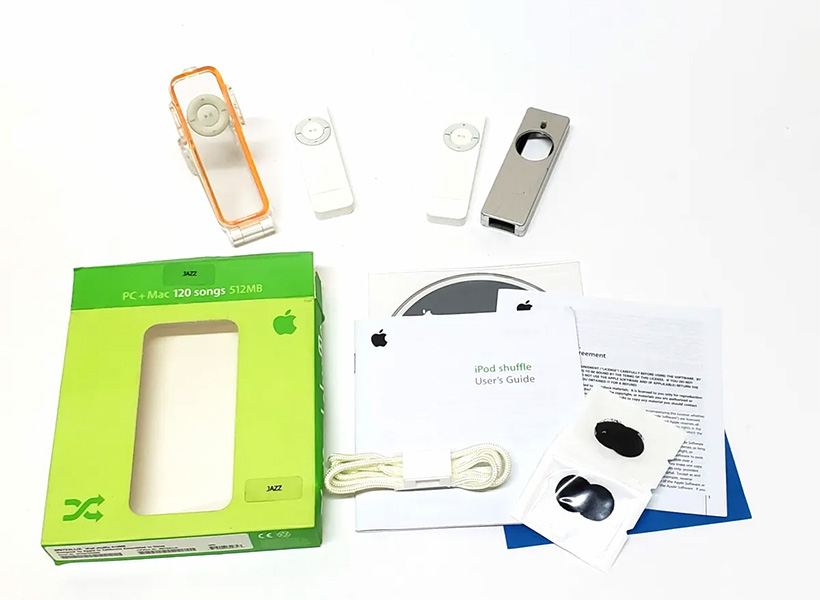 Four Steps to Playing Music on iPod Shuffle
To set up iPod shuffle, you install software from the iPod CD, and import songs from your music CD collection or purchase songs from the iTunes Music Store. Then you transfer the songs to iPod shuffle for listening on the go.
Step 1: Install the Software
Insert the iPod CD into your computer and install iTunes and the iPod software.
Step 2: Import Music to Your Computer
Complete this step if you haven't already transferred music to your computer. You can import music from your audio CDs, or if you have an Internet connection, you can buy music online and download it to your computer using the iTunes Music Store. You can browse over a million songs and listen to a 30-second preview of any song.
To import music to your computer from an audio CD:
Insert a CD into your computer. iTunes opens automatically and the CD is selected in the iTunes Source list.
Uncheck songs you don't want to transfer, then click Import.
Repeat for any other CDs with songs you'd like to import.
To buy music online:
Open iTunes and click Music Store in the Source list.
Click the Account button and follow the onscreen instructions to set up an account or enter your existing Apple Account or America Online (AOL) account information
Step 3: Connect iPod shuffle to Charge the Battery and Transfer Music.
Remove the USB cap from iPod shuffle and connect iPod shuffle to a high-power USB port on your computer. For fastest transfer speeds, connect iPod shuffle to a USB 2.0 port. Important: If iPod shuffle is obstructed from fitting into the USB ports on your computer, you can use an iPod shuffle Dock or a USB extension cable. Insert iPod shuffle into a high-power USB 2.0 port on your computer.
To charge the iPod shuffle battery: When iPod shuffle is connected to a high-power USB port on your computer, the
battery charges. The battery status light on the back of iPod shuffle (see page 14) is amber when the battery is charging, and green when the battery is fully charged. If you don't see this light, try connecting iPod shuffle to another USB port. The first time you connect iPod shuffle, leave it connected for about four hours to charge the battery fully.
To transfer songs to iPod shuffle: When you connect iPod shuffle to your computer, iTunes opens automatically and transfers a selection of songs to iPod shuffle. When the song transfer is complete, a message in iTunes says "iPod update is complete. Okay to disconnect."
Step 4: Play Music
Once you have charged the iPod shuffle battery and transferred songs, you are ready to
play music. Disconnect iPod shuffle from your computer and set the switch (on the back of iPod shuffle) to play in order or shuffle. Then insert the Apple Earphones, press Play on iPod shuffle, and enjoy!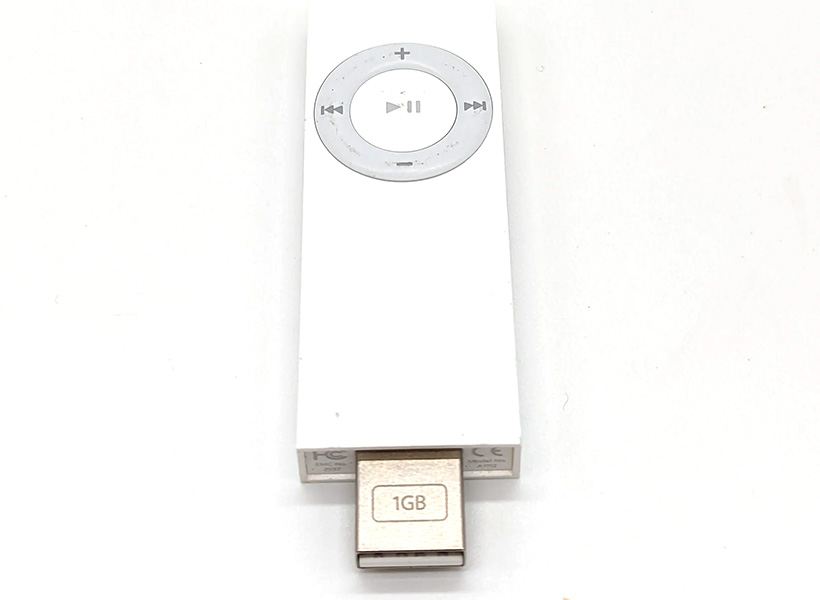 Miscellanea
Apple suggested some accessories to compliment the device: the lanyard, the waterproof case, the arm band meant to preserve the player during outdoors sports activities. The player couldn't playback Apple Lossless and AIFF formats.
The iPod shuffle 1st Gen could be used as an ordinary USB drive – an unexpected generosity from Apple engineers.
Users reported better bass response as compared to iPod 4th Gen in their feedbacks thank to the superior audio technology on a SigmaTel chip.
The first iPod shuffle had yet a major drawback – the so-called Blinking Light Problem. Suddenly the device would stop functioning normally only to flash green and orange light and become unmountable. According to the Apple documentation it was to signal about a generic problem, but as there were no display, a user couldn't read an error message and had to address the authorized Apple staff for that. On October 26, 2006, Apple released an iPod shuffle Reset Utility to fix the problem.
Links