How to Prepare Your iMac For Sale – The Complete Guide
You begin the process of preparing iMac for sale by choosing your model on our website. Once you have found the proper model, the next step is choosing how you wish to get paid. We can pay through PayPal, by check or with an Amazon gift card. All payments are processed on the next business day after your computer has been received and inspected. If you chose to receive payment via PayPal, the funds are available in one business day, and if you chose to be paid by gift card or check for the device you sell, we provide the tracking number of your check or gift card. Either way, you can be sure that you will get paid for your computer you want to sell.
Prepare Your iMac For Sale
Before proceeding, shut down from inside Windows any Virtual PCs if you have them on your iMac.
De-authorize the computer both in iTunes and Audible accounts.
Remove any Open Firmware passwords.
Turn the brightness full up and volume nearly so.
Turn off File Vault, if enabled.
Disable iCloud.
Install a fresh OS (Snow Leopard or earlier versions of OS X). Upon completion do not restart the iMac.
Shut down the iMac.
Special Notes For Lion and Mountain Lion OS
If you have Lion and Mountain Lion on your iMac:
Restart the computer while holding down the Command and R keys until the Mac OS X Utilities window appears.
Select Disk Utility from the Mac OS X Utilities window. Click on the Continue button.
Select your start up volume (usually it is Macintosh HD) from the left side list and click on the Erase tab in the Disk Utility main window.
Set the format type to Mac OS Extended (you may as well click on the Security button and set the Zero Data option to one-pass).
Click on the Erase button.
After the process completes, quit Disk Utilities and return to the Mac OS X Utilities window.
Select Reinstall Lion/Mountain Lion and click on the Install button (but remember that if you purchased your iMac with Lion or Mountain Lion pre-installed, you are entitled to transfer your license once. If the iMac you are getting ready to sell came with Mountain Lion from the App Store then you cannot transfer your license to another party. If you installed Lion/Mountain Lion, you should install the original version of OS X that came with your computer, before you sell it. You may want to verify these requirements by reviewing your OS X Software License).
Upon reinstalling the OS X shut down the computer.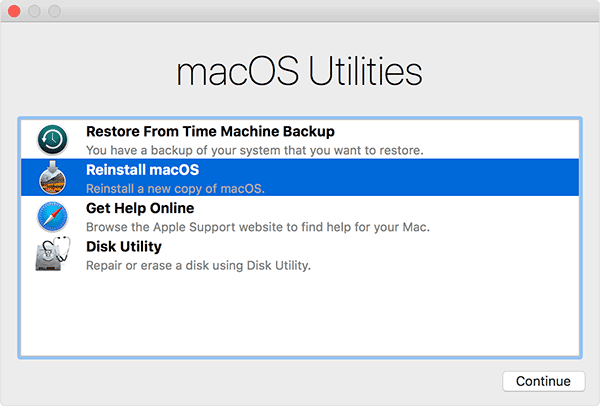 Next Step: Back Up Your Data
If you're going to be migrating to a new iMac, make sure you've got a secure copy of everything you need for the transition, so back up all data.
Although an iCloud backup should be just fine, sometimes having a physical iTunes backup feels safer.
First off, if you do iCloud backups, go to Settings – iCloud – Storage & Backup. Click on Backup Now.
For iTunes, under the Summary tab, make sure Backup this device to the computer is enabled. Tap on Sync your iDevice. Backups should be done.
And Finally… Clean It Up!
It's time to say goodbye to your old iMac and move up to a new model… No matter what the reason, it's time to part ways. You have come to iGotOffer, the best place online to get top dollar for your old computer. But before you sell your iMac, you have to make it ready to sell. So clean it up and make sure it's in good looking and sellable condition: clean the case, the keyboard, the trackpad. Wipe down the screen with terrycloth sprayed with an alcohol-free lens cleaner, and you will be getting a good deal selling your unwanted iMac.
Links
How to Reset your Mac Before Selling it [Video]
Video uploaded by Howfinity on October 30, 2019.