How to Identify Your iPad Model
Here is all the information you need to identify your iPad model. Note that the prices for used iPad's on the secondhand market vary constantly and are based on their generation, storage capacity, condition of the device and other factors. If you want to sell your used iPad, consult the link leading towards the price of each device at the end of each section of the table.
Best iPad (2019) – Which One Should You Really Buy? [Video]
Video uploaded by Matthew Moniz on April 9, 2019.
Identify iPad
Look at the back of your iPad and locate Model Number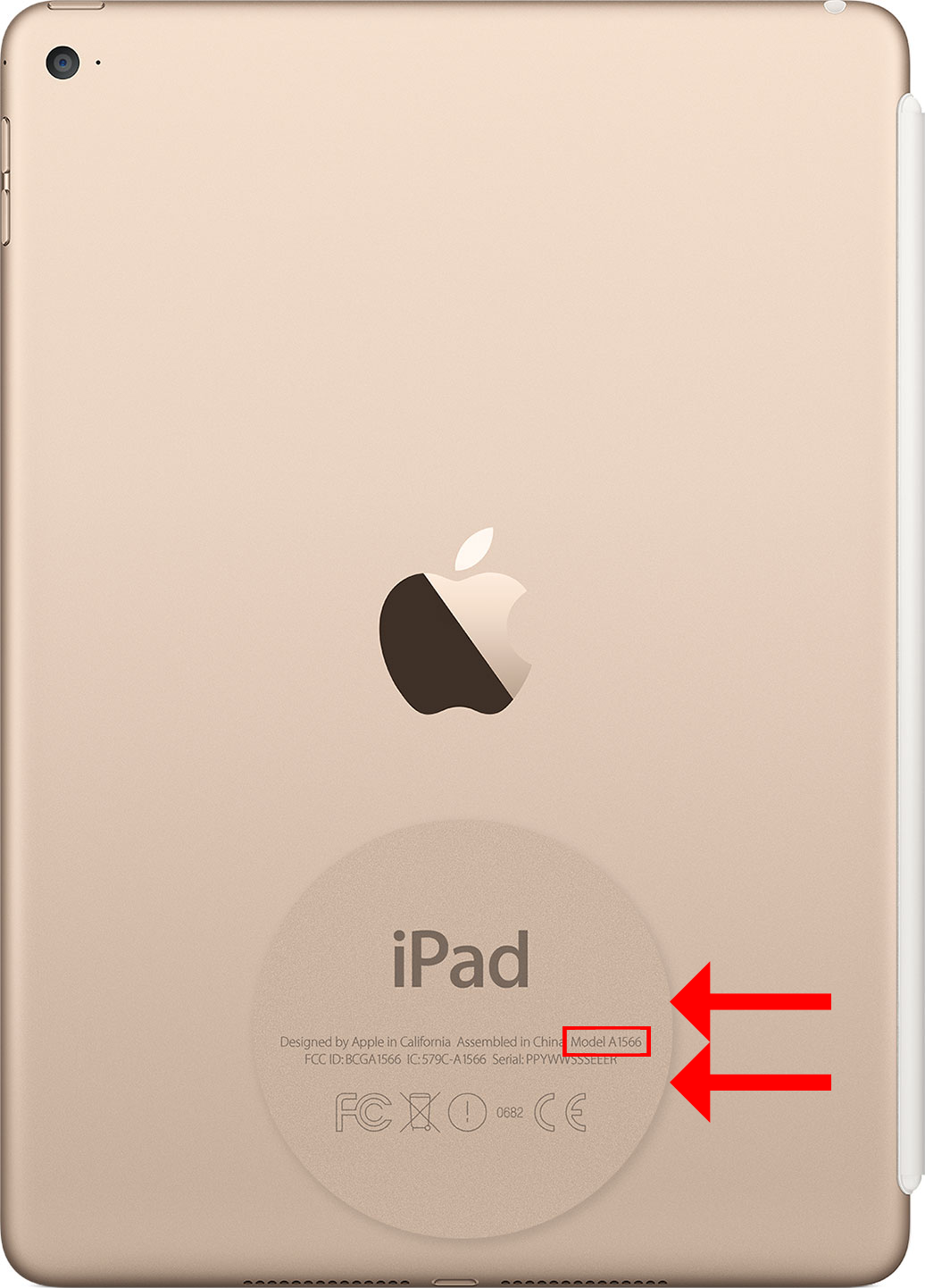 iPad Pro Family Models
iPad Pro 12.9-Inch 6th Generation (2022)
Model Number
A2436 (Wi-Fi Only)
A2764 (Wi-Fi + Cellular)
A2437 (Wi-Fi + Cellular with mmWave)
A2766 (Wi-Fi + Cellular - China mainland only)
(on the back cover)
Order Number
MNXQ3LL/A (Wi-Fi Only)
MP1Y3B/A (Wi-Fi + Cellular)
MP5Y3LL/A (Wi-Fi + Cellular with mmWave)
MP293CH/A (Wi-Fi + Cellular - China mainland only)
Released
October 2022
Display Size
12.9 inches (Liquid Retina XDR Display)
Dimensions
280.6 x 214.9 x 6.4 mm (11.04 x 8.46 x 0.25 in)
Weight
682 g (1.5 lb) (Wi-Fi)
685 g (1.5 lb) (Wi-Fi + Cellular)
Capacity
128/256/512GB, 8GB RAM or 1/2TB, 16GB RAM
Colors
Silver or space gray
Front Panel
Flat and made of glass
Back Panel
Aluminum housing
SIM tray
The micro-SIM tray is on the right side on iPad (Cellular model only)
Serial Number
You will find it in the Settings menu
IMEI/MEID
You will find it in the Settings menu
See also
Sell your iPad Pro 12.9-inch 6th Generation (2022) online now
iPad Pro 12.9-Inch 5th Generation (2021)
Model Number
A2378 (Wi-Fi Only)
A2461 (Wi-Fi + Cellular)
A2379 (Wi-Fi + Cellular with mmWave)
A2462 (Wi-Fi + Cellular - China mainland only)
(on the back cover)
Order Number
MHNG3LL/A (Wi-Fi Only)
MHR53X/A (Wi-Fi + Cellular)
MHNT3LL/A (Wi-Fi + Cellular with mmWave)
MHRG3CH/A (Wi-Fi + Cellular - China mainland only)
Released
April 2021
Display Size
12.9 inches (Liquid Retina Display)
Dimensions
280.6 x 214.9 x 6.4 mm (11.05 x 8.46 x 0.25 in)
Weight
682 g (1.5 lb) (Wi-Fi)
685 g (1.5 lb) (Wi-Fi + Cellular)
Capacity
128/256/512GB, 8GB RAM or 1/2TB, 16GB RAM
Colors
Silver or space gray
Front Panel
Flat and made of glass
Back Panel
Aluminum housing
SIM tray
The micro-SIM tray is on the right side on iPad (Cellular model only)
Serial Number
You will find it in the Settings menu
IMEI/MEID
You will find it in the Settings menu
See also
Sell your iPad Pro 12.9-inch 5th Generation (2021) online now
iPad Pro 12.9-Inch 4th Generation (2020)
Model Number
A2229 (Wi-Fi Only)
A2069, A2232 (Wi-Fi + Cellular)
A2233 (Wi-Fi + Cellular) China only
(on the back cover)
Order Number
MY2J2LL/A (Wi-Fi Only)
MY3K2LL/A, MY3D2ZP/A (Wi-Fi + Cellular)
MY3H2CH/A (Wi-Fi + Cellular) China only
Released
March 2020
Display Size
12.9 inches (Liquid Retina Display)
Dimensions
280.6 x 214.9 x 5.9 mm (11.04 x 8.46 x 0.23 in)
Weight
641 g (1.41 lb) (Wi-Fi)
643 g (1.42 lb) (Wi-Fi + Cellular)
Capacity
128/256/512GB or 1TB, 6GB RAM
Colors
Silver or space gray
Front Panel
Flat and made of glass
Back Panel
Aluminum housing
SIM tray
The micro-SIM tray is on the right side on iPad (Cellular model only)
Serial Number
You will find it in the Settings menu
IMEI/MEID
You will find it in the Settings menu
See also
Sell your iPad Pro 12.9-inch 4th Generation (2020) online now
iPad Pro 12.9-Inch 3rd Generation (2018)
Model Number
A1876 (Wi-Fi Only)
A1895, A2014 (Wi-Fi + Cellular)
A1983 (Wi-Fi + Cellular) China only
(on the back cover)
Order Number
MTEM2LL/A (Wi-Fi Only)
MTHU2LL/A, MTHP2B/A (Wi-Fi + Cellular)
Released
October 2018
Display Size
12.9 inches (Retina Display)
Dimensions
280.4 x 225.4 x 5.8 mm (11.04 x 8.48 x 0.23 in)
Weight
631 g (1.39 lb) (Wi-Fi)
633 g (1.4 lb) (Wi-Fi + Cellular)
Capacity
64/256/512GB or 1TB, 4GB RAM
Colors
Silver or space gray
Front Panel
Flat and made of glass
Back Panel
Aluminum housing
SIM tray
The micro-SIM tray is on the right side on iPad (Cellular model only)
Serial Number
You will find it in the Settings menu
IMEI/MEID
You will find it in the Settings menu
See also
Sell your iPad Pro 12.9 inch 3rd Generation online now
iPad Pro 12.9-Inch 2nd Generation (2017)
Model Number
A1670 (Wi-Fi)
A1671 (Wi-Fi + Cellular)
(on the back cover)
Released
June 2017
Display Size
12.9 inches (Retina Display)
Dimensions
305.7 x 220.6 x 6.9 mm (12.04 x 8.68 x 0.27 in)
Weight
677 g (1.49 lb) (Wi-Fi)
692 g (1.53 lb) (Wi-Fi + Cellular)
Capacity
64/256/512GB, 4GB RAM
Colors
Silver, gold, or space gray
Front Panel
Flat and made of glass
Back Panel
Aluminum housing
SIM tray
The micro-SIM tray is on the right side on iPad (Cellular model only)
Serial Number
You will find it in the Settings menu
IMEI/MEID
You will find it in the Settings menu
See also
Sell your iPad Pro 12.9 inch 2nd Generation online now
iPad Pro 12.9-Inch (2015)
Model Number
A1584 (Wi-Fi)
A1652 (Wi-Fi + Cellular)
(on the back cover)
Released
September 2015
Display Size
12.9 inches (Retina Display)
Dimensions
305.7 x 220.6 x 6.9 mm (12.04 x 8.69 x 0.27 in)
Weight
713 g (1.57 lb) (Wi-Fi)
723 g (1.59 lb) (Wi-Fi + Cellular)
Capacity
32/128/256GB, 4GB RAM
Colors
Silver, gold, or space gray
Front Panel
Flat and made of glass
Back Panel
Aluminum housing
SIM tray
The micro-SIM tray is on the right side on iPad (Cellular model only)
Serial Number
You will find it in the Settings menu
IMEI/MEID
You will find it in the Settings menu
See also
Sell your iPad Pro 12.9 inch online now
iPad Pro 11-Inch 4th Generation (2022)
Model Number
A2759 (Wi-Fi Only)
A2761 (Wi-Fi + Cellular)
A2435 (Wi-Fi + Cellular with mmWave)
A2762 (Wi-Fi + Cellular - China mainland only)
(on the back cover)
Order Number
MNXE3LL/A (Wi-Fi Only)
MNYD3B/A (Wi-Fi + Cellular)
MP563LL/A (Wi-Fi + Cellular with mmWave)
MNYP3CH/A (Wi-Fi + Cellular - China mainland only)
Released
October 2022
Display Size
11 inches (Liquid Retina Display)
Dimensions
247.6 x 178.5 x 5.9 mm (9.75 x 7.03 x 0.23 in)
Weight
466 g (1.03 lb) (Wi-Fi)
470 g (1.03 lb) (Wi-Fi + Cellular)
Capacity
128/256/512GB, 8GB RAM or 1/2TB, 16GB RAM
Colors
Silver or space gray
Front Panel
Flat and made of glass
Back Panel
Aluminum housing
SIM tray
The micro-SIM tray is on the right side on iPad (Cellular model only)
Serial Number
You will find it in the Settings menu
IMEI/MEID
You will find it in the Settings menu
See also
Sell your iPad Pro 11-Inch 4th Generation (2022) online now
iPad Pro 11-Inch 3rd Generation (2021)
Model Number
A2377 (Wi-Fi Only)
A2459 (Wi-Fi + Cellular)
A2301 (Wi-Fi + Cellular with mmWave)
A2460 (Wi-Fi + Cellular - China mainland only)
(on the back cover)
Order Number
MHQT3LL/A (Wi-Fi Only)
MHW63X/A (Wi-Fi + Cellular)
MHMU3LL/A (Wi-Fi + Cellular with mmWave)
MHWH3CH/A (Wi-Fi + Cellular - China mainland only)
Released
April 2021
Display Size
11 inches (Liquid Retina Display)
Dimensions
247.6 x 178.5 x 5.9 mm (9.75 x 7.03 x 0.23 in)
Weight
466 g (1.03 lb) (Wi-Fi)
470 g (1.03 lb) (Wi-Fi + Cellular)
Capacity
128/256/512GB, 8GB RAM or 1/2TB, 16GB RAM
Colors
Silver or space gray
Front Panel
Flat and made of glass
Back Panel
Aluminum housing
SIM tray
The micro-SIM tray is on the right side on iPad (Cellular model only)
Serial Number
You will find it in the Settings menu
IMEI/MEID
You will find it in the Settings menu
See also
Sell your iPad Pro 11-Inch 3rd Generation (2021) online now
iPad Pro 11-Inch 2nd Generation (2020)
Model Number
A2228 (Wi-Fi Only)
A2068, A2230 (Wi-Fi + Cellular)
A2231 (Wi-Fi + Cellular) China only
(on the back cover)
Order Number
MY252LL/A (Wi-Fi Only)
MY342LL/A, MY2W2ZP/A (Wi-Fi + Cellular)
MY322CH/A (Wi-Fi + Cellular) China only
Released
March 2020
Display Size
11 inches (Liquid Retina Display)
Dimensions
247.6 x 178.5 x 5.9 mm (9.74 x 7.02 x 0.23 in)
Weight
471 g (1.04 lb) (Wi-Fi)
473 g (1.04 lb) (Wi-Fi + Cellular)
Capacity
128/256/512GB or 1TB, 6GB RAM
Colors
Silver or space gray
Front Panel
Flat and made of glass
Back Panel
Aluminum housing
SIM tray
The micro-SIM tray is on the right side on iPad (Cellular model only)
Serial Number
You will find it in the Settings menu
IMEI/MEID
You will find it in the Settings menu
See also
Sell your iPad Pro 11-Inch 2nd Generation (2020) online now
iPad Pro 11-Inch (2018)
Model Number
A1980 (Wi-Fi Only)
A1934, A2013 (Wi-Fi + Cellular)
A1979 (Wi-Fi + Cellular) China only
(on the back cover)
Order Number
MTXP2LL/A (Wi-Fi Only)
MU0U2B/A, MU0Y2LL/A (Wi-Fi + Cellular)
Released
October 2018
Display Size
11 inches (Retina Display)
Dimensions
247.4 x 178.3 x 5.8 mm (9.74 x 7.02 x 0.23 in)
Weight
468 g (1.03 lb) (Wi-Fi)
470 g (1.04 lb) (Wi-Fi + Cellular)
Capacity
64/256/512GB or 1TB, 4GB RAM
Colors
Silver or space gray
Front Panel
Flat and made of glass
Back Panel
Aluminum housing
SIM tray
The micro-SIM tray is on the right side on iPad (Cellular model only)
Serial Number
You will find it in the Settings menu
IMEI/MEID
You will find it in the Settings menu
See also
Sell your iPad Pro 11-inch online now
iPad Pro 10.5-Inch (2017)
Model Number
A1701 (Wi-Fi)
A1709 (Wi-Fi + Cellular)
(on the back cover)
Released
June 2017
Display Size
10.5 inches (Retina Display)
Dimensions
250.6 x 174.1 x 6.1 mm (9.8 x 6.8 x 0.24 in)
Weight
469 g (1.03 lb) (Wi-Fi)
477 g (1.05 lb) (Wi-Fi + Cellular)
Capacity
64/256/512GB, 4GB RAM
Colors
Space gray, rose gold, gold, or silver aluminum
Front Panel
Flat and made of glass
Back Panel
Aluminum housing
SIM tray
The micro-SIM tray is on the right side on iPad (Cellular model only)
Serial Number
You will find it in the Settings menu
IMEI/MEID
You will find it in the Settings menu
See also
Sell your iPad Pro 10.5 inch online now
iPad Pro 9.7-Inch (2016)
Model Number
A1673 (Wi-Fi)
A1674, A1675 (Wi-Fi + Cellular)
(on the back cover)
Released
March 2016
Display Size
9.7 inches (Retina Display)
Dimensions
240 x 169.5 x 6.1 mm (9.45 x 6.67 x 0.24 in)
Weight
437 g (1.44 lb) (Wi-Fi)
444 g (1.46 lb) (Wi-Fi + Cellular)
Capacity
32/128/256GB, 4GB RAM
Colors
Silver, Gold, Space Gray, Rose Gold
Front Panel
Flat and made of glass
Back Panel
Aluminum housing
SIM tray
The micro-SIM tray is on the right side on iPad (Cellular model only)
Serial Number
You will find it in the Settings menu
IMEI/MEID
You will find it in the Settings menu
See also
Sell your iPad Pro 9.7 inch online now
iPad Air Family Models
iPad Air 5 (2022)
Model Number
A2588 (Wi-Fi)
A2589, A2591 (Wi-Fi + Cellular)
Released
March 2022
Display Size
10.9 inches (Liquid Retina)
Dimensions
247.6 x 178.5 x 6.1 mm (9.75 x 7.03 x 0.24 in)
Weight
461 g (1.02 lb) (Wi-Fi)
462 g (1.02 lb) (Wi-Fi + Cellular)
Capacity
64/256GB, 8GB RAM
Colors
Space Gray, Starlight, Pink, Purple, Blue
Front Panel
Flat and made of glass
Back Panel
Aluminum housing
SIM tray
The nano-SIM tray is on the right side on iPad (Cellular model only)
Serial Number
You will find it in the Settings menu
IMEI/MEID
You will find it in the Settings menu
See also
Sell your iPad Air 5 (2022) online now
iPad Air 4 (2020)
Model Number
A2316 (Wi-Fi)
A2324, A2325, A2072 (Wi-Fi + Cellular)
Released
October 2020
Display Size
10.9 inches (Liquid Retina IPS LCD)
Dimensions
247.6 x 178.5 x 6.1 mm (9.75 x 7.03 x 0.24 in)
Weight
458 g (Wi-Fi)
460 g (Wi-Fi + Cellular)
Capacity
64/256GB, 4GB RAM
Colors
Space Gray, Silver, Rose Gold, Green, Sky Blue
Front Panel
Flat and made of glass
Back Panel
Aluminum housing
SIM tray
The nano-SIM tray is on the right side on iPad Air 4 (2020) Wi-Fi + Cellular
Serial Number
You will find it in the Settings menu
IMEI/MEID
You will find it in the Settings menu
See also
Sell your iPad Air 4 (2020) online now
iPad Air 3 (2019)
Model Number
A2152 (Wi-Fi)
A2123, A2153 (Wi-Fi + Cellular)
A2154 (Wi-Fi + Cellular) China Only
Released
March 2019
Display Size
10.5 inches (Retina Display)
Dimensions
250.6 x 174.1 x 6.1 mm (9.87 x 6.85 x 0.24 in)
Weight
456 g (Wi-Fi)
464 g (Wi-Fi + Cellular)
Capacity
64/256GB, 2GB RAM
Colors
Space Gray, Silver, Gold
Front Panel
Flat and made of glass
Back Panel
Aluminum housing
SIM tray
The nano-SIM tray is on the right side on iPad Air 3 (2019) Wi-Fi + Cellular
Serial Number
You will find it in the Settings menu
IMEI/MEID
You will find it in the Settings menu
See also
Sell your iPad Air 3 (2019) online now
iPad Air 2
Model Number
A1566 (Wi-Fi)
A1567 (Wi-Fi + Cellular)
Released
October 2014
Display Size
9.7 inches (Retina Display)
Dimensions
240 x 169.5 x 6.1 mm (9.45 x 6.67 x 0.24 in)
Weight
437 g (Wi-Fi)
444 g (Wi-Fi + Cellular)
Capacity
15/32/64/128GB, 2GB RAM
Colors
Space Gray, Silver, Gold
Front Panel
Flat and made of glass
Back Panel
Aluminum housing
SIM tray
The nano-SIM tray is on the right side (Cellular model only)
Serial Number
You will find it in the Settings menu
IMEI/MEID
You will find it in the Settings menu
See also
Sell your iPad Air 2 online now
iPad Air
Model Number
A1474 (Wi-Fi)
A1475 (Wi-Fi + Cellular)
A1476 (Wi-Fi + Cellular TD-LTE)
(on the back cover)
Released
November 2013
Display Size
9.7 inches
Dimensions
240 x 169.5 x 7.5 mm (9.45 x 6.67 x 0.30 in)
Weight
469 g (Wi-Fi)
478 g (Wi-Fi + Cellular)
Capacity
15/32/64/128GB, 1GB RAM
Colors
Space Gray, Silver
Front Panel
Flat and made of glass
Back Panel
Aluminum housing
SIM tray
The nano-SIM tray is on the right side (Cellular model only)
Serial Number
You will find it in the Settings menu
IMEI/MEID
You will find it in the Settings menu
See also
Sell your iPad Air online now
iPad Family Models
iPad 10th Generation (2022)
Model Number
A2696 (Wi-Fi)
A2757 (Wi-Fi + Cellular)
A2777 (Wi-Fi + Cellular - China mainland only)
(on the back cover)
Released
October 2022
Display Size
10.9 inches (Liquid Retina Display)
Dimensions
248.6 x 179.5 x 7.0 mm (9.79 x 7.07 x 0.28 in)
Weight
477 g (1.05 lb) (Wi-Fi)
481 g (1.05 lb) (Wi-Fi + Cellular)
Capacity
64/256GB, 4GB RAM
Colors
Silver, Blue, Pink, Yellow
Front Panel
Flat and made of glass
Back Panel
Aluminum housing
SIM tray
The nano-SIM tray is on the right side (Cellular model only)
Serial Number
You will find it in the Settings menu
IMEI/MEID
You will find it in the Settings menu
See also
Sell your iPad 10th generation online (2022) now
iPad 9th Generation (2021)
Model Number
A2602 (Wi-Fi)
A2604 (Wi-Fi + Cellular)
A2603 (Wi-Fi + Cellular - North America only)
A2605 (Wi-Fi + Cellular - China mainland only)
(on the back cover)
Released
September 2021
Display Size
10.2 inches (Retina IPS LCD)
Dimensions
250.6 x 174.1 x 7.5 mm (9.87 x 6.85 x 0.30 in)
Weight
487 g (1.07 lb) (Wi-Fi)
498 g (1.08 lb) (Wi-Fi + Cellular)
Capacity
64/256GB, 3GB RAM
Colors
Silver, Space Gray
Front Panel
Flat and made of glass
Back Panel
Aluminum housing
SIM tray
The nano-SIM tray is on the right side (Cellular model only)
Serial Number
You will find it in the Settings menu
IMEI/MEID
You will find it in the Settings menu
See also
Sell your iPad 9th generation online (2021) now
iPad 8th Generation (2020)
Model Number
A2270 (Wi-Fi)
A2428, A2429, A2430 (Wi-Fi + Cellular)
(on the back cover)
Released
September 2020
Display Size
10.2 inches (Retina IPS LCD)
Dimensions
250.6 x 174.1 x 7.5 mm (9.87 x 6.85 x 0.30 in)
Weight
490 g (1.07 lb) (Wi-Fi)
495 g (1.08 lb) (Wi-Fi + Cellular)
Capacity
32/128GB, 3GB RAM
Colors
Silver, gold, or space gray
Front Panel
Flat and made of glass
Back Panel
Aluminum housing
SIM tray
The nano-SIM tray is on the right side (Cellular model only)
Serial Number
You will find it in the Settings menu
IMEI/MEID
You will find it in the Settings menu
See also
Sell your iPad 8th generation online (2020) now
iPad 7th Generation (2019)
Model Number
A2197 (Wi-Fi)
A2198, A2200 (Wi-Fi + Cellular)
(on the back cover)
Released
September 2019
Display Size
10.2 inches (Retina Display)
Dimensions
250.6 x 174.1 x 7.5 mm (9.8 x 6.8 x 0.29 in)
Weight
483 g (1.07 lb) (Wi-Fi)
493 g (1.09 lb) (Wi-Fi + Cellular)
Capacity
32/128GB, 2GB RAM
Colors
Silver, gold, or space gray
Front Panel
Flat and made of glass
Back Panel
Aluminum housing
SIM tray
The micro-SIM tray is on the right side on iPad (Cellular model only)
Serial Number
You will find it in the Settings menu
IMEI/MEID
You will find it in the Settings menu
See also
Sell your iPad 7th generation online (2019) now
iPad 6th Generation
Model Number
A1893 (Wi-Fi)
A1954 (Wi-Fi + Cellular)
(on the back cover)
Released
March 2018
Display Size
9.7 inches (Retina Display)
Dimensions
241.2 x 185.7 x 9.4 mm (9.50 x 7.31 x 0.37 in)
Weight
652 g (1.44 lb) (Wi-Fi)
662 g (1.46 lb) (Wi-Fi + Cellular)
Capacity
32/128GB, 2GB RAM
Colors
Silver, gold, or space gray
Front Panel
Flat and made of glass
Back Panel
Aluminum housing
SIM tray
The micro-SIM tray is on the right side on iPad (Cellular model only)
Serial Number
You will find it in the Settings menu
IMEI/MEID
You will find it in the Settings menu
See also
Sell your iPad 6th generation online now
iPad 5th Generation
Model Number
A1822 (Wi-Fi)
A1823 (Wi-Fi + Cellular)
(on the back cover)
Released
March 2017
Display Size
9.7 inches (Retina Display)
Dimensions
241.2 x 185.7 x 9.4 mm (9.50 x 7.31 x 0.37 in) (Wi-Fi)
241.2 x 185.7 x 9.4 mm (9.50 x 7.31 x 0.37 in) (Wi-Fi + Cellular)
Weight
652 g (1.44 lb) (Wi-Fi)
662 g (1.46 lb) (Wi-Fi + Cellular)
Capacity
32/128GB, 2GB RAM
Colors
Silver, gold, or space gray
Front Panel
Flat and made of glass
Back Panel
Aluminum housing
SIM tray
The micro-SIM tray is on the right side on iPad (Cellular model only)
Serial Number
You will find it in the Settings menu
IMEI/MEID
You will find it in the Settings menu
See also
Sell your iPad 5th generation online now
iPad 4th Generation
Model Number
A1458 (Wi-Fi)
A1459 (Wi-Fi + Cellular)
A1460 (Wi-Fi + Cellular -> MM)
(on the back cover)
Released
October 2012
Display Size
9.7 inches (Retina Display)
Dimensions
241.2 x 185.7 x 9.4 mm (9.50 x 7.31 x 0.37 in) (Wi-Fi)
241.2 x 185.7 x 9.4 mm (9.50 x 7.31 x 0.37 in) (Wi-Fi + Cellular)
Weight
652 g (1.44 lb) (Wi-Fi)
662 g (1.46 lb) (Wi-Fi + Cellular)
Capacity
16/32/64/128GB, 1GB RAM
Colors
Black, White
Front Panel
Flat and made of glass
Back Panel
Made of anodized aluminum
SIM tray
The micro-SIM tray is on the right side on iPad (Cellular model only)
Serial Number
You will find it in the Settings menu
IMEI/MEID
You will find it in the Settings menu
See also
Sell your iPad 4th generation online now
iPad 3rd Generation
Model Number
A1416 (Wi-Fi)
A1430 (Wi-Fi + Cellular)
A1403 (Wi-Fi + Cellular -> VZ)
(on the back cover)
Released
March 2012
Display Size
9.7 inches
Dimensions
241.2 x 185.7 x 9.4 mm (9.50 x 7.31 x 0.37 in) (Wi-Fi)
241.2 x 185.7 x 9.4 mm (9.50 x 7.31 x 0.37 in) (Wi-Fi + Cellular)
Weight
652 g (1.44 lb) (Wi-Fi)
662 g (1.46 lb) (Wi-Fi + Cellular)
Capacity
16/32/64GB, 1GB RAM
Colors
Black, White
Front Panel
Flat and made of glass
Back Panel
Made of anodized aluminum
SIM tray
The micro-SIM tray is on the right side on iPad (Cellular model only)
Serial Number
You will find it in the Settings menu
IMEI/MEID
You will find it in the Settings menu
See also
Sell your iPad 3rd generation online now
iPad 2nd Generation
Model Number
A1395 on the iPad 2 (Wi-Fi)
A1396 on the iPad 2 (GSM model)
A1397 on the iPad 2 (CDMA model)
(on the back cover)
Released
March 2011
Display Size
9.7 inches
Dimensions
241.2 x 185.7 x 8.8 mm (9.50 x 7.31 x 0.35 in) (Wi-Fi)
241.2 x 185.7 x 8.8 mm (9.50 x 7.31 x 0.35 in) (Wi-Fi + 3G)
Weight
601 g (1.32 lb) (Wi-Fi)
607 g (1.34 lb) (Wi-Fi + 3G)
Capacity
16/32/64GB, 512MB RAM
Colors
Black, White
Front Panel
Flat and made of glass
Back Panel
Made of anodized aluminum
SIM tray
The micro-SIM tray is on the right side on iPad (GSM model only)
Serial Number
You will find it in the Settings menu
IMEI/MEID
You will find it in the Settings menu
See also
Sell your iPad 2nd generation online now
iPad (First iPad, iPad 1st Generation or iPad 2010)
Model Number
A1219 on the iPad (Wi-Fi)
A1337 on the iPad (Wi-Fi + 3G)
(on the back cover)
Released
March 2010
Display Size
9.7 inches
Dimensions
242.8 x 189.7 x 13.4 mm (9.56 x 7.47 x 0.53 in) (Wi-Fi)
242.8 x 189.7 x 13.4 mm (9.56 x 7.47 x 0.53 in) (Wi-Fi + 3G)
Weight
680 g (1.50 lb) (Wi-Fi)
730 g (1.61 lb) (Wi-Fi + 3G)
Capacity
16/32/64GB, 256MB RAM
Colors
Silver
Front Panel
Flat and made of glass
Back Panel
Made of anodized aluminum
SIM tray
Standard SIM tray on the iPad (Wi-Fi + 3G model only)
Serial Number
You will find it in the Settings menu
IMEI/MEID
You will find it in the Settings menu
See also
Sell your iPad 1st generation online now
iPad mini Family Models
iPad mini 6 (2021)
Model Number
A2567 (Wi-Fi)
A2568 (Wi-Fi + Cellular)
A2569 (Wi-Fi + Cellular - China mainland only)
(on the back cover)
Released
September 2021
Display Size
8.3 inches (Liquid Retina IPS LCD)
Dimensions
195.4 x 134.8 x 6.3 mm (7.69 x 5.31 x 0.25 in)
Weight
293 g (10.34 oz) (Wi-Fi)
297 g (10.34 oz) (Wi-Fi + Cellular)
Capacity
64/256GB, 4GB RAM
Colors
Space Gray, Pink, Purple, Starlight
Front Panel
Flat and made of glass
Back Panel
Aluminum housing
SIM tray
The nano-SIM tray is on the right side (Cellular model only)
Serial Number
You will find it in the Settings menu
IMEI/MEID
You will find it in the Settings menu
See also
Sell your iPad mini 6 (2021) online now
iPad mini 5 (2019)
Model Number
A2133 (Wi-Fi)
A2124, A2126 (Wi-Fi + Cellular)
A2125 (Wi-Fi + Cellular) China Only
Released
March 2019
Display Size
7.9 inches (Retina Display)
Dimensions
203.2 x 134.8 x 6.1 mm (8.0 x 5.31 x 0.24 in)
Weight
300.5 g (Wi-Fi)
308.2 g (Wi-Fi + Cellular)
Capacity
64/256GB, 3GB RAM
Colors
Silver, space gray, or gold
Front Panel
Flat and made of glass
Back Panel
Aluminum housing
SIM tray
The nano-SIM tray is on the right side (Cellular model only)
Serial Number
You will find it in the Settings menu
IMEI/MEID
You will find it in the Settings menu
See also
Sell your iPad mini 5 (2019) online now
iPad mini 4
Model Number
A1538 (Wi-Fi)
A1550 (Wi-Fi + Cellular)
Released
September 2015
Display Size
7.9 inches (Retina Display)
Dimensions
203.2 x 134.8 x 6.1 mm (8.0 x 5.31 x 0.24 in)
Weight
299 g (Wi-Fi)
304 g (Wi-Fi + Cellular)
Capacity
16/32/64/128GB, 2GB RAM
Colors
Silver, space gray, or gold
Front Panel
Flat and made of glass
Back Panel
Aluminum housing
SIM tray
The nano-SIM tray is on the right side (Cellular model only)
Serial Number
You will find it in the Settings menu
IMEI/MEID
You will find it in the Settings menu
See also
Sell your iPad mini 4 online now
iPad mini 3
Model Number
A1599 (Wi-Fi)
A1600 (Wi-Fi + Cellular)
Released
October 2014
Display Size
7.9 inches (Retina Display)
Dimensions
200 x 134.7 x 7.5 mm (7.87 x 5.30 x 0.30 in)
Weight
331 g (Wi-Fi)
341 g (Wi-Fi + Cellular)
Capacity
16/64/128GB, 1GB RAM
Colors
Silver, space gray, or gold
Front Panel
Flat and made of glass
Back Panel
Aluminum housing
SIM tray
The nano-SIM tray is on the left side (Cellular model only)
Serial Number
You will find it in the Settings menu
IMEI/MEID
You will find it in the Settings menu
See also
Sell your iPad mini 3 online now
iPad mini 2
Model Number
A1489 (Wi-Fi)
A1490 (Wi-Fi + Cellular)
A1491 (Wi-Fi + Cellular -> TD-LTE)
Released
November 2013
Display Size
7.9 inches (Retina Display)
Dimensions
200 x 134.7 x 7.5 mm (7.87 x 5.30 x 0.30 in)
Weight
331 g (Wi-Fi)
341 g (Wi-Fi + Cellular)
Capacity
15/32/64/128GB, 1GB RAM
Colors
Space Gray/Black, Silver/White
Front Panel
Flat and made of glass
Back Panel
Aluminum housing
SIM tray
The nano-SIM tray is on the right side (Cellular model only)
Serial Number
You will find it in the Settings menu
IMEI/MEID
You will find it in the Settings menu
See also
Sell your iPad mini 2 online now
iPad mini
Model Number
A1432 (Wi-Fi)
A1454 (Wi-Fi + Cellular)
A1455 (Wi-Fi + Cellular -> MM)
Released
November 2012
Display Size
7.9 inches
Dimensions
200 x 134.7 x 7.2 mm (7.87 x 5.30 x 0.28 in)
Weight
308 g (10.86 oz) (Wi-Fi)
444 g (Wi-Fi + Cellular)
Capacity
15/32/64GB, 512MB RAM
Colors
Black/Slate, White/Silver
Front Panel
Flat and made of glass
Back Panel
Aluminum housing
SIM tray
The nano-SIM tray is on the right side (Cellular model only)
Serial Number
You will find it in the Settings menu
IMEI/MEID
You will find it in the Settings menu
See also
Sell your iPad mini online now
Links